I asked my kiddos for help with this one and Easy Apple Pie Bars is what we came up with. You know if the kids picked it, it must be good. Let's find out!
EASY Apple Pie Bars
I have to be honest, I wasn't really excited about this month's Crazy Cooking Challenge. No offense to the pie lovers out there – I'm just not a pie person usually. My brother on the other hand, would rather have pie than cake for his birthday! Weird, right?!
Other recipes you may enjoy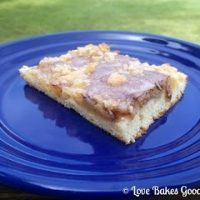 EASY Apple Pie Bars
I asked my kiddos for help with this one and this is what we came up with ..
Ingredients
1 tube (8 oz.) crescent dough
1 can (21 oz.) apple pie filling
1/2 cup Bisquick
1/4 cup packed brown sugar
2 tablespoons cold butter
4 tablespoons powdered sugar
1/2 teaspoon ground cinnamon
1-2 tablespoons milk
Instructions
Preheat oven to 350° F.
Unroll crescent rolls and press into an ungreased 9x13-inch baking pan, sealing seams and covering the bottom as necessary. Bake for 5 minutes.
Meanwhile, place the apple pie filling in a medium bowl and chop up the apple pieces with a butter knife. Set aside.
In a small bowl, combine the Bisquick and brown sugar. Cut in butter using a fork or pastry blender, until mixture is crumbly. Top crescent dough with the chopped apple pie filling. Crumble the Bisquick, brown sugar and butter mixture evenly over the top.
Bake for another 15-20 minutes or until golden brown. Cool completely. Mix powdered sugar, cinnamon and 1 tbsp. of milk (add more milk if needed to thin out). Drizzle over the top of the bars. To serve, cut into squares.
Nutrition Information:
Amount Per Serving:
Calories:

99
Total Fat:

2g
Saturated Fat:

1g
Cholesterol:

3mg
Sodium:

128mg
Fiber:

1g
Sugar:

8g
Protein:

1g
Originally published on October 7, 2012. Updated on April 21, 2021.