This is a Sponsored post written by me on behalf of Honeysuckle White® and Shady Brook Farms® for SocialSpark. All opinions are 100% mine.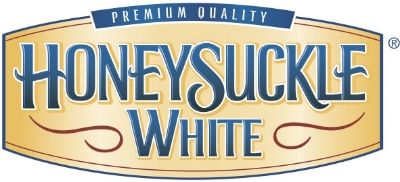 How often do you grill in the Summer? Our family grills at least 3 times a week – and sometimes, we grill every single day! Honeysuckle White® (and Shady Brook Farms® – its the same brand, just a different name depending on what part of the country you live) turkey have something for everyone and with all of the BBQ favorites – from turkey brats and sausages, turkey tenderloins and fresh ground turkey for burgers to a new line of frozen turkey burgers – you can wow your guests with the delicious taste of turkey this Summer!
It's also a more healthful option when compared to other proteins. It offers more protein than beef, fewer calories than chicken and less fat than pork. Go ahead and enjoy a more healthful BBQ without skimping on flavor.
At our last BBQ, we made some of the Honeysuckle White® Savory Seasoned Turkey Burgers. These are easy to prepare, bursting with flavor, and can go from freezer to table in 20 minutes. There are six varieties to choose from, including Savory Seasoned, Ready to Season, Cheddar Jalapeño, and Swiss, Bacon & Onion. They taste great hot out of the skillet or off the grill. The new turkey burgers are gluten-free burger patties and are approved by the USDA as a good source of protein. In fact, they have more protein and fewer calories than beef, pork and chicken. They also contain 58%-76% less fat than regular ground beef.
Mushroom and Swiss Turkey Burger
Printable recipe
Yield: 8 servings
1 pkg. (32 oz.) Honeysuckle White® Savory Seasoned Turkey Burgers
4 tbsp. butter
1 pkg. (16 oz.) mushrooms, cleaned and sliced
1 clove garlic, minced
1 tbsp. soy sauce
8 slices Swiss cheese
8 hamburger buns, toasted (if desired)
Condiments, optional
Cook turkey burgers according to package directions.
Meanwhile, melt butter in a cast iron skillet over medium-high heat. Add the mushrooms, garlic and soy sauce. Cook and stir until the mushrooms are lightly browned, about 5 minutes. Reduce the heat to medium-low and continue to cook, stirring occasionally, until the mushrooms are tender.
To assemble the turkey burgers: Place one turkey burger on the bottom portion of each bun. Top with a slice of cheese. Spoon some of the mushrooms over the top. Replace the top portion of the bun and serve immediately. Serve turkey burgers with your favorite condiments.
*NOTE: When cooking, please ensure that the turkey reaches an internal temperature of 165 degrees Fahrenheit.
___________________________________
Right now, it's even easier to make turkey the centerpiece of your next barbecue with our Grilling With Friends Facebook app. The app allows you to plan every detail of their next grill-out with tools like the menu builder that allows guests to sign-up to bring food, beverages or extras (like a playlist) from the hosts original list or add their own items. Plus, enter the sweeps at the same time for a chance to win a new Weber® grill and $1,000.
Other Posts You May Enjoy: