Why go to the donut shop when you can easily make these from-scratch Maple Bars? They are the perfect addition to a weekend brunch!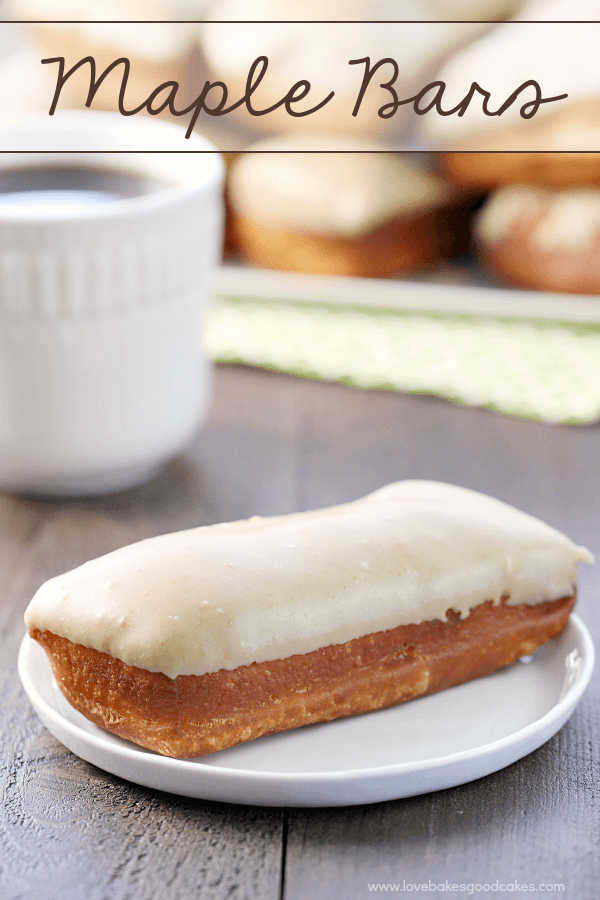 This post may contain affiliate links. As an amazon associate, I earn from qualifying purchases. See my full Disclosure Policy for details.
Maple Bars
I have to be honest with y'all …. up until about 3 years ago or so, I was totally intimidated with making homemade donuts (or doughnuts)! For some reason, I thought they were some crazy difficult thing to make …. and really? They're so easy!! Although I don't make them very often (because I would want to eat them all, all by myself!!), I do enjoy making them occasionally!
Since we're into the middle of October already – how did that even happen?! I had a hankering for some homemade and from scratch Maple Bars! If you have never made doughnuts from scratch, let me assure you they are easy – I would almost go as far as saying they're one of the easiest things to make! Now, they do take a little time to rise, but that doesn't mean they're hard to make! If you're intimidated by working with yeast, the biggest key is to not have your liquids too hot that it kills the yeast. Other than that, this is easy peasy lemon maple squeezy.
Making the bars
I used my stand mixer to make these …. BUT, if you don't have a stand mixer, you can just as easily mix these by hand with a wooden spoon. It will require a little more "work" to mix it by hand, but again, I assure you it is not hard!
Although I have simple, thin maple glaze recipe (think regular glazed donuts from Krispy Kreme, but maple flavored), I recently tried Butter with a Side of Bread's maple glaze and I liked that it was thicker than my glaze is. I think that's just what these bars needed!
Glaze adapted from Butter with a Side of Bread
Other Posts You May Enjoy:
Sausage Egg & Waffle Breakfast Casserole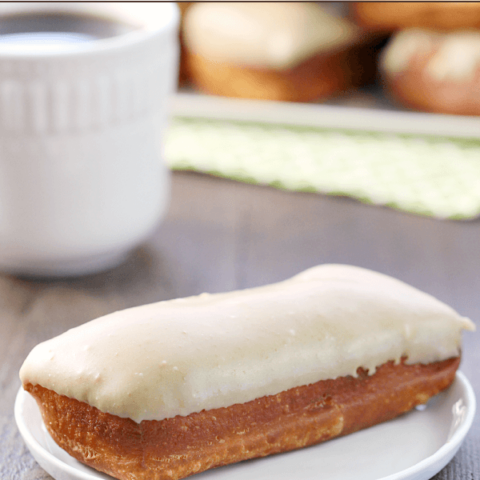 Maple Bars
Why go to the donut shop when you can easily make these from-scratch Maple Bars? They are the perfect addition to a weekend brunch!
Ingredients
For the bars
3/4 cup milk
3 tbsp. butter
3 1/4 cups all-purpose flour
1/3 cup granulated sugar
1/2 tsp. salt
1 pkg. (2 1/2 tsp.) quick-rise yeast
2 large eggs
1/2 tsp. vanilla extract
Oil, for frying
For the glaze
1/4 cup (4 tbsp.) unsalted butter
1/2 cup brown sugar
3 tbsp. milk
1 tbsp. corn syrup
2 tsp. maple extract
2 cups powdered sugar
Instructions
For the bars:
Heat the milk and butter in a medium saucepan over medium heat until the butter is melted and the mixture is hot, but not boiling (about 125°F). Remove from heat.
Fit stand mixer with paddle attachment. Place 2¼ cups of flour, sugar, salt, and yeast in the bowl of a stand mixer. Mix on low speed. Slowly add the hot milk mixture and raise the speed to medium. Beat until well combined. Add the eggs and vanilla. Beat until fluffy and well combined, about 2-3 minutes. Add the remaining 1 cup of flour and beat until smooth, 1-2 minutes. The dough will be sticky.
Lightly grease a large bowl. Scrape the dough into greased bowl and cover with a clean kitchen towel. Allow to stand in a warm place until almost doubled in size, about 45 minutes.
Line a baking sheet with waxed paper and lightly brush oil over it. Line another baking sheet with paper towels and set aside.
Turn the dough out onto a generously floured surface. With a floured rolling pin, roll the dough into a 12-x-8-inch rectangle. Using a sharp knife or a pizza cutter, cut the rectangle into 12 bars, about 4 inches long by 2 inches wide. Transfer the bars to the oiled waxed paper. Cover bars with a clean kitchen towel and let rise for 30 minutes.
In a deep fryer or heavy skillet with deep sides, heat oil. You will need about 1½ to 2 inches of oil. Carefully fry 2-4 bars at a time (do not overcrowd) for 1-2 minutes per side, or until dark golden in color. Transfer the cooked bars to the paper towel-lined baking sheet. Repeat with remaining bars, allowing oil to come back up to temperature before frying.
For the glaze:
Combine butter and brown sugar in a small saucepan. Whisk in milk and heat for 3-5 minutes on medium heat, stirring often, until butter is melted and sugar is dissolved. Remove from heat and add corn syrup and maple extract. Add in powdered sugar 1/2-cup at a time, whisking until smooth between additions. Add 1-2 tsp more milk if necessary.
To make Maple Bars:
When the bars are cool enough to handle, dip the top side into the maple glaze. Set on a wire rack with glaze side up until the glaze sets, about 10-15 minutes.
Nutrition Information:
Amount Per Serving:
Calories:

464
Total Fat:

23g
Saturated Fat:

6g
Cholesterol:

51mg
Sodium:

122mg
Fiber:

1g
Sugar:

33g
Protein:

6g