Why go to the donut shop when you can easily make these from-scratch Maple Bars? They are the perfect addition to a weekend brunch!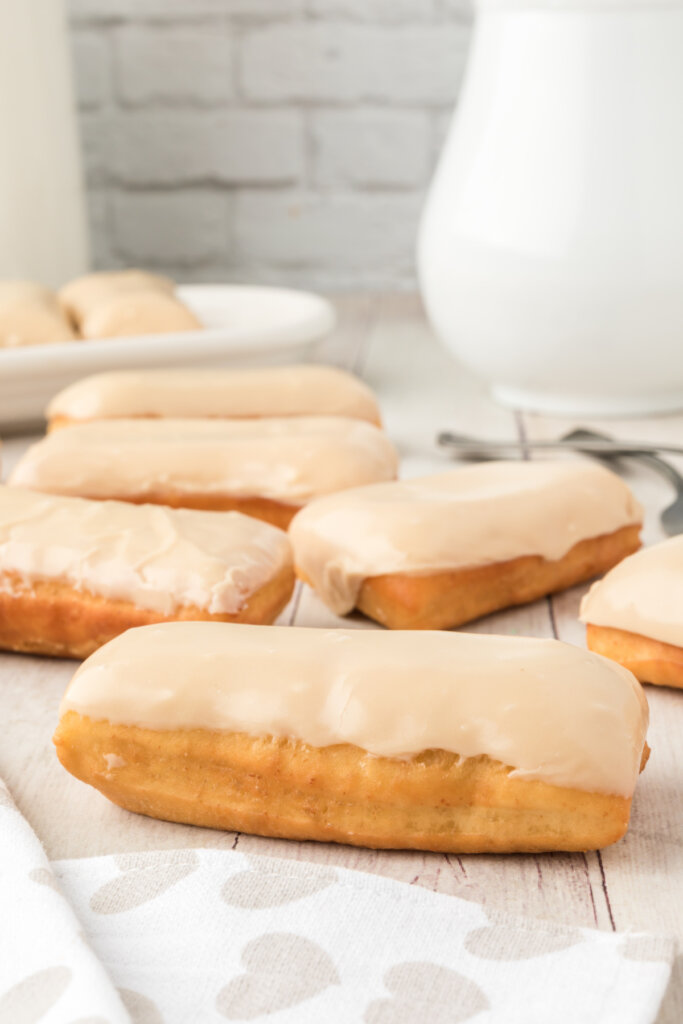 Maple Bars
I have to be honest with y'all ….
Up until about ten years ago or so, I was totally intimidated by making homemade donuts. (Or is it doughnuts?) I guess I had it in my head that they required more baking expertise than I had. Really, though, they're so simple. They're so easy!!
Although I don't make doughnuts very often (because I would want to eat them all, all by myself!!), I do enjoy making them occasionally!
If you've never made donuts from scratch, let me assure you it's not bad at all – I would almost go as far as saying they're one of the easiest things to make! Now, donuts do take a little time to rise, but that doesn't mean the recipe is difficult.
Plus, I included a beautiful glaze recipe that you and your family are going to adore. This post has everything you need to make the best maple bars ever!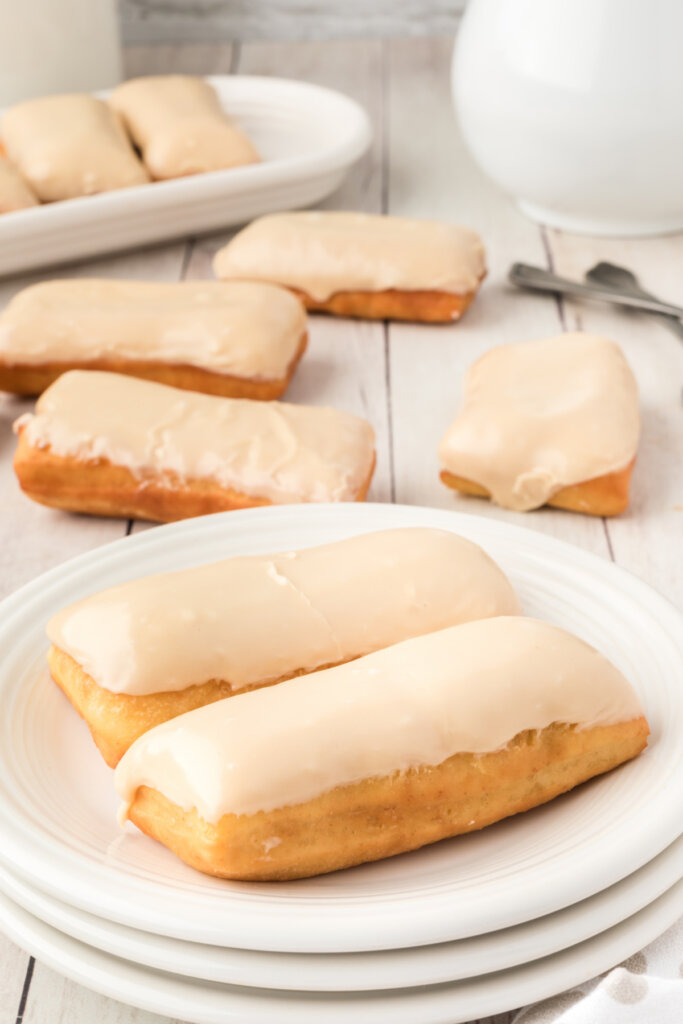 Maple Bar Recipe: Ingredients & Utensils
To make my maple bar recipe, you'll need …
Ingredients
For the maple bars:
Flour, sugar, salt: I included all these together because they're your standard dry baking ingredients. Nothing much to say about them. I'm sure even if you're a beginner at baking, you'll be familiar with all these items!
Butter, milk: The wet ingredients in the batter.
Eggs, vanilla extract: You'll add these to your batter to create the dough.
Oil: To fry your lovely maple bars.
Quick-rise yeast: If you're like I used to be, yeast is kind of scary to work with. I understand. But the biggest key is to not have your liquids too hot that it kills the yeast. Nail that…and you're good to go.
For the glaze:
Butter, brown sugar: The base of your glaze.
Milk: This thins your glaze …
Powdered sugar: … and this thickens it.
Corn syrup: For super-sticky glaze!
Maple extract: This provides that tasty fall flavor in the glaze.
Utensils & Appliances:
Saucepan: For heating the milk and butter at the beginning of the dough recipe, and for making your glaze.
Large bowl: You'll use this to let your dough rise when you add the yeast.
Stand mixer: If you don't have a stand mixer, you can just as easily mix the batter/dough by hand with a wooden spoon. It will require a little more "work" to mix it by hand, but again, I assure you it is not hard!
Rolling pin and knife or pizza cutter: For cutting the dough into the "bar" shape.
Baking sheet and waxed paper: You'll put the dough on this before frying it.
Deep fryer or heavy skillet: Used to fry your maple bars.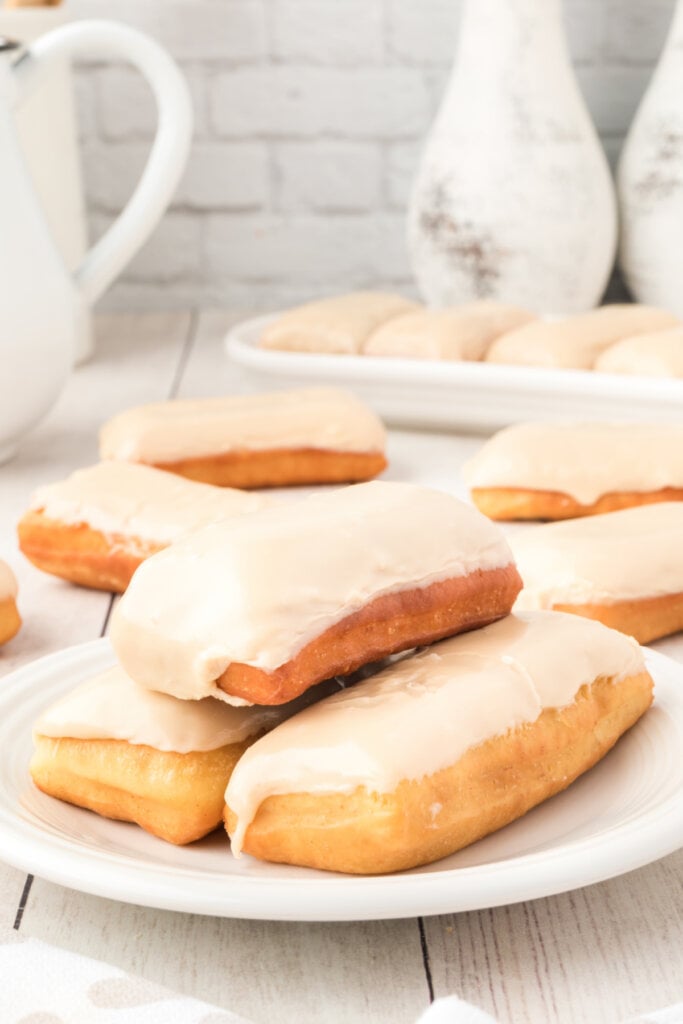 Maple Bars: FAQs
How many maple bars does this recipe make?
About 12, and trust me when I say that you'll be tempted to eat them all!
How long does it take to bake these maple bars?
Not counting the hands-off time for the doughnuts to rise, it'll take 15 minutes of prep time and 15 minutes of cooking time. Altogether, you won't need more than a half-hour to whip up some scrumptious maple bars. Amazing, right?!
Can you keep extra/leftover maple bars in the fridge? 
They'll stay for about a week in the fridge, as long as you keep them in an airtight container, ziplock bag, or something similar! (You don't want them to go stale.)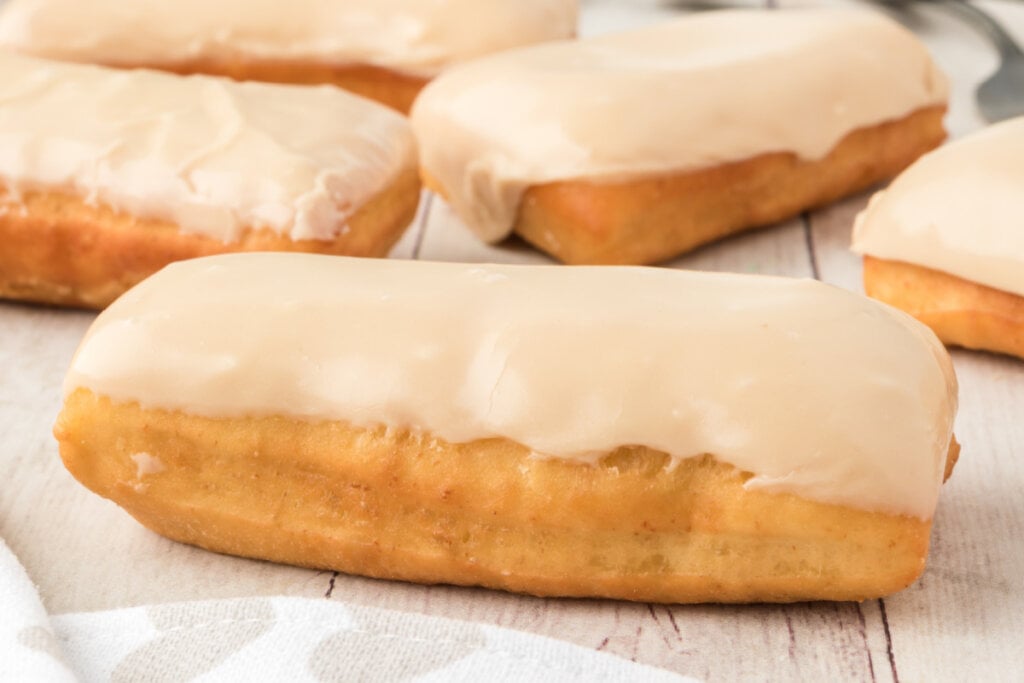 Other recipes you may enjoy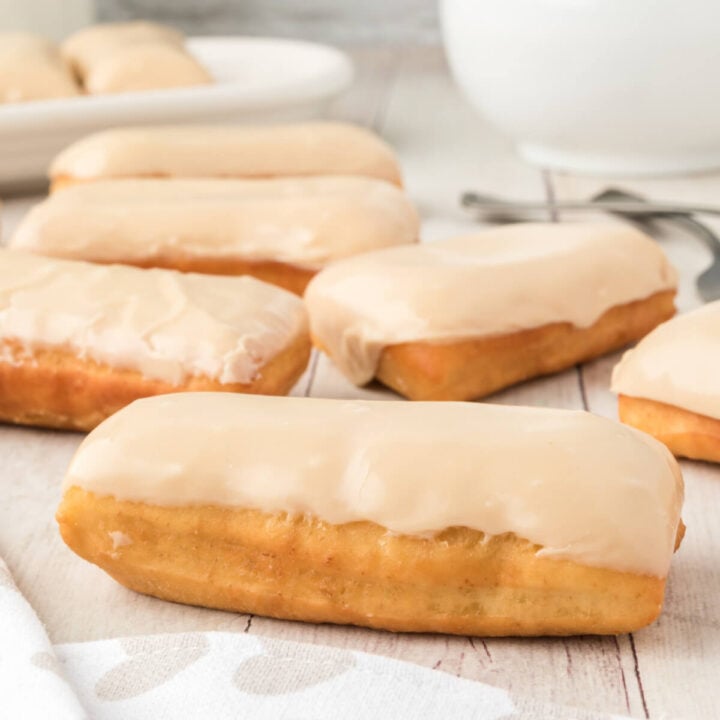 Maple Bars
Rise Time:
1 hour
15 minutes
Total Time:
1 hour
45 minutes
Why go to the donut shop when you can easily make these from-scratch Maple Bars? They are the perfect addition to a weekend brunch!
Ingredients
For the bars
3/4 cup milk
3 tablespoons butter
3-1/4 cups all-purpose flour
1/3 cup granulated sugar
1/2 tsp. salt
1 pkg. (2-1/2 tsp.) quick-rise yeast
2 large eggs
1/2 tsp. vanilla extract
Oil, for frying
For the glaze
1/4 cup (4 tablespoons) unsalted butter
1/2 cup brown sugar
3 tablespoons milk
1 tablespoon corn syrup
2 teaspoon maple extract
2 cups powdered sugar
Instructions
For the bars:
Heat the milk and butter in a medium saucepan over medium heat until the butter is melted and the mixture is hot but not boiling (about 125°F). Remove from heat.
Fit stand mixer with a paddle attachment. Place 2-1/4 cups of flour, sugar, salt, and yeast in the bowl of a stand mixer. Mix on low speed. Slowly add the hot milk mixture and raise the speed to medium. Beat until well combined. Add the eggs and vanilla. Beat until fluffy and well combined, about 2-3 minutes. Add the remaining 1 cup of flour and beat until smooth, 1-2 minutes. The dough will be sticky.
Lightly grease a large bowl. Scrape the dough into a greased bowl and cover it with a clean kitchen towel. Allow the dough to stand in a warm place until almost doubled in size, about 45 minutes.
Line a baking sheet with waxed paper and lightly brush oil over it. Line another baking sheet with paper towels and set aside.
Turn the dough out onto a generously floured surface. With a floured rolling pin, roll the dough into a 12-x-8-inch rectangle. Using a sharp knife or a pizza cutter, cut the rectangle into 12 bars, about 4-inches long by 2-inches wide. Transfer the bars to the oiled, waxed paper. Cover bars with a clean kitchen towel and let rise for 30 minutes.
In a deep fryer or heavy skillet with deep sides, heat oil. You will need about 1-1/2 to 2 inches of oil. Carefully fry 2-4 bars at a time (do not overcrowd) for 1-2 minutes per side, or until dark golden in color. Transfer the cooked bars to the paper towel-lined baking sheet. Repeat with remaining bars, allowing oil to come back up to temperature before frying.
For the glaze:
Combine butter and brown sugar in a small saucepan. Whisk in milk and heat for 3-5 minutes on medium heat, stirring often, until butter is melted and sugar is dissolved. Remove from heat and add corn syrup and maple extract. Add in powdered sugar 1/2-cup at a time, whisking until smooth between additions. Add 1-2 tsp more milk if necessary.
To make Maple Bars:
When the bars are cool enough to handle, dip the top side into the maple glaze. Set on a wire rack with glaze side up until the glaze sets, about 10-15 minutes.
Recommended Products
As an Amazon Associate and member of other affiliate programs, I earn from qualifying purchases.
Nutrition Information:
Yield:

12
Serving Size:

1 bar
Amount Per Serving:
Calories:

339
Total Fat:

6g
Saturated Fat:

3g
Trans Fat:

0g
Unsaturated Fat:

3g
Cholesterol:

41mg
Sodium:

147mg
Carbohydrates:

66g
Fiber:

1g
Sugar:

33g
Protein:

6g
Please note that the nutritional information listed on this page is an estimation based on the products I used. Ingredients and nutritional information can vary significantly between brands. Always be sure to read labels. Please verify that a recipe fits your needs before using it. Nutrition info may contain errors, so please verify it independently. Likewise, recipes may contain errors, so please use your common sense when following them.
Originally published on October 13, 2015. Updated on February 21, 2022.