Oh my gosh – this Maple Bacon Monkey Bread is AMAZING!!! It makes a great addition to a weekend breakfast! #BaconMonth2015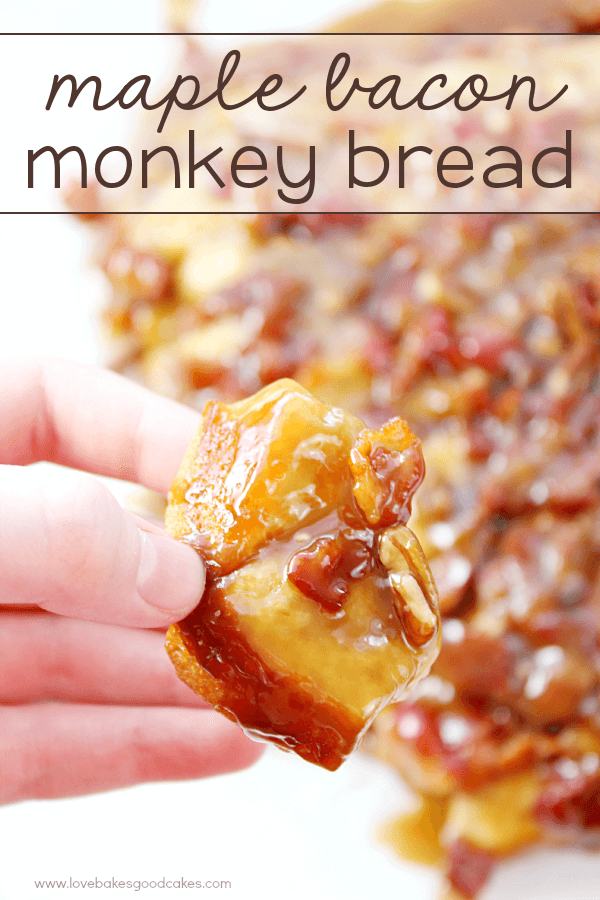 Maple Bacon Monkey Bread
Y'all, this stuff is insane!! My boys devoured the entire pan of this Maple Bacon Monkey Bread without even batting an eye – it's a good thing they at least let me get pictures before they inhaled it! Of course, when you combine maple syrup, bacon, pecans – you know it's going to be good! Lawd have mercy, just look at all those biscuit pieces drenched in maple syrup and covered in bacon and pecans!! Swoon!! I did get to taste a corner piece before it disappeared and I can't wait to make this again!! As it was baking my kiddos were coming into the kitchen like vultures wanting to know what I was baking – so be warned, it won't last long!
Although monkey bread is usually made in a bundt pan, I went with a 9×13-in baking pan for this recipe. I wanted to make sure there was a good biscuit ratio to all the yummy toppings! I don't have a platter large enough to hold this, so I used parchment paper and grabbed my largest cutting board. Be super careful flipping this over – I almost dropped mine!! Eeek!
Making the bread
For my readers who live outside the United States, I know some of you are not able to get your hands on refrigerated biscuits. You can use a homemade biscuit recipe – you can see my homemade buttermilk biscuit recipe here. You may need to adjust the baking time a bit, so just keep an eye on it as it bakes! 🙂
Although my family totally digs the bacon with the biscuits, some of you may think it's a bit weird. I think it would be equally fantastic without the bacon and just with the maple and pecans!
slightly adapted from The Merchant Baker
Check out what some of my bloggy friends made today for Bacon Month!
Heirloom Tomato BLT Salad with Warm Bacon Dressing
Copycat Gordon Biersch House Chips
Giant Peanut Butter Bacon Cookies
Sweet & Salty Chocolate Bacon Bars
Other Posts You May Enjoy:
Bacon and Egg Breakfast Fried Rice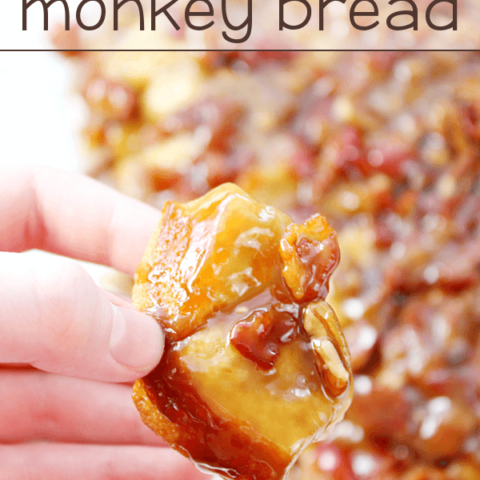 Maple Bacon Monkey Bread
Oh my gosh - this Maple Bacon Monkey Bread is AMAZING!!! It makes a great addition to a weekend breakfast!
Ingredients
1/2 cup real maple syrup
4 tbsp. butter
2/3 cup packed light brown sugar
1/2 cup all-purpose flour
1 tsp. vanilla extract
12 oz. bacon, cooked and crumbled
1/2 cup chopped pecans
3 tubes (7.5 oz. each) refrigerated biscuits, cut each biscuit into quarters
Instructions
Preheat oven to 450°F. Grease a 9x13-inch baking dish or spray with cooking spray and set aside.
In a medium saucepan over medium-low heat, cook the maple syrup and butter until the butter is melted. Add the brown sugar. Stir until well combined. Slowly add the flour, whisking well between each addition until all of the flour has been added. Remove sauce from heat and add the vanilla. Pour sauce into the prepared pan.
Sprinkle the cooked and crumbled bacon evenly over the top of the sauce in the baking dish. Sprinkle pecans evenly over the top. Top with quartered biscuits.
Bake for 15-17 minutes or until the biscuits are cooked through and golden brown and the sauce is bubbly.
Remove from the oven. Cover with serving dish. Quickly and carefully invert the biscuits out onto the serving dish. While the sauce is still hot, scrape any sauce still in the baking dish out over the biscuits.
Serve immediately.
Notes
Cover and refrigerate any leftovers. Reheat any leftovers before serving.
Nutrition Information:
Amount Per Serving:
Calories:

352
Total Fat:

20g
Saturated Fat:

7g
Cholesterol:

23mg
Sodium:

608mg
Fiber:

1g
Sugar:

18g
Protein:

6g