Buttermilk Doughnuts with Cherry Glaze is an old-fashioned doughnut recipe with a super simple cherry glaze! They're easier to make than you may think!
Buttermilk Doughnuts with Cherry Glaze
Is the correct spelling, doughnuts or donuts? Actually, I have no idea! But I do know that no matter how you spell them, they are good! 🙂 These buttermilk doughnuts may remind you of the old-fashioned kind grandma used to make. If you're not a fan of cherry, you can use any flavor of jam or jelly you like – or kick it old school with powdered sugar …. or even cinnamon/sugar!
These doughnuts are perfect for a weekend or holiday breakfast. You can make them the night before for a fuss-free morning. This recipe actually makes quite a few doughnuts for your noshing pleasure!
With Easter just around the corner, this would be a great breakfast idea! They are simple and delicious … what more could you ask for?! 🙂
Having a doughnut cutter will make this easier – but you can use a shot glass and a slightly larger glass in a pinch! I also love those guides on the rolling pins that take the guesswork out of how thick the dough is!! 🙂
Mercy!! Look at all the cinnamony-sugar goodness!! I love it!!
What's your preference? Glazed, cinnamon-sugar or powdered sugar?
Other recipes you may enjoy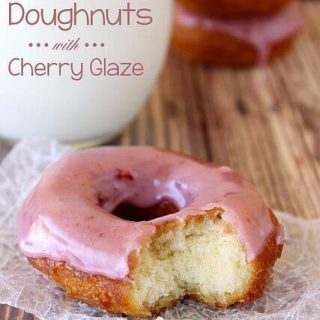 Buttermilk Doughnuts with Cherry Glaze
Yield:
24 doughnuts plus 24 doughnut holes
Total Time:
1 hour
20 minutes
Buttermilk Doughnuts with Cherry Glaze is an old-fashioned doughnut recipe with a super simple cherry glaze! They're easier to make than you may think!
Ingredients
For the doughnuts
4 cups all-purpose flour
4 teaspoons baking powder
3/4 teaspoon salt
1/4 teaspoon baking soda
2 eggs, slightly beaten
1 cup granulated sugar
1/4 cup vegetable oil
1 teaspoon vanilla extract
1 cup buttermilk
Oil or shortening for frying
For the glaze
4 tablespoons cherry jam
2 cups powdered sugar
3-4 teaspoons milk (more if needed)
Instructions
To make the doughnuts:
In a fryer or deep skillet, carefully heat the oil or shortening for frying to 375°F over medium to medium-high heat.
In a bowl, combine the all-purpose flour, baking powder, salt and baking soda.
In a separate bowl, beat eggs and granulated sugar until thick and lemon-colored. Stir in the oil and vanilla. Add the dry ingredients and buttermilk alternately to the egg mixture, beginning and ending with the dry ingredients. Beat just until blended after each addition.
Roll dough out on a lightly floured surface to ½-in. thick. Cut with a floured doughnut cutter.
Fry in batches until golden brown, about 1-2 minutes per side, flipping once. Remove doughnuts from the oil and drain.
To make the glaze:
Whisk the glaze ingredients in a medium shallow bowl until smooth.
To glaze the doughnuts, dip one side of each doughnut into the glaze and place glaze side up on a rack to set.
Notes
**Note: If you prefer, you can also shake the doughnuts or doughnut holes in cinnamon/sugar combo or powdered sugar! I prefer to do that with the doughnut holes but like the actual doughnut glazed! 🙂
Nutrition Information:
Amount Per Serving:
Calories:

265
Total Fat:

12g
Saturated Fat:

1g
Cholesterol:

14mg
Sodium:

161mg
Fiber:

1g
Sugar:

20g
Protein:

3g
Originally published on March 25, 2014. Updated on April 26, 2021.