Take your chocolate chip cookies to the next level with these Maple Bacon Chocolate Chip Cookies! #BaconMonth2015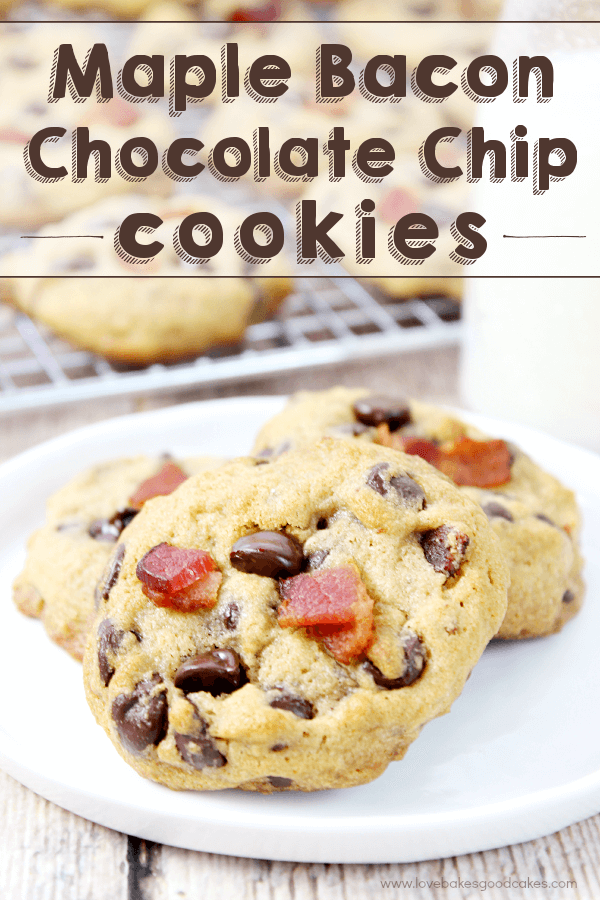 Maple Bacon Chocolate Chip Cookies
Are you as excited about Bacon Month as I am?! I know my bloggy friends and I are going to kill it this year with all of the great bacon recipes coming your way!! I'm kicking off Bacon Month with these Maple Bacon Chocolate Chip Cookies – I'm taking the classic cookie and hooking it up with some bacon and maple for a delicious new twist!
Brian is a huge chocolate chip cookie fan. Not only does he love the cookies, but he loves the raw dough. Blech!! I'm too much of a germ-a-phobe so I can't do the raw cookie dough unless there are no eggs. Yes, I am that person. 😉
I know some people are off-put by the idea of adding bacon to sweet recipes, but sometimes, it just works. This recipe is one of those times it worked! My bacon-loving boys loved these cookies with a glass of ice cold milk.
Remember, this is just the first of many bacon recipes this month! Be sure to stay tuned all month, my bloggy friends and I will be sharing tons of great bacon recipes!! I have a few recipes that I just can't wait to share, I am so excited – and I hope y'all are just as excited for this series!
Below are the recipes my bloggy friends shared today! Be sure to stop by and check them out!
Maple Bacon Chocolate Chip Cookies
Bourbon Bacon Bread Pudding Muffins with Spiced Bourbon Syrup
Other Posts You May Enjoy:
Pumpkin Oatmeal Chocolate Chip Cookies
Old-Fashioned Gingersnap Cookies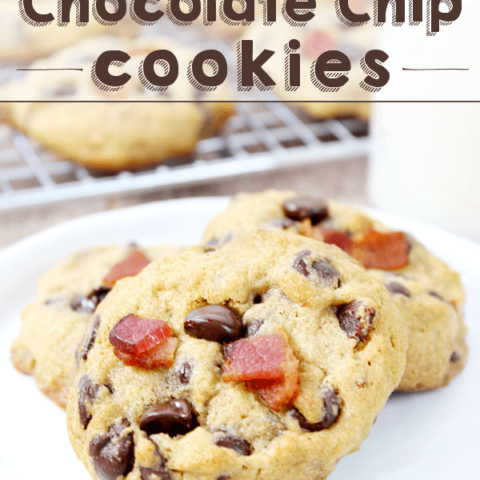 Maple Bacon Chocolate Chip Cookies
Take your chocolate chip cookies to the next level with these Maple Bacon Chocolate Chip Cookies!
Ingredients
1/2 cup (1 stick) butter, softened
1/2 cup packed brown sugar
1 tsp. baking soda
1 large egg
1 large egg white (save yolk for another use or discard)
1 cup all-purpose flour
1 pkg. (3.4 oz) instant vanilla pudding mix, dry
1 tsp. maple extract
1 1/2 cups chocolate chips
1/2 cup chopped, cooked bacon
Instructions
Preheat oven to 350°F. Line baking sheet with parchment paper or Silpat. Set aside.
In a large mixing bowl, beat butter, brown sugar, and baking soda with an electric mixer until combined. Beat in egg and egg white. Add the flour, dry pudding mix, and maple extract.
Using a wooden spoon or spatula, stir in the chocolate chips and bacon.
Drop dough by rounded teaspoonfuls 2-inches apart on prepared pans. Bake 10-12 minutes or until set. Allow cookies to cool on baking sheet for 2-3 minutes before transferring them to wire racks to cool completely.
Nutrition Information:
Amount Per Serving:
Calories:

169
Total Fat:

8g
Saturated Fat:

5g
Cholesterol:

22mg
Sodium:

143mg
Fiber:

1g
Sugar:

17g
Protein:

2g