Homemade Waffle Cones are so easy to make at home – let me show you how! They taste better homemade, too!
Homemade Waffle Cones recipe
I recently celebrated my birthday. It's hard to believe that I'm another year older … where does the time go?! To celebrate, we had a cookout and pool party with lots and lots of food because what's a party without copious amounts of food?! It's tradition in our house that the birthday person gets to pick their favorite meal and dessert. Being a 4th of July baby typically means hot dogs and hamburgers are on the menu, but this year I decided to change things up with grilled steaks and all of the sides of a steakhouse. Have mercy, y'all. It was soooo good. This just might be my new thing from now on.
I decided to forgo the typical cake and ice cream in favor of my favorite gelato and homemade waffle cones.
Because it's too hot to bake a cake in Phoenix in the summer
After a heavier meal, I really wanted something lighter to finish out the menu
It was my birthday, and I really wanted gelato
I love making homemade waffle cones!
Have you ever tried gelato? I was a little late figuring out this was a thing. Can you believe that the first time I tried gelato was last year when I went to Las Vegas with some of my blogging friends? We went to lunch at this place that had an enormous amount of gelato choices … and I've been hooked ever since.
I love serving gelato in my homemade waffle cones.
Easy Waffle Cones recipe
Although it may look complicated, let me assure you that this recipe for Homemade Waffle Cones is so easy! If you don't have a waffle cone maker, you can make these on a griddle or in a skillet like pancakes – you will need to flip them once after about 30-45 seconds and let them cook an additional 30-45 seconds.
Once you remove the waffles from the heat, you will need to work quickly. Please be cautious as the waffles will be VERY HOT coming off of the waffle maker or stove. I find it easiest to place a towel near where I am making the waffle cone. I think it provides a little stability to prevent the hot cone from slipping all over the place while rolling them. Once you have the freshly made waffle, position the cone roller over it with the tip near the edge and roll it uptight. You will need to hold it for a few seconds while it cools so it holds its shape. If you don't have a cone roller, aluminum foil shaped like a cone makes an easy and inexpensive replacement.
If you prefer bowls, you can easily shape them using a custard cup or a bowl of similar size. You can also change things up by dipping the waffle cone edge in chocolate – and sprinkling on some chopped nuts or sprinkles. There are so many delicious possibilities!
Other recipes you may enjoy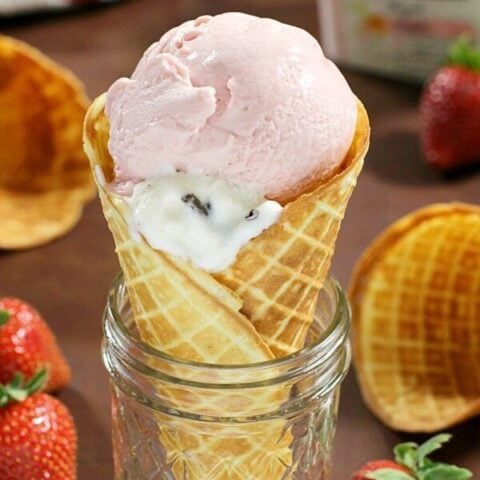 Homemade Waffle Cones
Homemade Waffle Cones are so easy to make at home - let me show you how!
Ingredients
For the Waffle Cones
2 large eggs
1/2 cup granulated sugar
2/3 cup all-purpose flour
1/4 teaspoon salt
4 tablespoons ( 1/2 stick) unsalted butter, melted
1/4 cup milk
For each serving
1-2 scoops HemisFares Gelato, any flavor
Instructions
Preheat waffle cone maker according to manufacturer's directions, using heat setting 3 or 4.
In a medium bowl, whisk together the eggs and sugar until well combined. Add the flour and salt to the egg mixture and whisk until well combined. Add the butter and milk to the egg mixture and whisk just until combined.
Spoon a scant ¼-cup of the batter onto the waffle-cone maker. Close the lid and cook for 1 minute before checking for doneness. Continue cooking, if necessary, until the desired color is reached.
Quickly and carefully remove the waffle from the waffle-cone maker and shape it around the cone roller. (USE CAUTION! IT WILL BE VERY HOT!) Hold the cone for a few seconds to set its shape. Set the cone aside and continue with the remaining batter.
Scoop your favorite flavor(s) of HemisFares Gelato into the waffle cone. Serve immediately.
Recommended Products
As an Amazon Associate and member of other affiliate programs, I earn from qualifying purchases.
Nutrition Information:
Amount Per Serving:
Calories:

160
Total Fat:

7g
Saturated Fat:

4g
Cholesterol:

63mg
Sodium:

95mg
Fiber:

0g
Sugar:

13g
Protein:

3g