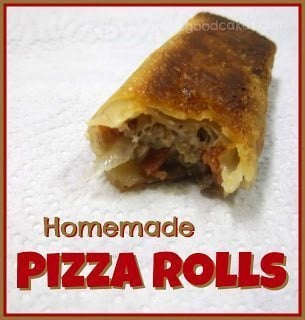 I've had the idea to make these for awhile. I made these for one of our Friday night pizza night's and they were requested to make a repeat appearance. You know that's a win! They were super easy to make. I decided to bake them versus fry them … partly because of the oil … and partly because I'm lazy. 😉 I made a double batch and just could not see standing there frying all these things … there were a lot of them! Baking them on a baking sheet was so much faster and less messy!! I knew I wanted the texture of the mixture inside to be pretty small so I ran it through my food processor – but you don't have to! I decided to forego the pizza sauce inside and used it for a dipping sauce instead.
If you're looking for a break from your traditional pizza routine, give these a try! Modify the "toppings" to fit your family's tastes.
Just a note, egg roll wrappers are usually found in either the fresh produce section or the freezer section of your local grocery store.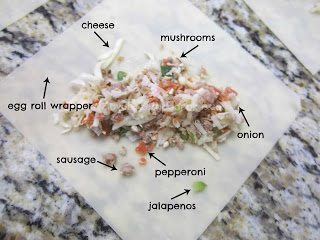 Homemade Pizza Rolls
Yields approximately 6-8 servings
1 pkg. (1 lb.) egg roll wrappers
1/2 lb. Italian sausage, cooked and drained
3 oz. sliced pepperoni, cut into quarters
4 baby bella mushrooms, chopped
1 jalapeno, seeded and chopped
1 small onion, chopped
8 oz. Mozzarella, shredded
2 tbsp. water, in a small bowl
Pizza sauce
***If you prefer a smaller texture for your pizza rolls, place the cooked sausage, pepperoni, mushrooms, jalapeno, onion and mozzarella in the bowl of a food processor. Pulse a few times until the pieces are uniformly in minced-sized pieces.***
Preheat oven to 400 degrees F and spray a large baking sheet with non-stick cooking spray or heat oil in a large skillet to 350 degrees F.
In a medium bowl, combine the cooked sausage, pepperoni, mushrooms, jalapeno, onion and mozzarella. Mix until well combined. You can use the food processor in place of the medium bowl if you prefer your filling in smaller pieces.
Lay out the egg roll wrappers on countertop and place 1/4 cup of the topping mixture in the center going diagonally across the wrap. Fold the bottom corner over the filling; roll snugly to cover the filling. Fold in both sides snugly against the filling. Moisten the top flap with the water. Roll up and seal the top corner. Lay flap-side down until ready to cook.
To bake: Place rolls on prepared baking sheet. Lightly brush the tops with olive oil. Bake for 8 minutes. Carefully turn the pizza rolls over and continue to bake until golden brown, about 5 minutes more.
To fry: Place rolls flap-side down, a few at a time, turning occasionally, until golden brown, 2-3 minutes. Drain on paper towels.
Serve warm with pizza sauce for dipping.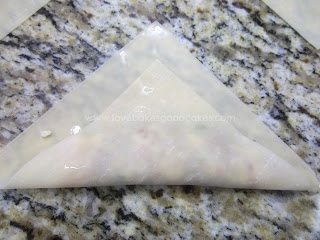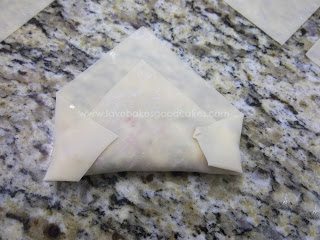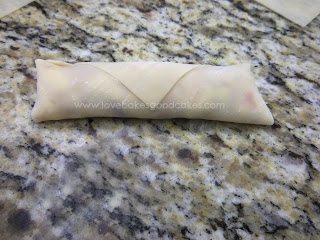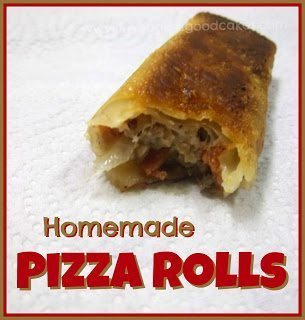 Linked up at
these
fun parties!