This Key Lime Pie Fudge is such an easy recipe! It's creamy and full of lime flavor. As a bonus, no thermometer is needed to make it!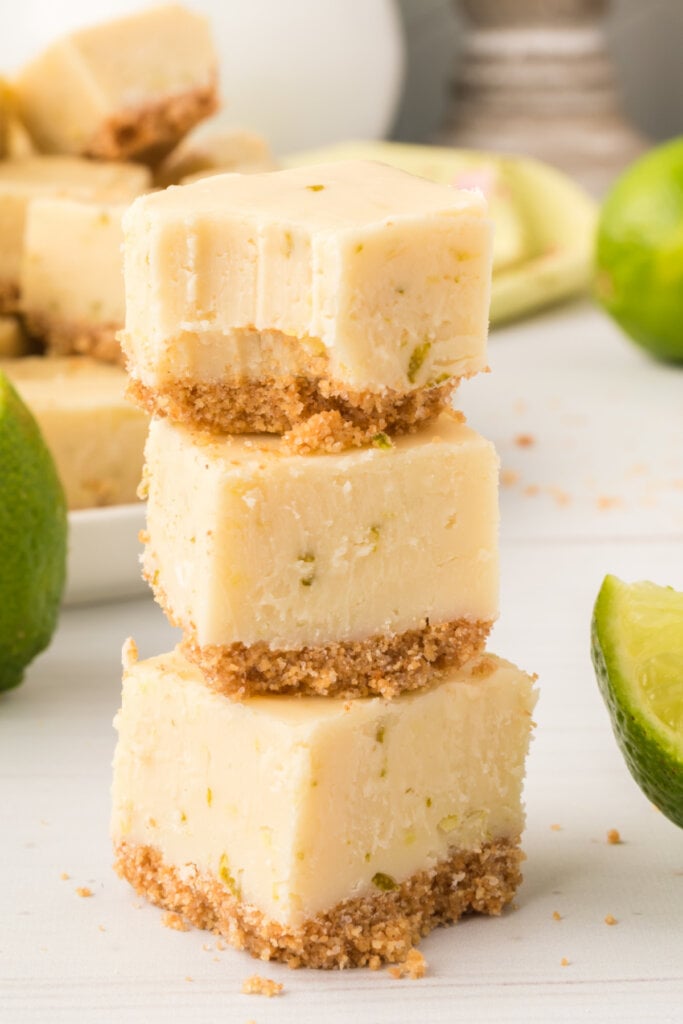 Key Lime Pie Fudge
I've been looking for unusual fudge flavors lately! I've just had a big craving. And a few weeks ago, I ran across a pin on Pinterest for this key lime pie fudge. The only problem was when you clicked on the link, and it didn't take you to a recipe. Don't you just hate when that happens?! Ugh … so not cool.
I decided to see if I could find a recipe online, and there were a few to choose from. So I adapted the recipe below to use things I already had on hand – and I loved that I didn't need a thermometer! Can you say, "Easy?" I love recipes like that – don't you?!
You can make this key lime fudge with or without the graham cracker crust. I prefer it without – but my family preferred it with the crust! So if you don't want a crust, just skip that part of the recipe. I hope you enjoy it!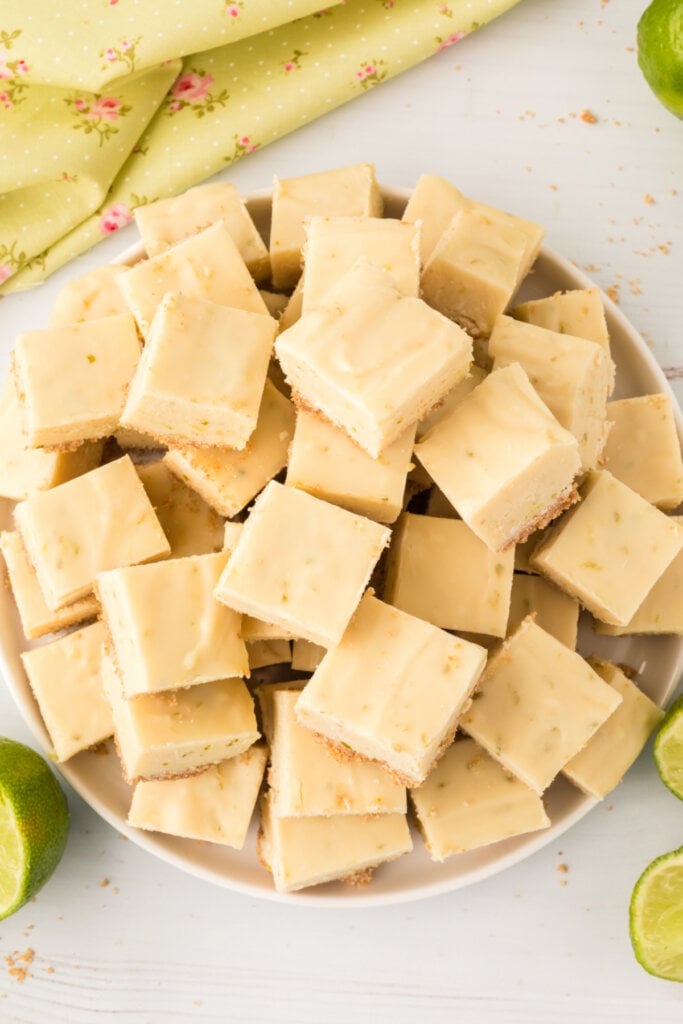 Key Lime Pie Fudge: Ingredients & Equipment
To make this easy Key Lime Fudge recipe, you'll need …
Ingredients
graham crackers, sugar, butter – this forms your graham cracker crust. As I said, you can leave it out if you want, and I prefer it without … but I go with my family's wishes every time!
white chocolate chips, condensed milk – the base of your fudge. But it won't taste like key lime until you add …
lime juice, lime zest – the citrus! This provides the beautiful key lime flavor you know and love. Don't skip the zest, especially, as it gives this fudge a beautifully citrusy kick.
Equipment
9×9 baking pan and cooking spray – your container for making your fudge crust, of course!
food processor – for crushing the graham crackers into fine crumbs. You can also use a zip-top bag and rolling pin if necessary.
microwave-safe bowl – a large one for mixing your fudge.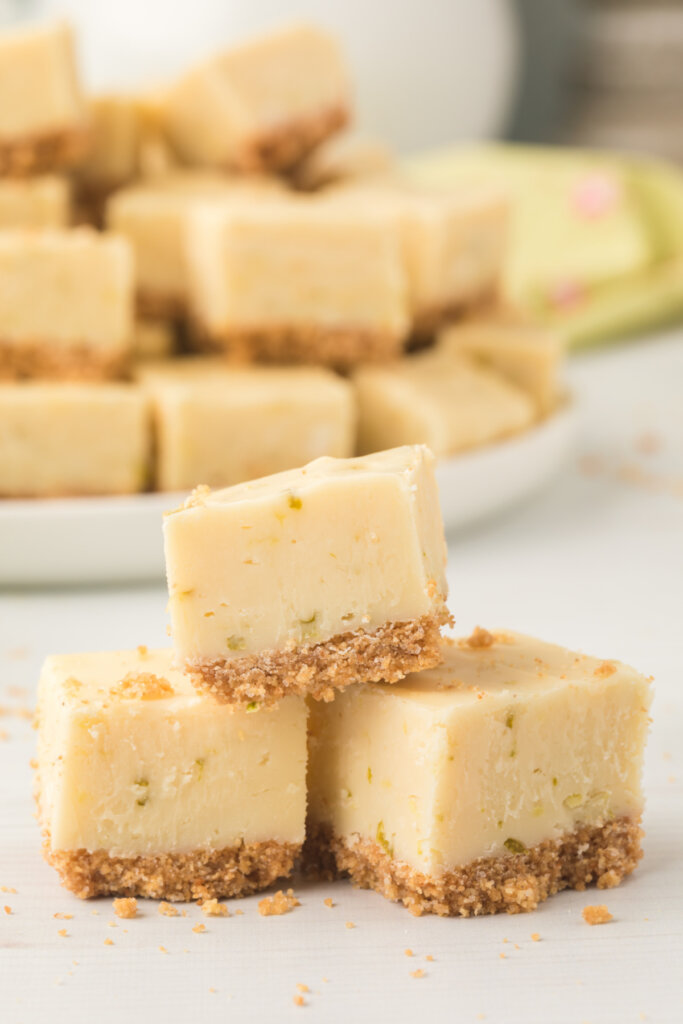 Key Lime Fudge: FAQS
How much fudge does this recipe produce?
About a pound and a half! Lots for your family and friends to chow down on … or to keep for yourself if you're so inclined. Just don't eat it all at once. 😉
How long does it take to make key lime fudge?
No more than 20 minutes! Just 10 for prep and 10 to cook the fudge.
What kind of limes should I use for this recipe?
You'll want to use key limes, which seems obvious, but I bring it up because the limes you'll find at the store usually aren't key limes. Key limes turn yellow when ripe and are smaller than the variety you're most likely to find at the store (Persian limes). However, if you absolutely CAN NOT find key limes, you can use the Persian ones!!
What kind of white chocolate should I use?
If at all possible (and if it's in your budget), use something high-ish quality, like Ghirardelli!! That's what I tend to use. This will give you the best fudge texture and flavor, and you'll notice the difference.
Can you use something besides graham crackers for the crust?
Absolutely!! I've heard of people using crumbled vanilla wafers and/or gingersnaps successfully as crusts.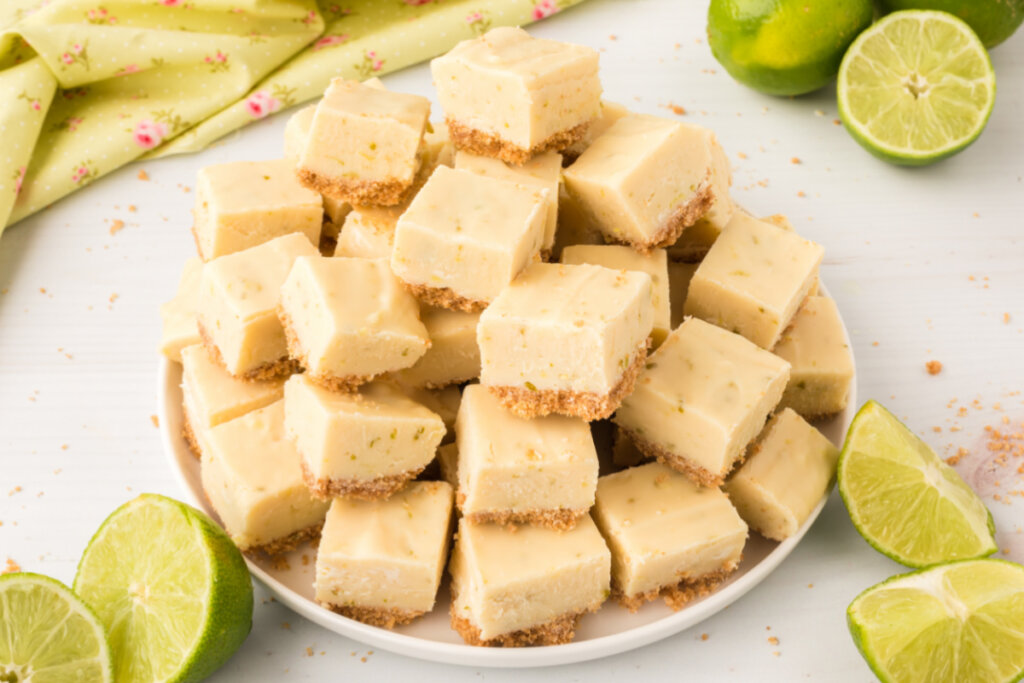 Other recipes you may enjoy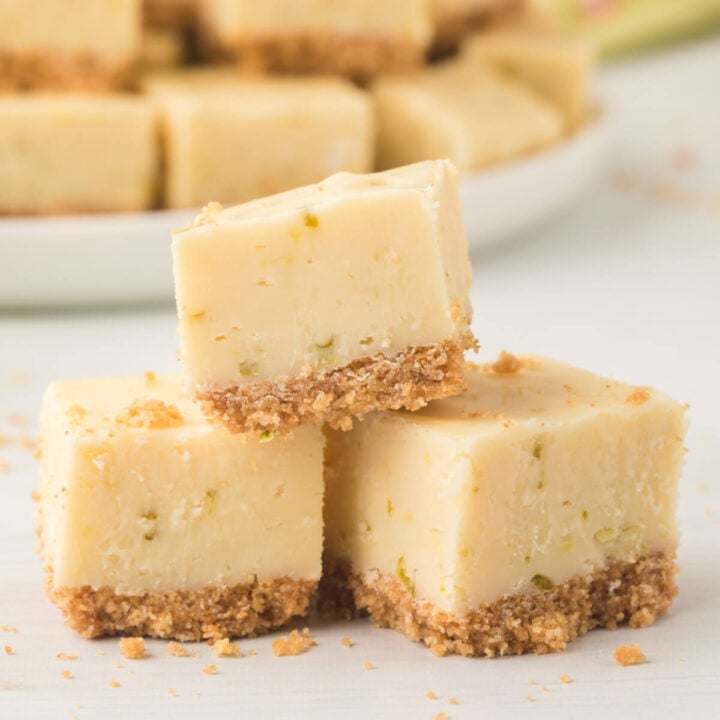 Key Lime Pie Fudge
Total Time:
3 hours
20 minutes
This Key Lime Pie Fudge is such an easy recipe! It's creamy and full of lime flavor. As a bonus, no thermometer is needed to make it!
Ingredients
For the crust (optional)
1/4 cup (4 tbsp.) butter, melted
1/4 cup granulated sugar
1 package (about 9 rectangles) graham crackers
For the fudge
2 bags (11 oz. each) Ghiradelli classic white chips
1 can (14 oz.) sweetened condensed milk
2 tablespoons finely grated lime zest
3 tablespoons lime juice
Instructions
Line a 9x9-in. baking pan with aluminum foil and spray with cooking spray. Set aside.
If making a crust (otherwise skip to step 3), preheat oven to 375°F. Place the graham crackers in a food processor and pulse until they resemble fine crumbs. Add the butter and sugar and pulse just until mixed. Press the mixture evenly into the bottom of the prepared pan. Bake for 5-7 minutes or until the edges are lightly browned. Remove from the oven and allow to cool while you prepare the fudge layer.
In a large microwave-safe bowl, combine the white chips and sweetened condensed milk. Microwave in 30-second increments, stirring after each cooking time until the chips are melted and the mixture is smooth. Add the zest and juice. Working quickly, mix until thoroughly combined. Evenly pour the fudge into the prepared pan over the graham cracker crust, if using, and smooth it out. Refrigerate for 2-3 hours or until the fudge is completely set.
Remove the fudge from the pan using the foil to lift it out. Use a sharp knife and cut the fudge into 1-inch squares.
Store fudge in an airtight container in the refrigerator. Use within 2 weeks.
Notes
Before serving, allow the fudge to come to room temperature for 15-20 minutes.
Recommended Products
As an Amazon Associate and member of other affiliate programs, I earn from qualifying purchases.
Nutrition Information:
Yield:

36
Serving Size:

1 square
Amount Per Serving:
Calories:

14
Total Fat:

0g
Saturated Fat:

0g
Trans Fat:

0g
Unsaturated Fat:

0g
Cholesterol:

0mg
Sodium:

6mg
Carbohydrates:

3g
Fiber:

0g
Sugar:

2g
Protein:

0g
Please note that the nutritional information listed on this page is an estimation based on the products I used. Ingredients and nutritional information can vary significantly between brands. Always be sure to read labels. Please verify that a recipe fits your needs before using it. Nutrition info may contain errors, so please verify it independently. Likewise, recipes may contain errors, so please use your common sense when following them.
Originally published on May 7, 2014. Updated on April 10, 2022.