I know Christmas has passed …. but homemade BBQ sauce makes a great gift for holidays … or for Father's Day! Add some homemade spice rubs, a new basting brush or grill set, an apron or maybe a nice platter and you've got a great gift!
Homemade BBQ Sauce
Have you ever made Homemade BBQ Sauce? Y'all, I swear it is the best on grilled or baked chicken. Sure, it's good on other stuff too… but in personal opinion it's best on chicken! If you've never made it before, you won't believe how easy it is! And quick! Oooh ….. this is a recipe everyone needs in their files!
I didn't really set any "resolutions" per se, this year. As you have noticed, I didn't even really talk about it. The New Year kinda slipped in I wished everyone a Happy New Year and life just kinda went on. I don't usually do resolutions, they're more like goals for me.
One of the things I will be working on is to reduce the number of processed foods my family consumes. If y'all know anything about me, you know I have a love for Bisquick and cake mixes, amongst other things! Now, don't think I'm telling y'all I'm eliminating them …. because I would be lying if I told y'all that. What I am telling you is, I will be more aware of the things I buy – and will strive to make more things "from scratch" …. but there will still be cake mix and Bisquick on occasion, I'm almost sure.
One of the things my family loves is BBQ …. bbq sauce, bbq rubs, barbecued peanuts …. anything grilled (aka barbecued) …. you get the drift. We buy copious amounts of BBQ Sauce. We use it on sooooooo many things. An occasional switch from store-bought to this awesome homemade sauce would be an easy thing ….. so this is one I need to share with you!
Other recipes you may enjoy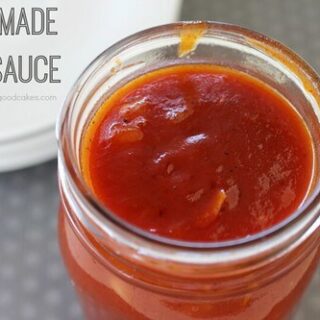 Homemade BBQ Sauce
Ingredients
1 cup ketchup
1/3 cup water
1/4 cup butter
1 tablespoon paprika
1 teaspoon packed brown sugar
1/4 teaspoon ground black pepper
1 medium onion, finely chopped
2 tablespoons lemon juice
1 tablespoon Worcestershire sauce
Instructions
In a saucepan over medium heat, bring the ketchup, water, butter, paprika, brown sugar, pepper, and onion to a boil. Stir in the lemon juice and Worcestershire sauce. Heat through.
Store in the refrigerator for up to 7 days. Serve on or with: ribs, burgers, chicken pieces, as a dipping sauce – or anywhere you would normally use BBQ sauce!
Nutrition Information:
Yield:

16
Serving Size:

1
Amount Per Serving:
Calories:

46
Total Fat:

3g
Saturated Fat:

2g
Trans Fat:

0g
Unsaturated Fat:

1g
Cholesterol:

8mg
Sodium:

171mg
Carbohydrates:

6g
Fiber:

0g
Sugar:

4g
Protein:

0g
Please note that the nutritional information listed on this page is an estimation based on the products I used. Ingredients and nutritional information can vary greatly between brands. Always be sure to read labels.
Originally published on January 6, 2014. Updated on April 25, 2021.