"Oooh" and "aah" your guests with this impressive Halloween Bundt Cake! It is so colorful and it's easy to make.
Halloween Bundt Cake
Boy, do I have a treat for y'all today! I'm sure y'all have figured out I'm not really into the gross and gory stuff for Halloween. My kiddos get a kick out of it – and I actually do have a recipe that I will be sharing next week that may make some people cringe. It makes me cringe just thinking about it! LOL. But today, I have this Halloween Bundt Cake …. nothing scary here! 🙂
Did y'all see all of that color on that cake?! Don't get scared – this recipe is easy peasy, y'all! Thanks to a boxed cake mix, you can have this pretty cake done in no time!
I've made this kind of cake before and it always gets great reviews – and people always think it looks cool. Most people are surprised at how easy it is to make this cake. If you have been a reader of Love Bakes Good Cakes for awhile, you may remember my Firecracker Cake that is made using the same technique. (Nevermind the old pictures – it was one of my first posts!) I love taking this kind of cake to potlucks or church luncheons – it's almost always the first dessert gone and people always want to know who brought that cake! I am usually asked for the recipe too!
You can easily switch up the colors to suit whatever holiday or occasion.
Since we're pretty much "caked out" after two birthdays – I had the boys take this cake over to our neighbor, Gina and her family! She thought it was quite cool and couldn't wait to show her daughter all of the colors! 🙂
Other Posts You May Enjoy: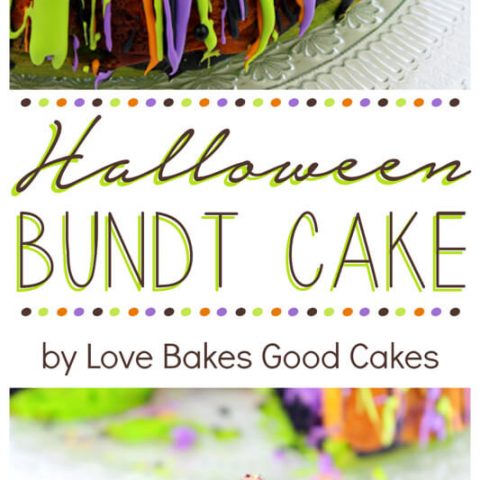 Halloween Bundt Cake
"Oooh" and "aah" your guests with this impressive Halloween Bundt Cake! It is so colorful and it's easy to make.
Ingredients
1 box (15.25 oz.) white cake mix
Ingredients listed on box to make cake
Orange, purple, black and green food coloring
1 container (12 oz.) white frosting
Halloween sprinkles (optional)
Instructions
Preheat oven to 325°F. Generously grease a 12-cup bundt pan and set aside.
Make the cake batter as directed on box using water, oil and eggs. Pour one cup of cake batter into a small bowl; stir in orange food coloring until well mixed. Pour another cup of cake batter into a separate small bowl; stir in purple food coloring until well mixed. Repeat with one cup of cake batter and the black food coloring. Tint the remaining cake batter green.
Pour the orange cake batter into the bottom of the pan. Carefully pour the purple batter over the orange batter. Carefully pour the black batter over the purple. Carefully pour the green batter over the black batter. These layers do not necessarily need to "cover" each other. When you add the batter to the pan, do not mix with a spoon. Just pour it in so the colors don't mix, but rather, just rest on top of each other in the pan.
Bake as directed on box for a bundt pan or until a toothpick inserted near comes out clean. Cool cake in the pan for 5 minutes. Meanwhile, place a cooling rack over a cookie sheet. Turn the cake pan upside down onto the cooling rack. Cool the cake completely, about 30 minutes.
When the cake is cooled, divide the frosting evenly into 4 microwaveable bowls. Add one color of food coloring to each of the bowls; mix well. Microwave one bowl of frosting uncovered on HIGH a few seconds until smooth enough to drizzle over the cake. With a spoon, drizzle all of the first bowl of the microwaved frosting all over the cake, back and forth around the cake in a striping pattern. Repeat with remaining bowls of frosting. Make sure you can see the layers of frosting colors as you make the cake. Top the cake with sprinkles, if desired. Let cake stand at room temperature until the frosting is set before serving. Store loosely covered at room temperature.
Nutrition Information:
Amount Per Serving:
Calories:

181
Total Fat:

6g
Saturated Fat:

1g
Cholesterol:

0mg
Sodium:

194mg
Fiber:

0g
Sugar:

25g
Protein:

1g