Enjoy the King of Rock and Roll's birthday with this Ode to Elvis Poke Cake! A peanut butter cake with Elvis's favorite foods!
The Ode to Elvis Poke Cake
Celebrate the King of Rock and Roll's birthday with this Ode to Elvis Poke Cake! A peanut butter cake with banana cream pudding, topped with sliced bananas, Cool Whip, crispy cooked bacon, and a peanut butter glaze!
Y'all, I have gone and lost my ever-lovin' mind. Don't send me nasty emails, but I'm not really a fan of Elvis …. he has a few songs I dig … but I never really "got" the whole thing that people see in him. I'm not hatin' … I just don't understand. Maybe I was just a victim of being born into the wrong generation so I wasn't meant to "get it"? You may be wondering why someone would go and make "The Ode to Elvis Poke Cake" …. well, I really have no logical reason other than it's just fun and yummy! Really, do we need a better reason?! I've been sitting on this post for a few weeks – and I have been dying to share it with y'all!! Thankfully, today is the day – I can't keep it to myself any longer!
Where it all began…
So, in all seriousness, you have to be wondering why I would do something like this. Let me share with you how it all began …. When I was about 5 or 6, I had to have surgery. As a matter of fact, other than having children, it is the only time I have ever been hospitalized in my life. I kinda try to avoid doctors and hospitals. I don't like 'em. It's nothing personal – but usually, a visit to the doctor or hospital involves some sort of painful experience or bad news – and I'm not really a fan of those either!
Anyhow, I had to have my tonsils and adenoids taken out. A very common procedure. No big deal. I remember after the surgery, I was given a free ticket by the nurse to drink all of the 7-Up and eat all of the popsicles I wanted. In my very young mind, I thought that was kinda cool. As a matter of fact, I remember the nurse walking me down to the little room where all of the snacks were and her telling me that I could have anything I wanted, whenever I wanted. I'm pretty sure I didn't want to leave. EVER. Popsicles will do that to kids.
The "Elvis Sandwich"
I also remember that my first real food at the hospital (that wasn't popsicles or 7-Up), was an "Elvis sandwich." I can't remember what else was served with it …. but I loved that sandwich. I thought it was the coolest thing! My mom never made sandwiches like that for me at home. I got plain ol' pb&j or lunchmeat …. and maybe an occasional grilled cheese! BORING!
Some of y'all might know what an Elvis sandwich is … but for those of ya that don't know – it's a sandwich with peanut butter, banana, and bacon on it! Seriously!! Of course, as a kid, I had no idea what it was called or even who Elvis was. Truthfully, I didn't even care. But I remember that sandwich. For all of these years, I have remembered it. Until I was an adult, it was the first and last time I had that sandwich …. and I can probably count on one hand the number of times I have ever eaten another one in my life.
Making the cake
The thing is, I never really realized how awesome Elvis was (or whoever made that sandwich for him). I mean, what's not to love about peanut butter, banana and bacon sandwich? Can I get an amen? I had this crazy idea a few weeks back of making that sandwich into a poke cake – y'all know I'm obsessed with them, right? (A few of my bloggy friends who like to tease me a bit about my poke cake obsession are nodding their heads right now …. some of them might even think I'm a bit of genius with this poke cake – I can hope, right?! lol)
I know what you're saying … enough of the chit-chat lady, just show me the recipe ….. Get out your stretchy pants friends, without further ado, I share with you The Ode to Elvis Poke Cake:
Other recipes you may enjoy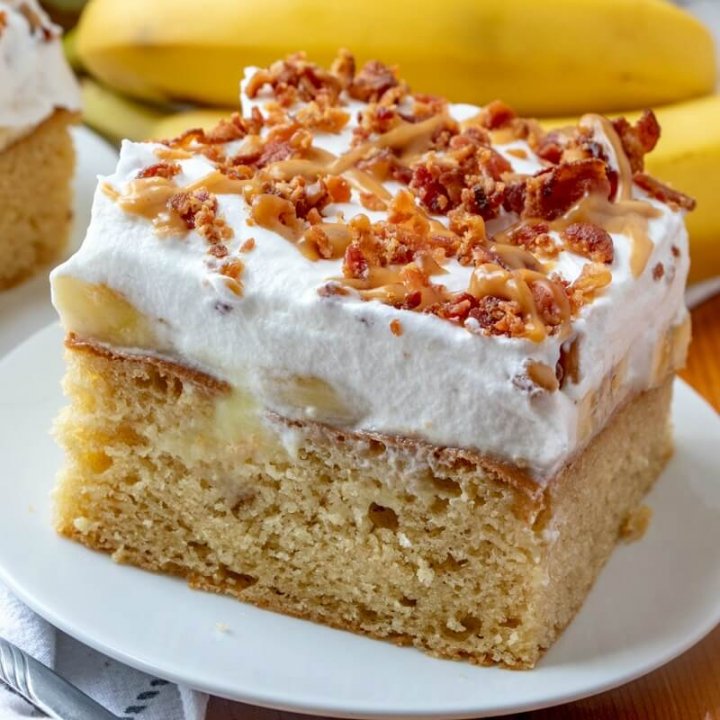 The Ode to Elvis Poke Cake
Total Time:
4 hours
55 minutes
Celebrate the King of Rock and Roll with this Ode to Elvis Poke Cake! A peanut butter cake with banana cream pudding, topped with sliced bananas, Cool Whip, crispy cooked bacon, and a peanut butter glaze!
Ingredients
For the cake:
½ cup creamy peanut butter
½ cup (1 stick) butter, softened
4 eggs
1 (18.25 oz.) box Duncan Hines butter golden cake mix
2/3 cup water
Additional ingredients for the cake:
2 cups of milk
1 box (3.4 oz.) Jello banana cream instant pudding and pie filling mix
4-5 bananas, peeled and sliced
1 container (8 oz.) Cool Whip, thawed
12-16 ounces bacon, cooked, crumbled and drained
For the glaze:
¼ cup creamy peanut butter
5 tablespoons milk
Instructions
Preheat oven to 325° F. Spray a 9x13-in. baking pan with cooking spray and set aside.
In a large bowl, cream the ½ cup peanut butter and butter with an electric mixer. Add eggs, one at a time, mixing until just combined. Add half of the cake mix and ⅓ cup of water. Mix until just combined. Add remaining cake mix and remaining ⅓ cup of water; mix until just combined. Pour batter evenly into the prepared baking pan. Bake for 30-35 minutes or until cake tests done. Remove from the oven and allow to cool 30 minutes.
With the handle end of a wooden spoon, poke holes all over the cake. There is not a set number of holes, but you will want plenty for the pudding to fill.
In a medium bowl, combine the instant pudding mix and milk. Pour the pudding mixture over the cake, trying to fill the holes the best you can. You may need to use the back of a spoon to help spread the pudding mix and fill the holes. Top with the sliced bananas. Evenly spread the Cool Whip over the cake. Sprinkle the crumbled bacon over the top.
In a small microwave-safe bowl, combine the ¼ cup creamy peanut butter and 5 tbsp. milk. Microwave in 10 seconds intervals until smooth, stirring between each time. Carefully pour the mixture into a small zip-top bag and snip a small piece off one of the corners. Drizzle the peanut butter glaze over the top of the cake. Cover and refrigerate the cake for at least four hours before serving.
Recommended Products
As an Amazon Associate and member of other affiliate programs, I earn from qualifying purchases.
Nutrition Information:
Yield:

24
Serving Size:

1 square
Amount Per Serving:
Calories:

1268
Total Fat:

87g
Saturated Fat:

30g
Trans Fat:

0g
Unsaturated Fat:

53g
Cholesterol:

260mg
Sodium:

4073mg
Carbohydrates:

35g
Fiber:

2g
Sugar:

14g
Protein:

82g
Originally published on October 24, 2013. Updated on April 24, 2021.