This Fritos Corn Salad is a delicious, crunchy, and quick-to-make alternative to your standard salads. Plus, it's filled with Mexican flavor!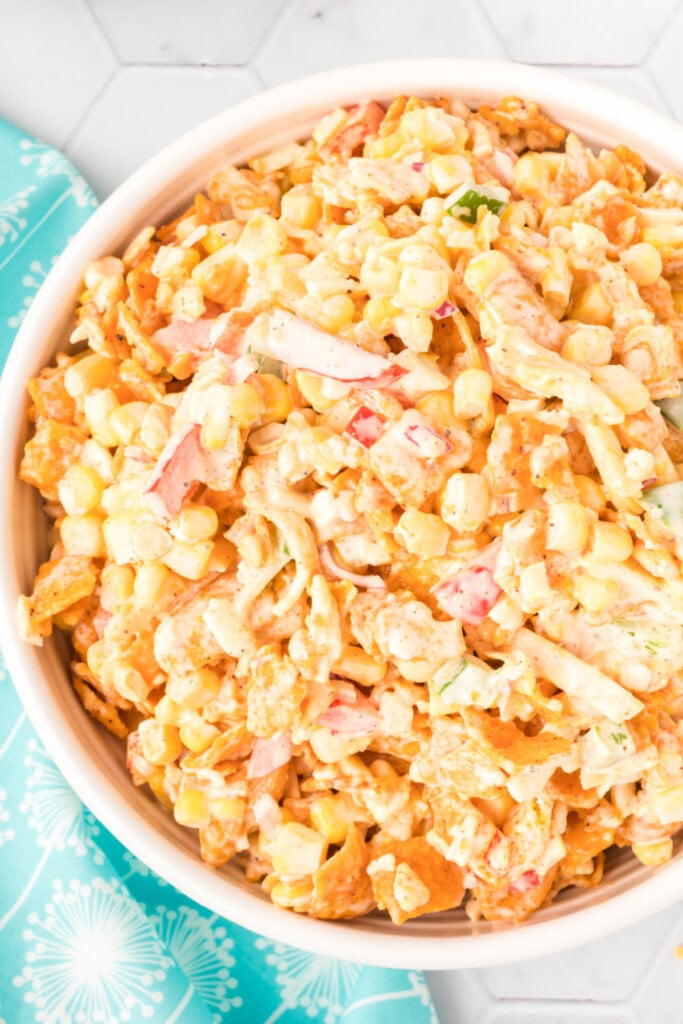 Corn Salad
Summer is the best time to serve up salads, whether it's at a picnic, a barbecue, or a baseball game! This corn salad is the perfect summer side dish!
Something about summer gets me excited about salads in a way no other season does! I don't know what it is. Maybe it's the sunshine, and the warm weather always makes me want to crunch into a lovely side dish filled with veggies and other goodies.
But I know salads can be boring and downright icky to others. (Especially kids!!) That's why fun recipes like this Fritos Corn Salad are really useful to know.
Imagine a taco salad without the meat, and you have this delicious Fritos Corn Salad, filled with cheese, peppers, corn, and lots of Mexican flavors! It's also a great alternative when you're tired of the same-old-same-old summer salads.
Sure, this summer side dish is different, but it's going to be a winner at your next picnic, I guarantee it!! I hope you love it as much as I do!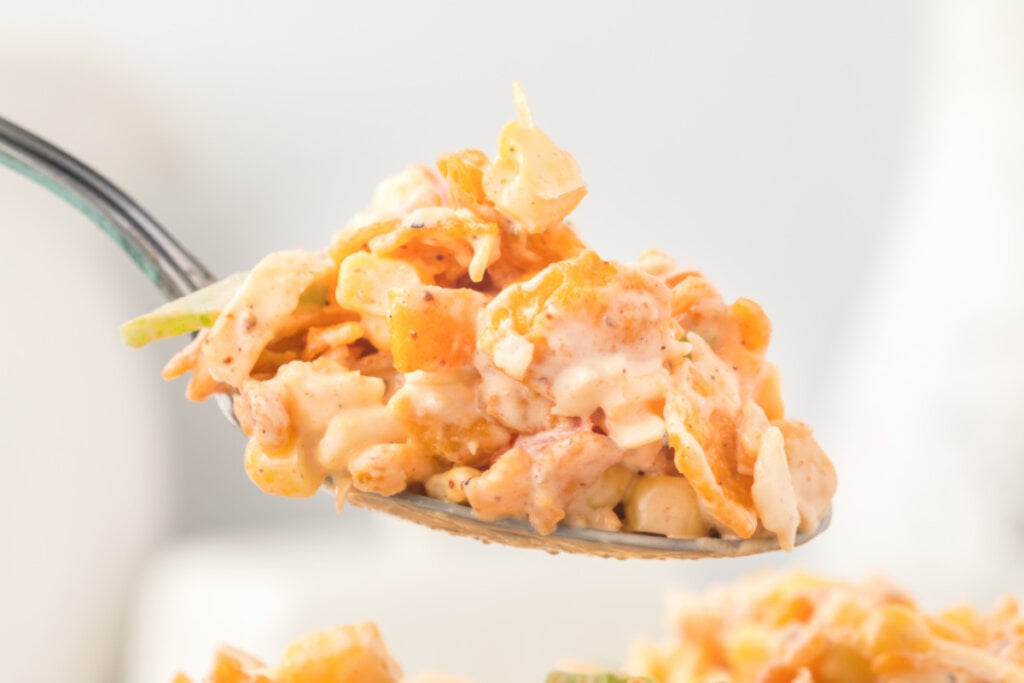 Corn Salad Mexican: Ingredients & Equipment
To make this Fritos Salad, you'll need …
Ingredients
whole kernel corn – you can use the canned stuff. Just be sure to drain it!!
green and red bell peppers, red onions – chopped. These provide crunchy flavor to your salad! If you're not a fan of one kind of pepper or the other, you can just use all-green or all-red.
mayonnaise – this forms the "dressing" for your Fritos Corn Salad. It helps hold everything together!
Mexican/Fiesta blend cheese – the perfect topping for a perfect Fritos salad. You can also use cheddar cheese … or any cheese you like! Make this salad your own.
taco seasoning mix, lime juice, pepper – for that Mexican zing! Make sure the lime juice is fresh.
Fritos chips – lightly crushed. I prefer to use the "chili cheese" flavor; honestly, I think it tastes the best in this recipe! Of course, you can experiment with whatever flavor you like or just use the "regular" flavor.
Equipment
large bowl – to mix all your ingredients. That's it! This is one of those easy recipes we all love! 😉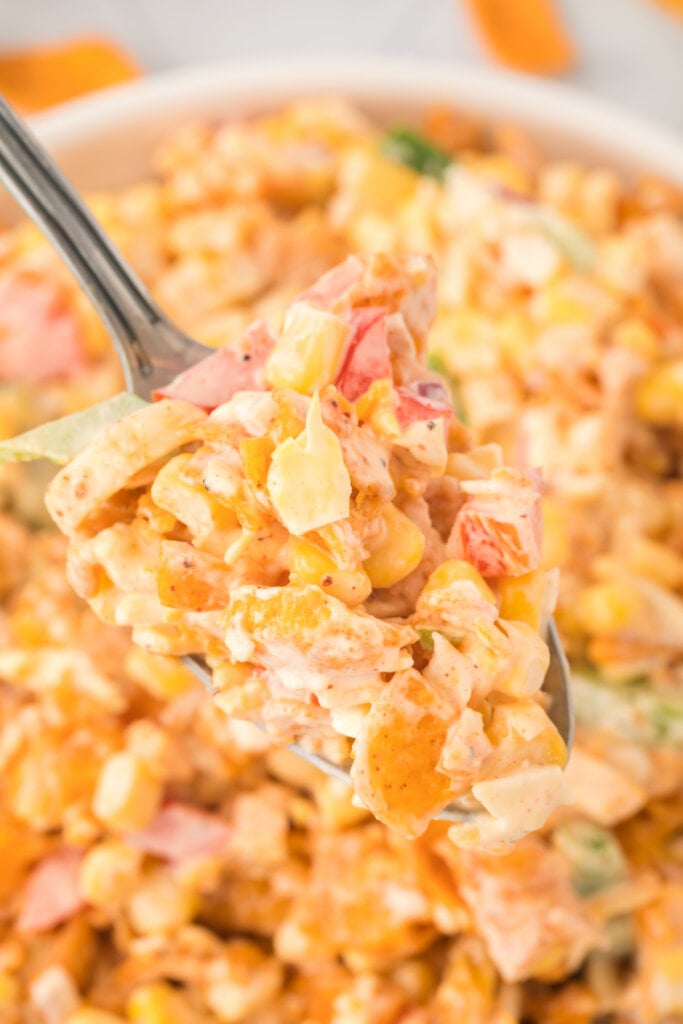 Corn Salad Recipes: FAQs
How many servings does this recipe make?
It should make enough for 8-12 servings, depending on portion size! Everyone can have a bite!
How long does it take to make Fritos Corn Salad?
It only takes 10 minutes to prep the ingredients. You'll want it to chill in the fridge for about 2 hours before serving, though!
Does the lime juice need to be fresh?
I highly recommend it! You can use bottled lime juice but you'll taste the difference, trust me!!
Can you use fresh corn in this recipe? What about frozen?
Yes, and yes! (Be sure to thaw that frozen corn first, of course.) I just use canned corn because it tends to be the fastest and most convenient for me.
I'd like some extra spice. Is there anything you recommend adding to the salad?
Hot sauce/sriracha both taste ah-may-zing in this recipe, y'all!! Experiment for sure!
Can you make this Fritos Corn Salad ahead?
I highly recommend serving it the day you make it! If you have to make it ahead, you can store the salad in the fridge without the chips for 2ish-3ish days. Don't add the chips until you're ready to eat the salad, or else the chips will get all gross and soggy from the mayo … ick!!
What should I do with leftovers?
It'll be good for about a week in an airtight container if you keep it in the fridge … but the Fritos will get soggy. It's still perfectly edible, but if you have a texture issue, this may not be your chosen leftover meal!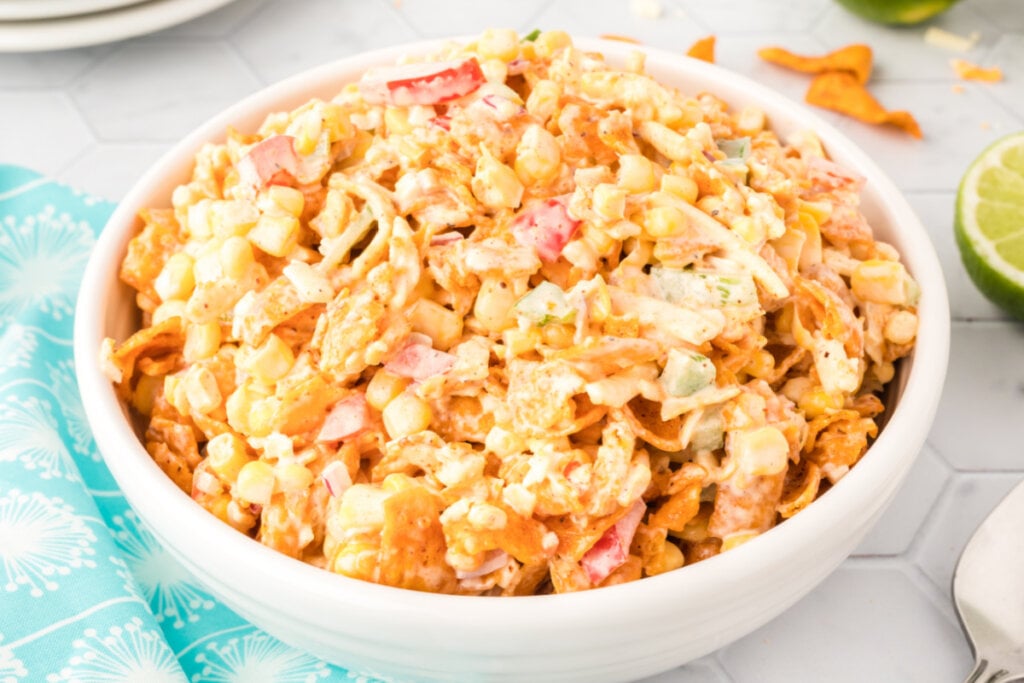 Other recipes you may enjoy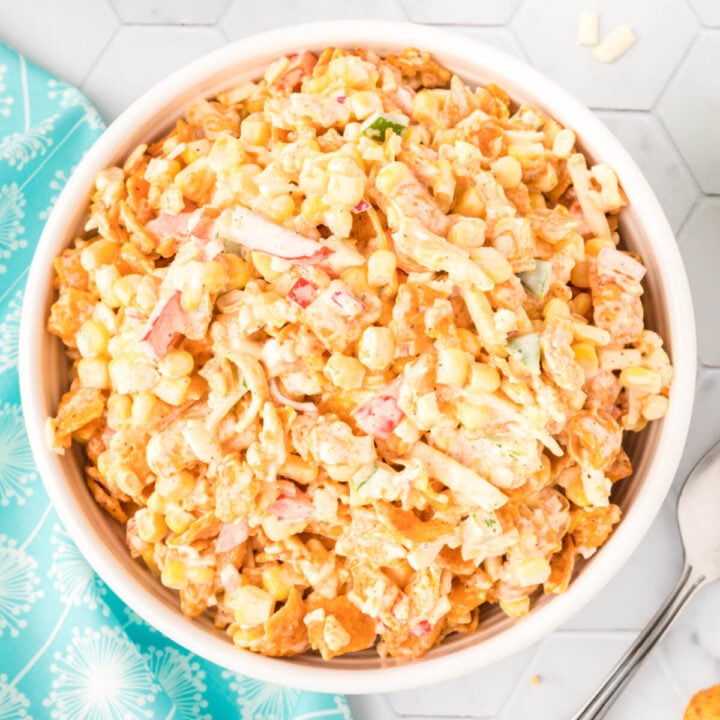 Fritos Corn Salad
Total Time:
2 hours
10 minutes
This Fritos Corn Salad is a delicious, crunchy, and quick-to-make alternative to your standard salads. Plus, it's filled with Mexican flavor!
Ingredients
2 cans (15 oz. each) whole kernel corn, drained
1/2 green bell pepper, chopped
1/2 red bell pepper, chopped
1/2 small red onion, chopped (about 1/3-cup)
2 cups shredded Mexican or Fiesta blend cheese
1 cup mayonnaise
1 tablespoon taco seasoning mix
2 teaspoon fresh lime juice
1/4 teaspoon ground black pepper
1 bag (9.25 oz.) Chili Cheese Fritos corn chips, lightly crushed
Instructions
In a large bowl, combine all of the ingredients except for the corn chips.
Cover and refrigerate until ready to serve, at least two hours.
Just before serving, stir in the crushed corn chips.
Notes
You can use all green or red bell pepper if you prefer.
Regular Fritos corn chips work just as well.
Cheddar cheese works in place of Mexican or Fiesta cheese.
Fresh lime juice is best. However, bottled lime juice can be used in a pinch.
Recommended Products
As an Amazon Associate and member of other affiliate programs, I earn from qualifying purchases.
Nutrition Information:
Yield:

12
Serving Size:

1
Amount Per Serving:
Calories:

252
Total Fat:

22g
Saturated Fat:

7g
Trans Fat:

0g
Unsaturated Fat:

14g
Cholesterol:

30mg
Sodium:

329mg
Carbohydrates:

7g
Fiber:

1g
Sugar:

2g
Protein:

6g
Please note that the nutritional information listed on this page is an estimation based on the products I used. Ingredients and nutritional information can vary significantly between brands. Always be sure to read labels. Please verify that a recipe fits your needs before using it. Nutrition info may contain errors, so please verify it independently. Likewise, recipes may contain errors, so please use your common sense when following them.