Try these Chipotle Lime Chicken Tacos for a real treat! If you love tacos like we do, you will want to add this to your recipe library.
Chipotle Lime Chicken Tacos
I have been craving tacos for days now ….. and I needed to get my "fix". I wanted something a little more funky and spicy than our usual taco fare. Chipotle peppers and lime to the rescue!
These chicken tacos are an easy meal because the slow cooker does all the works for you! Fix it and forget it! You could easily adapt it to the oven or stove top if you'd like.
What are you waiting for … ¡ándale! ¡ándale! ¡arriba! ¡arriba! … It's time to make some tacos!
Other recipes you may enjoy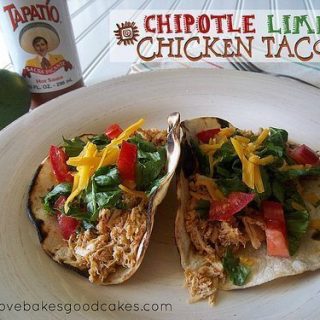 Chipotle Lime Chicken Tacos
Total Time:
6 hours
30 minutes
What are you waiting for ... ¡ándale! ¡ándale! ¡arriba! ¡arriba! ... It's time to make some tacos!
Ingredients
1 1/2 pounds boneless, skinless chicken breasts
Salt and pepper, to taste
1 lime, zested and juiced
2 chipotle chilies in adobo, finely minced (or more to taste)
1 tablespoon chili powder
1 1/2 teaspoons cumin
1 teaspoon salt
1/2 teaspoon pepper
1/2 teaspoon paprika
1/2 teaspoon garlic powder
1/4 teaspoon onion powder
1/4 teaspoon oregano
1/2 cup water
Additional ingredients
Tortillas, warmed
Lettuce, shredded
Cheddar cheese, shredded
Tomatoes, chopped
Sour cream (optional)
Instructions
Place chicken in the bottom of a slow cooker. Season with salt and pepper. In a small bowl, combine the lime zest, juice, chipotle chilies, chili powder, cumin, salt, pepper, paprika, garlic powder, onion powder, oregano and water. Mix to combine. Pour over the top of the chicken. Cover and cook over LOW heat for 6-8 hours or on HIGH for 3-4 hours, or until chicken shreds easily with a fork.
Remove the chicken from the slow cooker and shred the meat. Add some of the sauce from the slow cooker for moisture.
To serve:
Top tortillas with the chicken mixture. Then add desired toppings such as lettuce, cheese, tomatoes and sour cream.
Nutrition Information:
Amount Per Serving:
Calories:

116
Total Fat:

3g
Saturated Fat:

1g
Cholesterol:

62mg
Sodium:

300mg
Fiber:

1g
Sugar:

1g
Protein:

20g
Originally published on May 23, 2013. Updated on April 23, 2021.