This Elvis Banana Split has a split banana, homemade peanut butter ice cream, hot fudge sauce, crumbled bacon, topped with sweetened whipped cream and a cherry! #baconmonth #putsomepiginit #bacon #peanutbutter #chocolate
Elvis Banana Split with Homemade Peanut Butter Ice Cream
I couldn't wait to share this recipe with y'all!! I have had the idea to create an Elvis Banana Split using Homemade Peanut Butter Ice Cream for quite awhile now! Knowing that I would be taking part of #baconmonth, I wanted to wait until now to share it with y'all …. sorry, I've been holding out on you!! We're still friends, right?!
Y'all, this thing is crazy … and I'm sure it's a dessert Elvis would approve of! Of course, with peanut butter, banana, chocolate and bacon – what's not to love?! 😉
Although I personally believe banana splits are made to be shared, you might be tempted not to share ……. and that's ok! 🙂 No judgement here! Be forewarned this is not diet food … I wish it was – but it's not! However, if you're looking for a crazy delicious treat – and a fun new twist on the banana split – definitely give this Elvis Banana Split with Homemade Peanut Butter Ice Cream a go …. you'll be glad you did!
Other recipes you may enjoy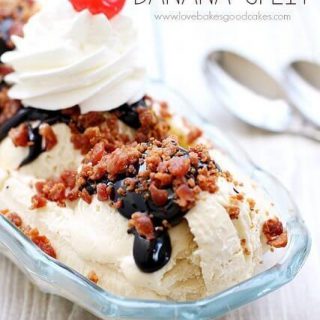 Elvis Banana Split with Homemade Peanut Butter Ice Cream
This Elvis Banana Split has a split banana, homemade peanut butter ice cream, hot fudge sauce, crumbled bacon, topped with sweetened whipped cream and a cherry!
Ingredients
For the peanut butter ice cream
2 cups heavy cream
1 cup milk
1/2 cup sugar
6 large egg yolks
1/4 cup creamy peanut butter
pinch salt
For the Elvis Banana Split
3 scoops Peanut Butter Ice Cream (recipe above)
1 banana per banana split
3 tablespoons hot fudge sauce per banana split
2 slices of cooked and crumbled bacon per banana split
Homemade Sweetened Whipped Cream (or store bought)
1 maraschino cherry per banana split
Instructions
For the peanut butter ice cream:
In a medium saucepan, combine the heavy cream, milk and sugar. Bring the mixture to a simmer over low heat. Cook and stir until the sugar is dissolved. Beat the egg yolks in a medium bowl. Slowly add one cup of the hot cream mixture to the yolks to slowly bring it up to temperature.
Pour the yolk mixture into the cream mixture and continue to cook and stir until the mixture just coats the back of a spoon - about 5 to 10 minutes. Remove from the heat and stir in peanut butter and salt. Allow to cool for about 15 minutes before transferring to an airtight container. Let the mixture mature in the refrigerator 8 hours or overnight. Freeze the peanut butter mixture according to your ice cream maker's instructions.
Transfer the ice cream to an airtight container and freeze at least one hour before serving.
For the Elvis Banana Split:
Split the banana in half lengthwise. Place on each side of a banana split boat. Place 3 scoops of peanut butter ice cream in the dish, between the banana slices. Drizzle hot fudge sauce over the ice cream. Sprinkle with crumbled bacon. Garnish with sweetened whipped cream and a cherry.
Serve immediately!
Nutrition Information:
Amount Per Serving:
Calories:

3963
Total Fat:

279g
Saturated Fat:

152g
Cholesterol:

1915mg
Sodium:

882mg
Fiber:

18g
Sugar:

258g
Protein:

64g
Originally published on August 17, 2014. Updated on May 1, 2021.