Elvis Donuts – a banana donut topped with a simple chocolate glaze, peanut butter drizzle and crumbled bacon! It's a breakfast fit for the King of Rock n' Roll! Your family will love 'em too! 🙂
Elvis Donuts
My kiddos love when I make donuts for breakfast! We don't have them very often, making them a real treat we do! I wanted to think outside of the box a bit for this particular recipe. Being inspired by the King of Rock n' Roll, these donuts are full of banana, peanut butter, chocolate and bacon!
P.S. If you don't have a donut pan – or if you just prefer muffins, you can still make these Elvis Donuts! 🙂
Other recipes you may enjoy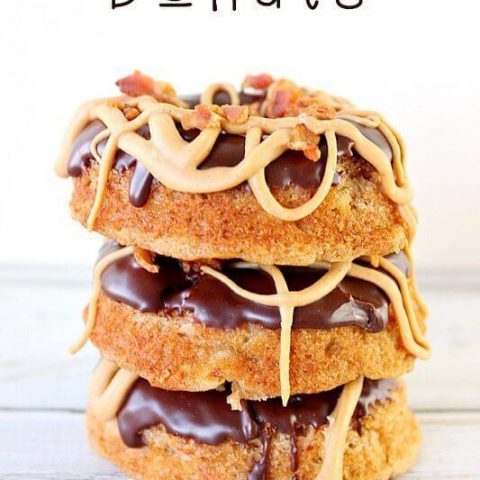 Elvis Donuts
Elvis Donuts - a banana donut topped with a simple chocolate glaze, peanut butter drizzle and crumbled bacon! It's a breakfast fit for the King of Rock n' Roll! Your family will love 'em too! 🙂
Ingredients
For the donuts
1-1/4 cup all-purpose flour
2 teaspoons baking powder
1/2 teaspoon salt
1 teaspoon cinnamon
1 cup granulated sugar
2 eggs, at room temperature
4 medium bananas, mashed
1 tablespoons vanilla extract
1/2 cup vegetable oil
For the chocolate glaze
1-1/2 cups powdered sugar
4 tablespoons unsweetened cocoa powder
3 tablespoons milk
2 teaspoons vanilla extract
For the topping
1 cup peanut butter chips
4-6 slices of bacon, cooked and crumbled
Instructions
Preheat the oven to 350°F. Grease 2 non-stick (6 count) donut pans and set aside.
In a large bowl, combine all of the dry ingredients (flour, baking powder, salt, cinnamon and sugar) for the donuts. In a separate bowl, mix together the wet ingredients (eggs, bananas, vanilla and oil) for the donuts. Stir the wet ingredients into the dry ingredients, just until moistened. Spoon the batter into the prepared pans.
Bake for 12-15 minutes or until a toothpick inserted comes out clean. Cool completely on a wire rack.
Prepare the chocolate glaze by mixing all of the chocolate glaze ingredients in a small, short bowl. Melt the peanut butter chips in a microwave safe dish in 15 second increments, stirring between each session, until completely melted. Remove the donuts from the pan and dip one side into the glaze. Place on a wire rack, glaze side up. Drizzle with the melted peanut butter chips and top with bacon.
Nutrition Information:
Amount Per Serving:
Calories:

489
Total Fat:

26g
Saturated Fat:

5g
Cholesterol:

35mg
Sodium:

255mg
Fiber:

3g
Sugar:

39g
Protein:

9g
Originally published on March 20, 2014. Updated on April 26, 2021.