It's easy to host your own Pancake Bar! It's a great idea for weekend brunches, special occasions, or anytime you want a fuss-free meal!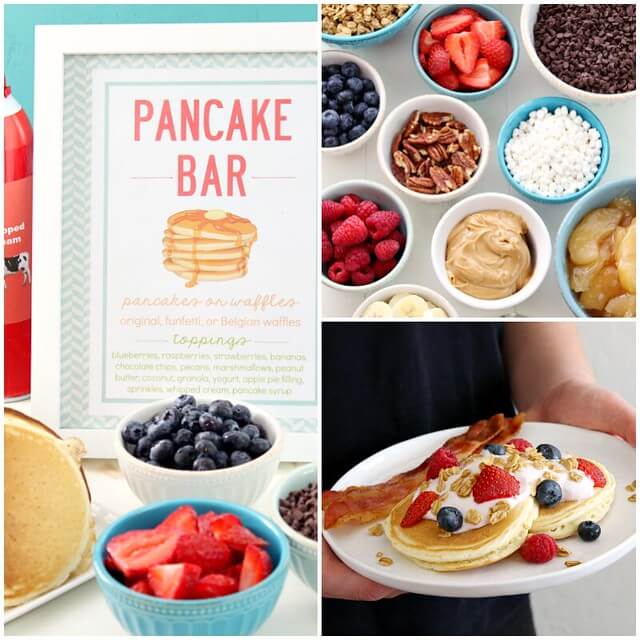 As a participant of the Hungry Jack Ambassador program, I've received compensation for my time and product samples for review purposes. Opinions are my own.
Pancake Bar
I am so excited to share this post with y'all!! Who knew pancakes could be so much fun?! And why haven't we hosted a Pancake Bar before this!?
I'm pretty sure this will be our new favorite thing!
Brian and I recently hosted a BreakFEAST Pancake Bar, fully loaded, with some of our family and friends. I have to admit that I thought it was going to be harder than it actually was and I after hearing everyone rave about the good time they had, I know this is going to become a regular occurrence for us! Plus, September is All-American Breakfast Month … what better way to celebrate?!
Of course, any good Pancake Bar has to start with great-tasting pancakes! My husband prefers waffles over pancakes, so while I made the pancakes, I left Brian in charge of making Belgian waffles for our guests.
In addition to having great-tasting pancakes and waffles, you need to have a variety of delicious toppings to choose from! I think this was the most fun part for everyone if you want to know the truth! Although we didn't use all of these ideas, we did use quite a few of these ideas ….
Topping Ideas
assorted fresh berries
assorted fresh fruit – bananas, peaches, pineapple, mango, kiwi, pomegranate seeds, etc …
chocolate chips
mini marshmallows
marshmallow fluff
assorted nuts
cinnamon-sugar
peanut butter
chocolate hazelnut spread
coconut
sprinkles
jelly
apple pie filling
granola
dried cranberries
yogurt
lemon curd
caramel or chocolate sauce
canned frosting
whipped cream
butter
pancake syrup
Can you believe I used to make pancakes one pancake at a time for my family of seven?! It took fooooorrrreeeevvvvveeeerrrrrr!! My mother-in-law bought me my first electric griddle and I haven't looked back! It was one of the best things I have ever gotten as a gift!! Seriously, I loved it! Let me tell you, it makes making pancakes so fast and easy! With an electric griddle, I can easily do 6-8 pancakes at a time!! If you're hosting a Pancake Bar, you really need to have an electric griddle!
As I mentioned, I think one of our guests' favorite things about having a Pancake Bar was choosing their own yummy toppings! I'm pretty sure that was their favorite part! The combinations we saw were so fun! Some people opted for simple butter and syrup and others, took pancakes to a whole new level with their fun creations! I think my favorite was Original Pancakes topped with strawberry yogurt, fresh berries, and granola! I'm definitely trying this one on my own soon! The kiddos loved making silly faces out of their toppings … or loading up on chocolate chips and marshmallows!! I won't mention any names, though, right Abby?!
Because you can't live on pancakes alone (we wish!!), we also had breakfast sausages and crisp cooked bacon! Ham would also be a great addition, but I didn't think about it until after we were home. To round out the BreakFEAST Pancake Bar, we set up a drink station with coffee and assorted creamers and syrups. We also had a few flavors of tea bags for our tea-drinking friends. Other drink choices included a few juices (apple, orange, and cranberry), and milk!
Free Printable
We had such a great time creating and sharing this BreakFEAST Pancake Bar with our family and friends – and I can't wait to do it again soon! I'm already planning on making this a holiday tradition when we get together with family! It was so much fun!
I am also sharing the printable I used for our Pancake Bar – you can download it for free by clicking HERE! It is designed for an 8×10-in. picture frame.
Other recipes you may enjoy