This is classic food at it's best. Dare I say, it's better than a regular ol' hamburger? In my opinion, it is! This reminds me of 1950's diner food ….. not that I was around then …. but from what I've seen on tv, this looks exactly like something that would have been served up!
I remember my mom making a sandwich like this when I was growing up. Serve it up with some fries and a dill pickle …. and you've got yourself an easy meal that's a little different than your typical burger!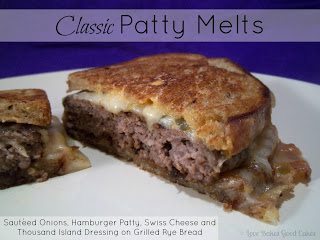 Classic Patty Melts
Yield: 4 sandwiches
1 tbsp. butter
1 large onion, sliced
1 lb. ground beef
Salt and pepper, to taste
4 slices Swiss cheese
Thousand Island Dressing, optional
8 slices Rye Bread
Butter, for bread
Melt butter in a skillet over medium heat. Add the sliced onions. Give them a good stir to coat in the butter. Allow to cook for 10 minutes without stirring. With a spatula, flip the onions over so the bottoms is now on top. Allow to cook for an additional 10 minutes without stirring. Lower the heat to medium-low and stir the onions. Allow to cook an additional 10-15 minutes or until the onions are caramelized. Remove from the heat and set aside.
Preheat a pan to high heat. In a medium bowl, combine the ground beef with the salt and pepper. Handle gently, mixing the seasoning into the meat. Divide and shape the meat into 4 patties. Place burgers in the pan and cook until the bottom is browned and easily releases from the pan. Carefully flip the patties and continue to cook to desired doneness. Transfer to a plate to rest.
Lay the bread out on wax paper. Butter one side of each slice of bread. Flip 4 slices of bread over and top with desired amount of Thousand Island salad dressing. Add a patty to the top of the dressing. Divide the onions between the 4 sandwiches. Top each sandwich with a slice of cheese and the remaining bread slices, butter side up.
Place sandwiches in a preheated non-stick pan or griddle. Cook until the bottom slice of bread is browned. Carefully flip the sandwich over and gently press down, cooking until the other side until is browned. Remove the sandwich to a serving plate and slice it in half. Serve with additional Thousand Island if desired.
I hope you enjoy! Shared at
these
fun parties!
Don't forget to share and comment ♥


Copyright © Love Bakes Good Cakes 2012 All Rights Reserved