Butter Bean Burgers are a healthy vegetarian alternative to traditional meaty burgers. They have all the taste and substance with none of the grease, trust me!
This post may contain affiliate links. As an amazon associate, I earn from qualifying purchases. See my full Disclosure Policy for details.
Butter Bean Burgers
I'm going to be honest with you, I do not like lima beans or anything that resembles a lima bean. There, I've said it. In all fairness, I know they're good for you. (Notice, I said you, not me! Haha!) I just have a hard time eating them, and the only time I sort of willingly eat them is if they're in mixed veggies. Even then, I try my hardest to put them on my kid's plates… that way I don't have to eat them.
When I saw this recipe for butter bean burgers, I wasn't sure what to think! When I read the reviews, though, people seemed to like it. We needed some new stuff for our Meatless Monday and I decided to put on my big girl panties and be a good sport…
And y'all, these are amazing! Bean burgers are such a treat! They're even pretty kid-friendly. I told my 3-year-old it was a "Krabby Patty" and he ate the whole thing! I couldn't believe it. My whole family liked them, including me! 
I hope you enjoy these butter bean burgers!
Butter Bean Burgers: Ingredients & Equipment
For these Butter Bean Burgers, you'll need …
Ingredients
butter beans – drained. You can also find them under the name "Baby Lima Beans" in many stores.
onion – quartered. Adds to the flavor!
jalapeno – halved, with seeds/membranes removed. You can also replace it with normal green peppers for a lighter spice, or omit them completely if you're not into heat!
cornflakes, egg – these hold your bean burger patties together.
shredded cheddar cheese – feta and mixed Italian cheeses are also tasty with this recipe. And of course, vegan cheese substitutes work just as well!!
garlic – minced. Another yummy addition that adds to the overall flavor of these butter bean burgers.
salt and pepper – to taste.
hamburger buns, desired toppings – to finish off your burgers!
Equipment
food processor – to mix up/blend your butter bean "meat." You'll form this into tasty patties.
baking sheet with cooking spray – you'll bake your butter bean patties on here.
Butter Bean Burgers: FAQs
How many patties does this recipe make?
About 8, which should be enough for most households!
How long does it take to make these butter bean burgers?
Put aside a little less than two hours. You'll want 10 minutes to prep the ingredients and 30 minutes to cook them, but in between, you'll want to chill the patties for about an hour!!
What other beans can I substitute for my Butter Bean Burger recipe?
If you want to use other beans or just can't find any butter beans, then lima, navy, and kidney beans are all good substitutes! Lentils also fill the role perfectly. Just experiment to see which one fits your taste and texture needs best. (Or which one doesn't set off the alarms of picky eaters in your family!)
How far ahead can I make my butter bean burger?
You can mix everything ahead one day in advance, then keep it in a covered container in the fridge!
Can I freeze my butter bean burger patties?
You can keep the cooked burgers frozen, but it will affect the taste if you keep them in the freezer too long. It's best to eat them within the month, y'all!!
Other recipes you may enjoy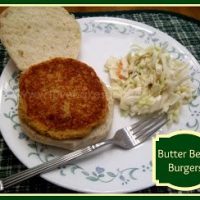 Butter Bean Burgers
If you're looking for a meatless alternative, try making your own Butter Bean Burger. It's healthy, and the taste might even surprise you!
Ingredients
2 cans (15 oz. each) butter beans, drained
1 medium onion, quartered
1 jalapeno, halved, with seeds and membranes removed
3 cup cornflakes
1 egg, beaten
1 cup Cheddar cheese, shredded
2 cloves garlic, minced
salt and pepper to taste
Hamburger Buns
Desired toppings
Instructions
Combine the first 8 ingredients in the bowl of a food processor. Pulse a few times until mixture looks well combined.
Shape mixture into 8 patties. Refrigerate for 1 hour.
Preheat oven to 400 degrees F. Spray a baking sheet with cooking spray.
Place patties on baking sheet. Bake in preheated oven for 15 minutes. Flip burgers over. Return the baking sheet to the oven and continue to bake for another 10 minutes, or until browned on both sides.
Serve on bun with your favorite burger toppings!
Nutrition Information:
Amount Per Serving:
Calories:

231
Total Fat:

6g
Saturated Fat:

3g
Cholesterol:

34mg
Sodium:

356mg
Fiber:

6g
Sugar:

3g
Protein:

12g
Originally published on June 2, 2012. Updated on April 21, 2021.