This post may contain affiliate links. As an amazon associate, I earn from qualifying purchases. See my full Disclosure Policy for details.
I'm going to be honest with you. I do not like lima beans … or anything that resembles a lima bean. There, I've said it. In all fairness, I know they're good for you. (Notice, I said you … not me! Haha!) I just have a hard time eating them … and the only time I sort of willingly eat them, is if they're in mixed veggies … even then, I try my hardest to put them on my kid's plates that way I don't have to eat them. When I saw this recipe, I wasn't really sure what to think, and when I read the reviews, people seemed to like it. We needed some new stuff for our Meatless Monday and I decided to put on my big girl panties and be a good sport. I modified a few things from the original just because of personal preference. I tried frying two of the patties, and just like the reviews said of the original recipe, they fell apart. I baked the other six … and I have to say, that's the way to go in my opinion. Plus baking is healthier anyways! I told my 3 yr. old it was a "Krabby Patty" and he ate the whole thing! I couldn't believe it. My whole family actually liked them ….. including me! Granted, it was butter beans, but they're just huge lima beans in my opinion! If you're looking for a meatless alternative, try making your own Butter Bean Burger. If you're like me, just put on your big girl panties, be a good sport, and you might surprise yourself. 😉
You can also try substituting your favorite beans or lentils for a different kind of bean burger. I think next time, I may add some different veggies, too!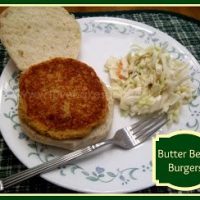 Butter Bean Burgers
If you're looking for a meatless alternative, try making your own Butter Bean Burger.
Ingredients
2 cans (15 oz. each) butter beans, drained
1 medium onion, quartered
1 jalapeno, halved, with seeds and membranes removed
3 cup cornflakes
1 egg, beaten
1 cup Cheddar cheese, shredded
2 cloves garlic, minced
salt and pepper to taste
Hamburger Buns
Desired toppings
Instructions
Combine the first 8 ingredients in the bowl of a food processor. Pulse a few times until mixture looks well combined.
Shape mixture into 8 patties. Refrigerate for 1 hour.
Preheat oven to 400 degrees F. Spray a baking sheet with cooking spray.
Place patties on baking sheet. Bake in preheated oven for 15 minutes. Flip burgers over. Return the baking sheet to the oven and continue to bake for another 10 minutes, or until browned on both sides.
Serve on bun with your favorite burger toppings!
Nutrition Information:
Amount Per Serving:
Calories:

231
Total Fat:

6g
Saturated Fat:

3g
Cholesterol:

34mg
Sodium:

356mg
Fiber:

6g
Sugar:

3g
Protein:

12g
Linked up at
these
fun parties!