This post may contain affiliate links. As an amazon associate, I earn from qualifying purchases. See my full Disclosure Policy for details.
Macaroni Salad – the perfect side dish for Summer! Great for potlucks!
I have to admit, when I was younger, I didn't like any kind of macaroni salad, potato salad or coleslaw. Weird, I know. Man, oh, man … I had no idea what I was missing! In my much wiser adult years, I enjoy these salads … especially in the summer. There's just something about a cold salad … especially macaroni salad!

I have my preferences, doesn't everyone? My mom likes to make her potato salad with more of a mustard base, I prefer more of a mayonnaise base. This macaroni salad is a little on the sweet and tangy side. Again, my mom likes her macaroni salad a little bit different than me. Eh, to each their own is what I say!
This macaroni salad is perfect …. I swear, I could eat just the dressing by the spoonfuls. It's just that good! This is a nice salad for potlucks, baby showers, church functions, every "you name it" event you can think of.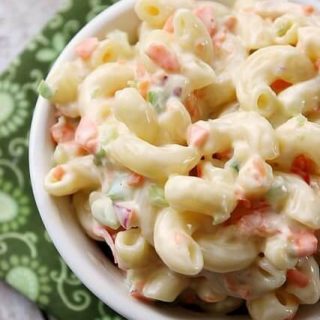 Macaroni Salad
Macaroni Salad - the perfect side dish for Summer! Great for potlucks!
Ingredients
16 ounces uncooked elbow macaroni
4 carrots, shredded and roughly chopped
1 small red onion, finely chopped
1/2 green bell pepper, seeded and finely chopped
1/2 red bell pepper, seeded and finely chopped
1 cup finely chopped celery
2 cups mayonnaise
1 (14 ounce) can sweetened condensed milk
1/2 cup white sugar
1/2 cup white vinegar
salt and pepper, to taste
Instructions
Bring a large pot of lightly salted water to a boil. Add macaroni and cook until tender, about 8 minutes. Rinse under cold water to cool and stop the cooking process and drain.
In a large bowl, stir together the carrots, red onion, green pepper, red pepper, and celery. Mix in the mayonnaise, sweetened condensed milk, sugar, vinegar, salt, and pepper. Add the cooked macaroni and toss gently.
Cover and refrigerate for at least 8 hours. Serve cold.
Nutrition Information:
Amount Per Serving:
Calories:

422
Total Fat:

25g
Saturated Fat:

5g
Cholesterol:

20mg
Sodium:

301mg
Fiber:

2g
Sugar:

22g
Protein:

6g