This Cinnamon Roll Bread Pudding can be a breakfast or a dessert. If we serve this for breakfast, we like to have it with maple syrup on the side, little smokies and some fresh fruit. 
This post may contain affiliate links. As an amazon associate, I earn from qualifying purchases. See my full Disclosure Policy for details.
Cinnamon Roll Bread Pudding
Today, I've got a Cinnamon Roll Bread Pudding recipe that is perfect for the holidays. Can you believe Thanksgiving is THIS week?! Ummmm, I haven't even got my stuff for our meal yet …. I guess I better get busy, huh? It's on my list to do in the morning …. I'm just hoping that despite my procrastination, my local store still has everything I need! Is anyone else a last minute shopper?
As much as I'm not ready for it, the holiday season is upon us. Thanksgiving is just days away …. and Christmas will soon follow. Seriously, wasn't it just summer the other day?! I'm not sure how things are in your house, but we like to have a "special" breakfast for Thanksgiving, Christmas and Easter. By special, I mean, something we don't really eat any other time of the year. They're usually super indulgent dishes …. which is why we don't have them too often!
This Cinnamon Roll Bread Pudding is an exception …. we still don't have it too often – but we definitely don't always wait for a holiday! You can make this with homemade cinnamon rolls that you have already cooked – or you can use up leftover cinnamon rolls to make something a little more fun and special!
Other recipes you may enjoy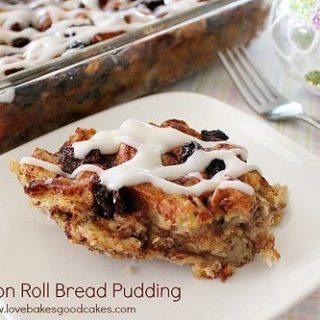 Cinnamon Roll Bread Pudding
Total Time:
1 hour
15 minutes
Today, I've got a Cinnamon Roll Bread Pudding recipe that is perfect for the holidays.
Ingredients
2 tubes (16 oz. each) Immaculate Baking refrigerated cinnamon rolls
4 tablespoons melted butter
1 cup raisins (optional)
8 eggs, slightly beaten
3 cups milk
1 cup sugar
2 teaspoons vanilla extract
2 teaspoons cinnamon
Maple syrup (optional)
Instructions
Remove the frosting from the tubes and keep refrigerated until needed later in the recipe. Bake the cinnamon rolls according to package directions - minus the frosting. Allow to cool.
Preheat oven to 350°F. Grease a 9x13-in. baking dish.
Cube the cinnamon rolls and place in the baking dish. Drizzle the melted butter over the cinnamon rolls. Sprinkle with raisins, if desired.
In a medium mixing bowl, combine the eggs, milk, sugar, vanilla and cinnamon. Beat until well mixed. Pour the mixture over the cinnamon rolls and gently press the cinnamon rolls down with the back of a spoon.
Bake for 45 minutes or until the top springs back lightly when tapped. Top with the reserved frosting. Serve warm or at room temperature. If desired, drizzle individual portions with maple syrup.
Notes
Store any leftovers in the refrigerator.
Nutrition Information:
Amount Per Serving:
Calories:

515
Total Fat:

20g
Saturated Fat:

8g
Cholesterol:

148mg
Sodium:

789mg
Fiber:

2g
Sugar:

43g
Protein:

11g
Featured at Feeding Big, Daily Dish Magazine and Miz Helen's Country Cottage
Originally published on November 25, 2013. Updated on April 24, 2021.