This Mexican Breakfast Casserole is full of your favorite Latin-style flavors and even makes a good dinner dish. It's that filling and that delicious!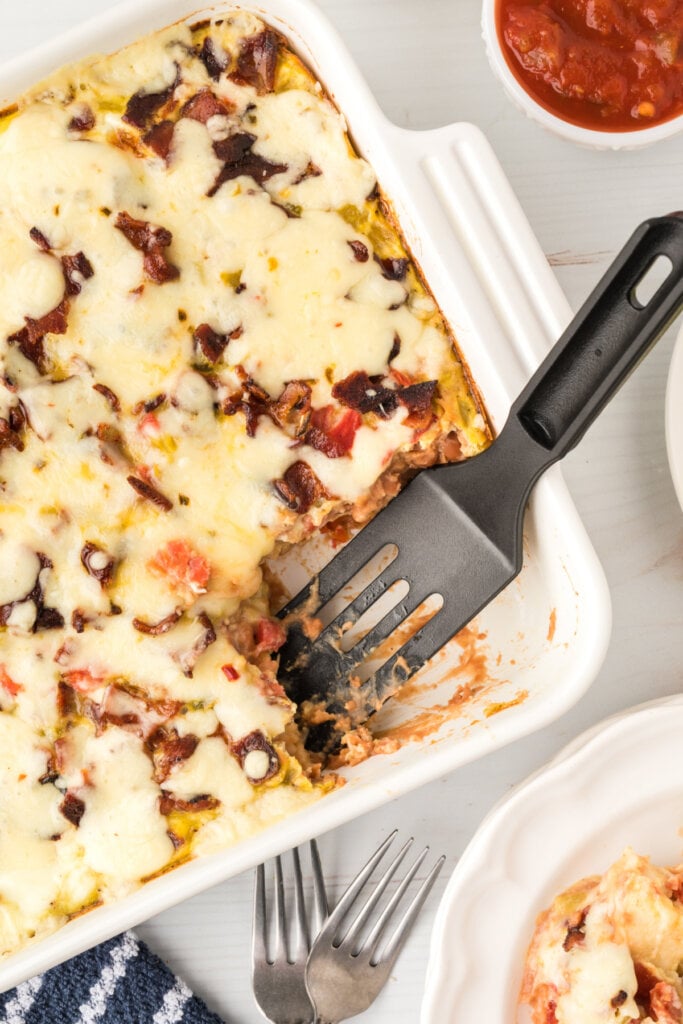 Mexican Breakfast Casserole
Do you have a favorite ethnic style of food? Maybe it's Italian? Mexican? German? Chinese? … or perhaps it's American? I don't think I've ever met a Mexican, Latin, or Spanish type food I didn't like. I sometimes think I was born into the wrong food culture! 😉
This means that whenever I see a Mexican recipe I've never tried, I have to grab it immediately.
Usually, I like to serve this casserole with some kind of fruit as a side dish.
I think the only thing I would do differently the next time (because there will be a next time) is to double the recipe and bake it in a 9×13 pan. I really wanted some leftovers for the next day – but we didn't have any leftovers!
Trust me, if there was ever an "instant favorite" breakfast meal, it's definitely Mexican Breakfast Casserole. You and your family will gobble it right up!!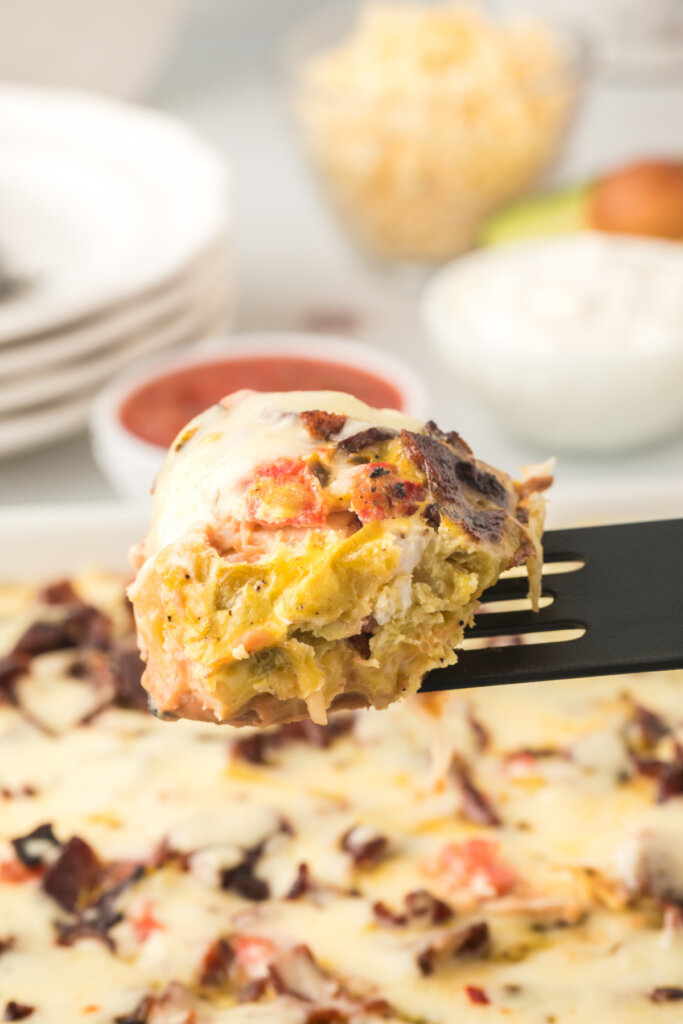 Mexican Breakfast Casserole: Ingredients & Equipment
For this Mexican Breakfast Casserole, you'll need …
Ingredients
refried beans, Ro-Tel tomatoes, tortillas – this forms the bottom of your casserole. You'll layer these in your baking dish first.
eggs, salt, pepper, hot sauce, green chilis – this is the very tasty middle of your casserole, which you'll mix together and pour on top of the refried beans, etc.
bacon, Pepper Jack cheese – you'll top your casserole with bacon, then again with cheese when the casserole is close to done.
avocado, tomatoes, salsa, and/or sour cream – optional toppings for this delicious casserole!
Equipment
8×8 baking dish – you'll cook your casserole in this.
bowl – medium-sized, to create your egg mixture.
aluminum foil – to spread over your casserole while it bakes.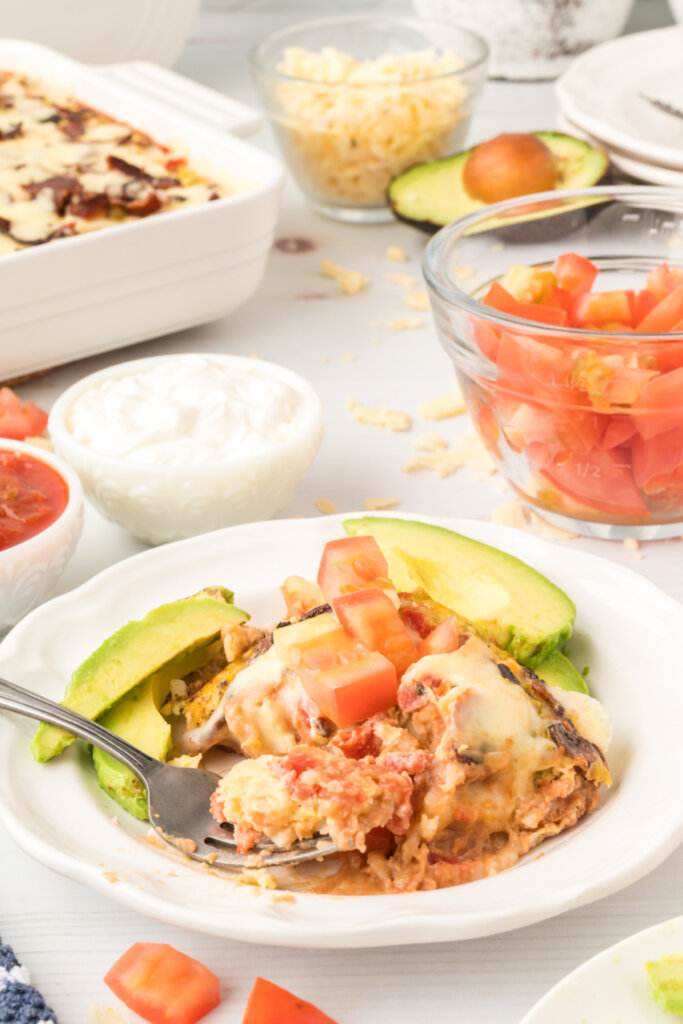 Mexican Breakfast Casserole: FAQs
How many servings does this recipe produce?
About 6 servings. Enough for everyone in your family (and maybe for you to have seconds, too)!
How long does it take to make Mexican Breakfast Casserole?
Around an hour or so. You'll need 20 minutes for prep and 45 minutes to let the casserole bake.
Do you have any substitutions or additions you recommend?
If you don't have Pepper Jack cheese, cheddar also tastes wonderful. Using chorizo (a type of pork sausage) is great in place of the bacon, too!
My cheese isn't melting right! Is there something I can do?
If your cheese isn't melting or sticking together during the baking process, try shredding a block of your chosen cheese yourself instead of using pre-shredded cheese. The packaged stuff has certain preservatives in it which sometimes will prevent the cheese from melting properly!
Can you use flour tortillas instead of corn tortillas?
Yes, but I just think the corn tortillas work best in the recipe! In a pinch, you can also use crushed tortilla chips.
Is it possible to make this recipe ahead of time?
Absolutely! Follow the recipe up to the part where you'd bake it. You can store the unbaked Mexican Breakfast Casserole in the fridge overnight, then bake it once it's come to room temperature in the morning.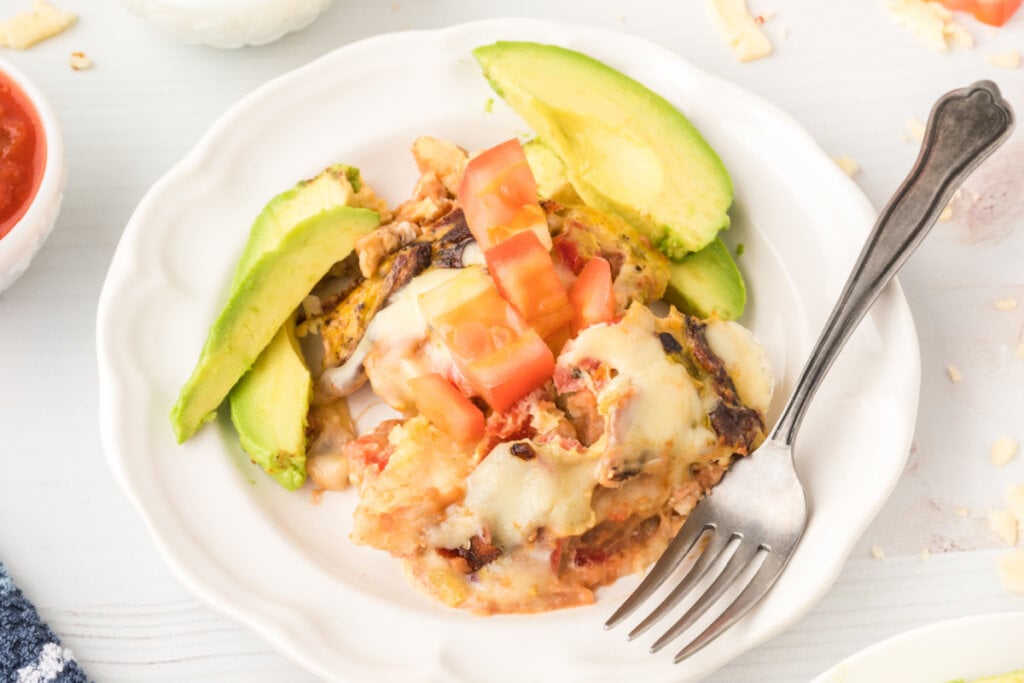 Other recipes you may enjoy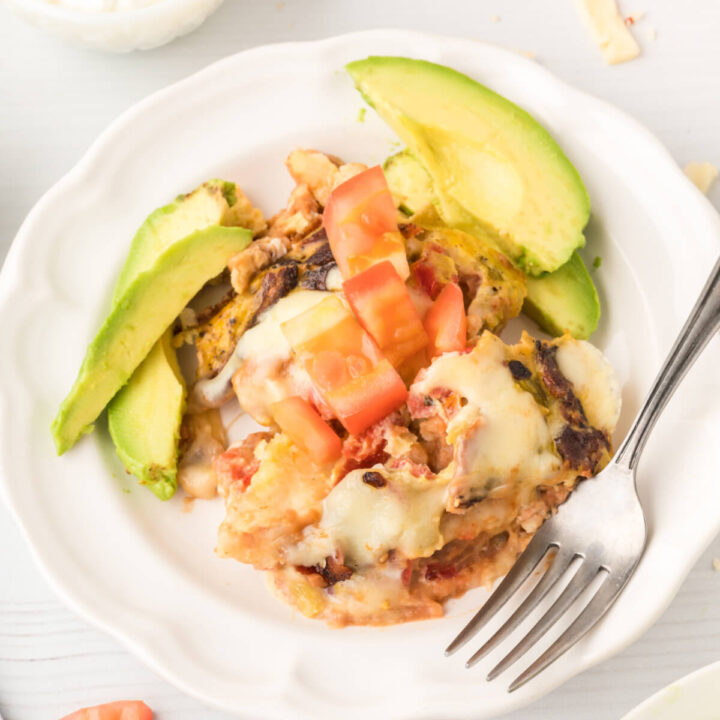 Mexican Breakfast Casserole
Total Time:
1 hour
5 minutes
This Mexican Breakfast Casserole is full of your favorite Latin-style flavors and even makes a good dinner dish. It's that filling and that delicious!
Ingredients
1 can (16 oz.) refried beans
1 can (10 oz.) Ro-Tel tomatoes, drained
6 corn tortillas, cut into bite-sized pieces
6 large eggs
salt & pepper
4-6 dashes of hot sauce
1 can (4 oz.) chopped green chilies, undrained
1/2 pound bacon, cooked and crumbled
1 cup Pepper Jack cheese, shredded
1 avocado, sliced or chopped - for serving
2 Roma tomatoes, chopped - for serving
salsa and/or sour cream - for serving
Instructions
Preheat oven to 350°F.
Spray an 8 X 8-inch baking dish with cooking spray. Spread half of the beans in the bottom of dish. Top with half of the Ro-Tel. Layer the tortillas on top. Spread the other half of the beans over the tortillas and top with the remaining Ro-Tel.
In a medium bowl, whisk the eggs with salt, pepper, and hot sauce to taste. Add the green chilies and mix. Pour the mixture over the casserole in the dish. Sprinkle the bacon pieces over the top of the eggs. Cover with aluminum foil and bake for 30 minutes.
Remove the foil and bake for 15 minutes longer, adding the cheese during the last 5 minutes.
Remove from oven and allow to sit for 5 minutes before slicing.
Serve with avocado, tomatoes, salsa, and sour cream if desired.
Notes
Try cooked and crumbled chorizo in place of the bacon.
You can use Cheddar cheese in place of the Pepper Jack cheese if desired.
Recommended Products
As an Amazon Associate and member of other affiliate programs, I earn from qualifying purchases.
Nutrition Information:
Yield:

6
Serving Size:

1
Amount Per Serving:
Calories:

465
Total Fat:

30g
Saturated Fat:

11g
Trans Fat:

0g
Unsaturated Fat:

17g
Cholesterol:

243mg
Sodium:

1079mg
Carbohydrates:

22g
Fiber:

6g
Sugar:

6g
Protein:

28g
Please note that the nutritional information listed on this page is an estimation based on the products I used. Ingredients and nutritional information can vary significantly between brands. Always be sure to read labels. Please verify that a recipe fits your needs before using it. Nutrition info may contain errors, so please verify it independently. Likewise, recipes may contain errors, so please use your common sense when following them.
Originally published on April 18, 2013. Updated on June 15, 2022.