Italian Breakfast Strata is a quick and easy breakfast recipe. This delicious casserole is a great option for a holiday or weekend brunch!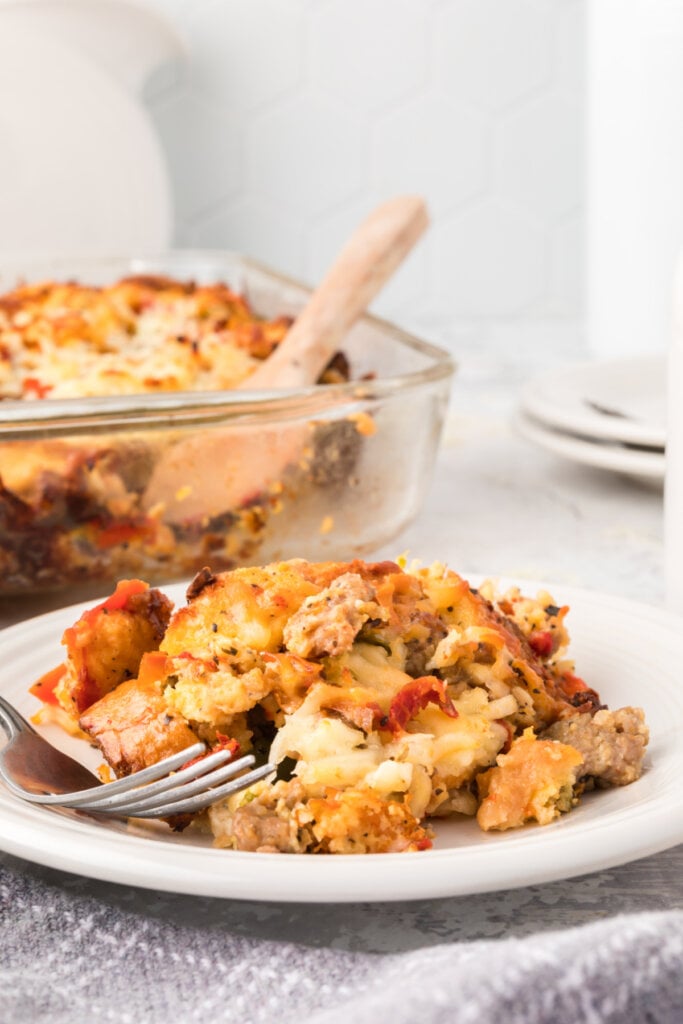 Italian Breakfast Strata
What's the best way to start your day? With a hearty, flavorful meal like my Italian Strata Breakfast Casserole! It's so good with its combo of Italian sausage, peppers, and eggs. Of course, you'll want to eat it at lunch and dinner, too.
For those who don't know, a strata is a kind of layered casserole, just FYI!! (Strata means layer. The ingredients may also be mixed together without the layers, though!)
I generally see them made for breakfast or brunch because they tend to use eggs and cheese. Traditionally, there's also some kind of bread involved, sandwiched between the fillings.
So: this Italian strata breakfast casserole is a twist on a standard overnight breakfast casserole! It uses Italian bread, Italian cheese, etcetera. So basically, it's got all your favorite Italian-style flavors thrown in. So good, y'all. My mouth is watering while writing this.
We actually had this recipe on Christmas morning. (It tastes particularly good on a holiday, trust me.) I forgot about writing the post until I went through my picture folders and ran across it again! It was a real head-smacker moment because this recipe is too delicious not to share with y'all.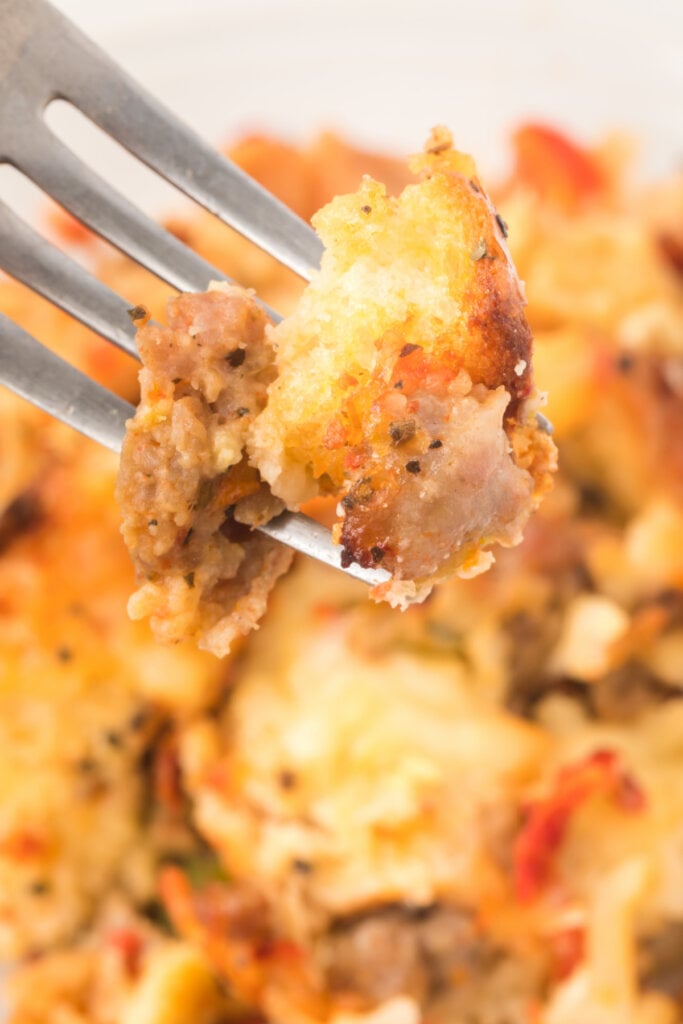 Italian Breakfast Casserole: Ingredients & Equipment
To make this overnight breakfast casserole, you'll need …
Ingredients
Italian sausage – the meat of your strata, and one of the ingredients that provides the Italian flavor you know and love! You'll want to remove the casing.
red and green bell peppers, sun-dried tomatoes – you'll mix this in with the sausage at the beginning of the recipe. The tomatoes in particular really add to the "Italian-ness" of this strata. It's the little things sometimes!
Italian bread – stratas tend to use bread, and here's the best choice for an Italian strata breakfast casserole!
basil – your key herb in this casserole.
eggs – can't have a breakfast casserole without eggs, in my opinion.
milk – provides structure to your strata while it bakes.
Mozzarella cheese – the final component of your casserole, mixed into and on top of it.
Equipment
9×13 inch baking pan with cooking spray – to cook your casserole.
bowls – at least two – for making your egg and milk mixture, as well as for mixing the sausage with the bread.
plastic wrap – this casserole is best left overnight in the fridge before baking, so you'll want to cover it up.
aluminum foil – for covering the Italian strata while it bakes.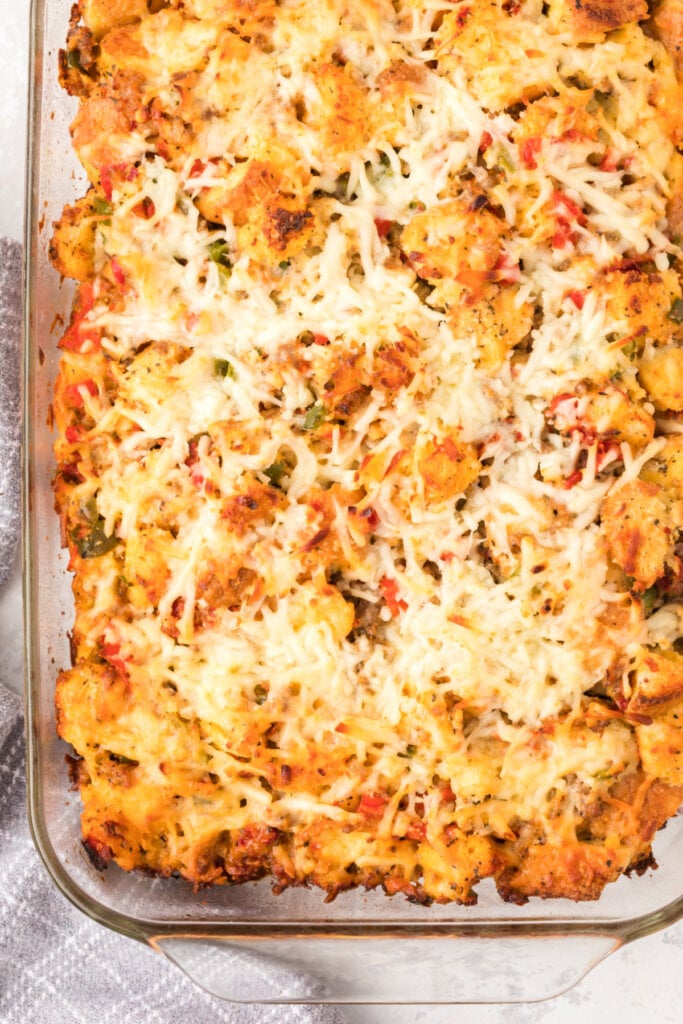 Italian Casserole recipe: FAQs
How long does it take to make this Italian casserole?
It'll take about an hour and a half or so. Twenty minutes of that is prep time, and the hour is the bake time.
How many servings does this recipe make?
It should make about ten servings – enough for a hungry family … and leftovers, too!
Can you store leftovers in the fridge?
Yes. Put them in an airtight container, and they'll last for about a week in the fridge. Italian breakfast strata is amazing the second time around!
My mozzarella cheese isn't melting properly. Can I fix this?
Sometimes pre-packaged cheese from the store doesn't melt right in a casserole since it tends to have a lot of preservatives added. So instead, get some fresh mozzarella and shred it yourself if your cheese is acting up. Of course, it'll make the prep time a bit longer, but sometimes that's better than having unmelted cheese plopped on top of your casserole!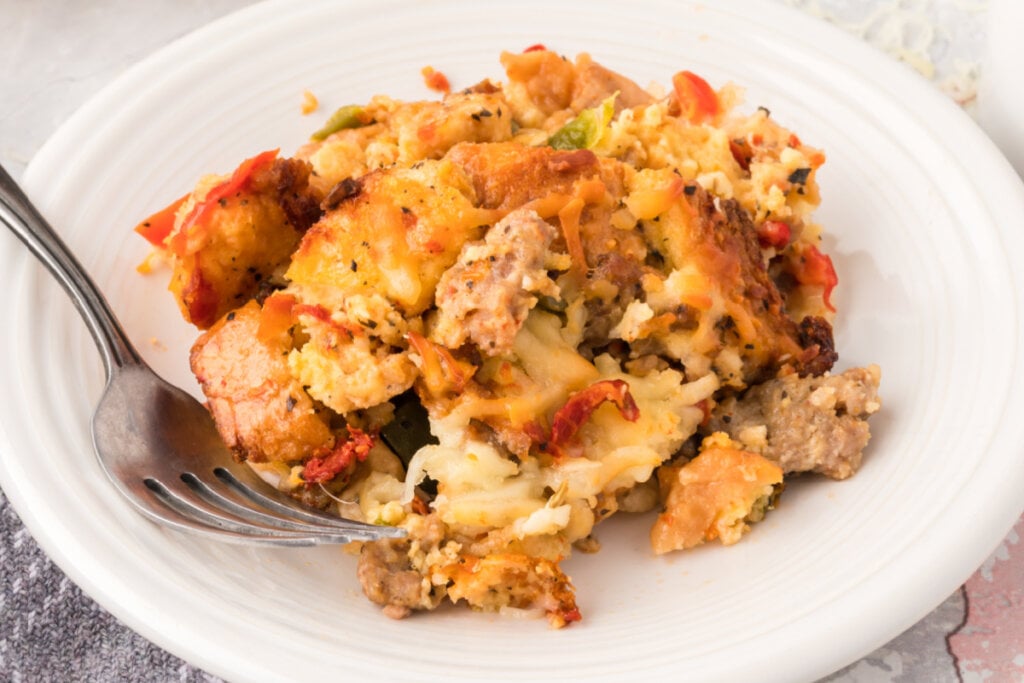 Other recipes you may enjoy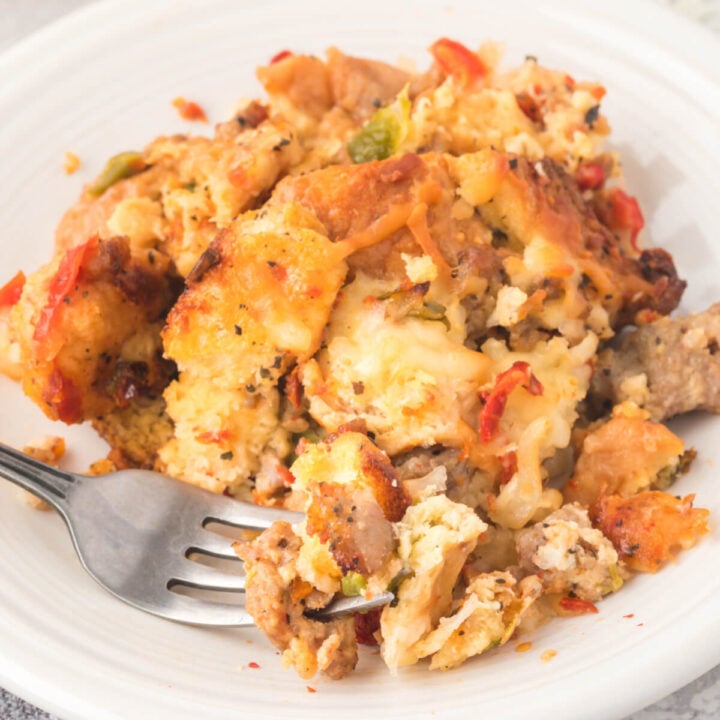 Italian Breakfast Strata
Total Time:
1 hour
20 minutes
Italian Breakfast Strata is a quick and easy breakfast recipe. This delicious casserole is a great option for a holiday or weekend breakfast!
Ingredients
1 pound Italian sausage, casings removed
1 green bell pepper, seeded and chopped
1 red bell pepper, seeded and chopped
1/2 cup sun-dried tomatoes in oil, drained, and chopped
1 loaf (14-16 oz.) Italian bread, cut into 1-inch cubes
8 large eggs
1 cup milk
1 tablespoon dried basil
2 cups Mozzarella cheese, shredded
Instructions
Grease (or spray with cooking spray) a 9-in. x 13-inch baking dish and set it aside.
Cook and crumble the sausage with the peppers in a skillet over medium-high heat until the sausage is cooked through. Drain. Return the sausage mixture to the pan and add the sun-dried tomatoes. Set aside.
Place the bread cubes in a very large bowl.
In a medium bowl, beat the eggs with the milk and basil. Stir the sausage mixture into the bread. Add 1 cup of the cheese and mix well. Pour the mixture into the prepared baking dish. Reserve the remaining 1 cup of cheese for later use. Cover with plastic wrap and refrigerate overnight - or at least 8 hours.
Preheat oven to 350°F.
Sprinkle the strata with the remaining 1 cup of cheese. Spray one side of a piece of aluminum foil big enough to cover the dish with cooking spray and place sprayed side down over the casserole. Seal.
Bake covered for 45 minutes. Uncover and bake for an additional 15-20 minutes.
Allow the casserole to cool slightly before serving.
Notes
PLEASE NOTE - I would personally suggest removing glass baking dishes from the refrigerator 30 minutes prior to baking. If you are using a metal/aluminum baking dish, it is ok to go directly into the oven.
Nutrition Information:
Yield:

10
Serving Size:

1
Amount Per Serving:
Calories:

319
Total Fat:

23g
Saturated Fat:

9g
Trans Fat:

0g
Unsaturated Fat:

14g
Cholesterol:

194mg
Sodium:

575mg
Carbohydrates:

8g
Fiber:

1g
Sugar:

3g
Protein:

20g
Please note that the nutritional information listed on this page is an estimation based on the products I used. Ingredients and nutritional information can vary significantly between brands. Always be sure to read labels. Please verify that a recipe fits your needs before using it. Nutrition info may contain errors, so please verify it independently. Likewise, recipes may contain errors, so please use your common sense when following them.
Originally published on March 7, 2013. Updated on March 23, 2022.