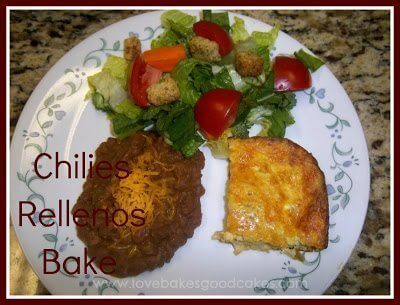 This is one of the first recipes I ever learned how to make. I loved Chilies Rellenos, but being a new cook, the whole process of making the "real deal" was intimidating to me. I can't remember now who gave me this recipe, but I have used it from day one and continue to use it today. It's super easy and you get the flavor of the Chilies Rellenos without all the "work". It's also one of my most shared recipes! I hope your family enjoys it as much as mine!
Chilies Rellenos Bake
Printable recipe
Yield: 8 servings
8 large eggs
1 cup sour cream
1/4 tsp. salt
2 drops red pepper sauce (such as Tabasco), or to taste
2 cups (8 oz.) shredded Monterey Jack cheese
2 cups (8 oz.) shredded Cheddar cheese
2 cans (4 oz. each) chopped green chilies, undrained
Heat oven to 350 degrees F. Grease a 13x9x2-in. baking dish with shortening.
Beat eggs, sour cream, salt and pepper sauce in a large bowl with a wire whisk. Stir in cheeses and chilies. Pour into baking dish.
Bake uncovered about 45 minutes or until golden brown and center is set.
I hope you enjoy! Shared at these
fun parties!
Don't forget to share and comment ♥
Copyright © Love Bakes Good Cakes 2012-2013 All Rights Reserved