In a little under an hour, you can throw together this Chocolate Snack Cake with pantry staples, making it a tasty treat for any occasion.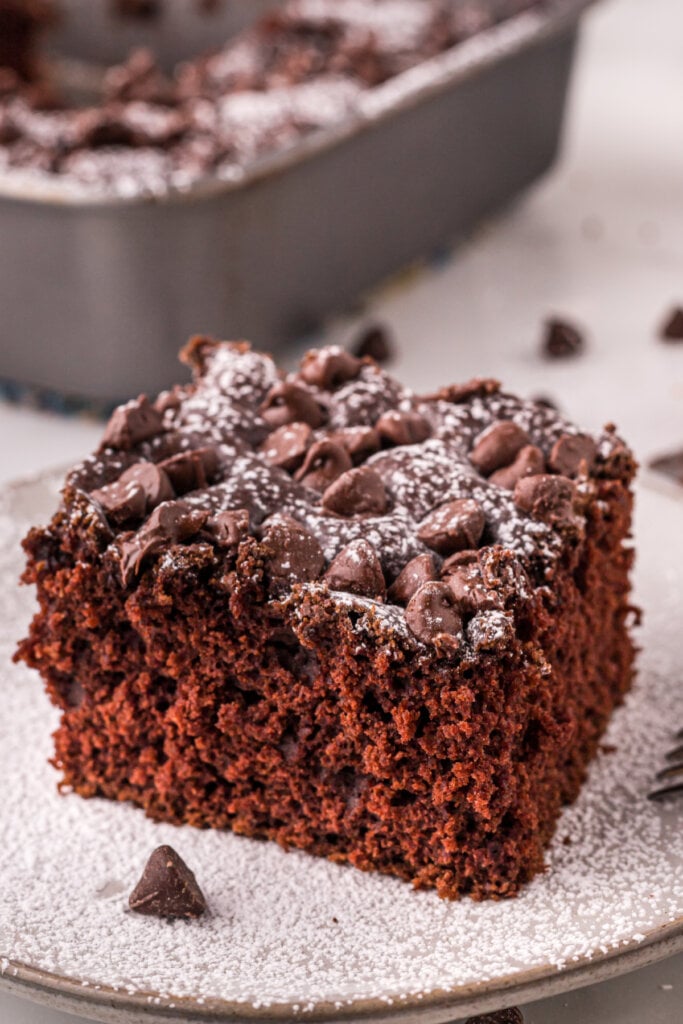 Snack Cake
In a little under an hour, you can throw together this Chocolate Snack Cake, perfect as a tasty treat for any occasion. You don't need icing for this cake – it's delicious by itself!
A snack cake sounds a lot like something you'd get in the junk food section of the grocery store, right? Like packaged food from Little Debbie!
But this chocolate snack cake is just a lovely, moist, spongy cake you can quickly make and easily divide into numerous even pieces. It's a fantastic dessert, but I also have it as a treat between meals sometimes when I don't mind spoiling my appetite for dinner. 😉
By the way, I know what you're thinking: No icing?! Totally crazy, I know. But some cakes just don't need it.
This chocolate snack cake stands alone, y'all. You can top it with powdered sugar like I do, though, or a little bit of ice cream/fruit if you're feeling particularly hungry!
Plus, with minimal clean-up (everything mixes right in the baking pan!!), that's just one more reason to love this recipe! 🥰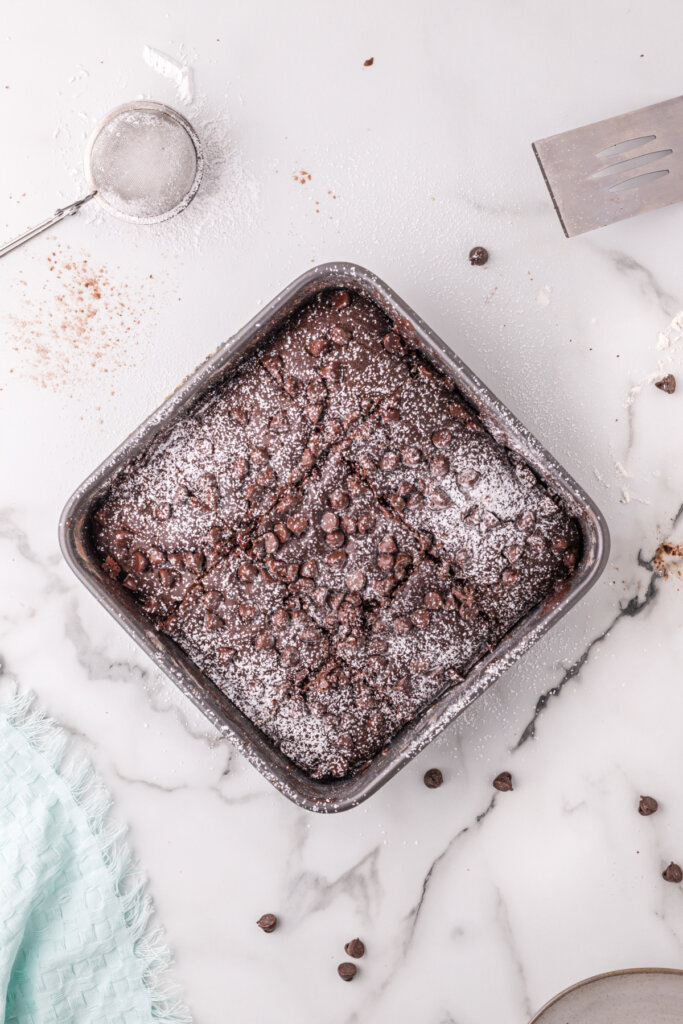 Chocolate Snack Cake: Ingredients & Equipment
To make this snack cake recipe, you'll need …
Ingredients
Flour, brown sugar, baking soda, salt, water, vanilla extract, oil – Your standard baking ingredients! If you've made a cake from scratch before, or even watched one being made, most of these should be familiar to you. Nothing much to say on them, which is why I lumped them all together!
White vinegar – Now this ingredient may seem odd to you! But basically, vinegar reacts with baking soda to make batters rise. Many times if you aren't using eggs in a cake recipe, you'll use vinegar instead (or something similar). If you want a lovely fluffy snack cake, this is your go-to ingredient.
Baking cocoa – This also goes into your batter to turn a normal cake into … well, a chocolate cake!
Semisweet chocolate chips – Optional, but adds another amazing dash of chocolate flavor when added to the batter.
Powdered sugar – Optional too, but tastes great when sprinkled on top of the cake after it's done.
Dietary note: Believe it or not, this recipe is vegan! (It's another one of those cake recipes that's secretly perfect for parties, get-togethers, etc., where you don't know everyone's dietary needs well.) If you use chocolate chips, just remember to find a vegan brand or ensure they don't contain animal products.
Equipment
square baking pan (8x8x2-in.) – for baking your snack cake. This size also makes it easier to cut into about 9 square pieces!
measuring cups and spoons – for getting those measurements right!
toothpick – for checking to make sure your cake is baked all of the way through.
hot pads – so you don't burn yourself!
wire rack – for cooling the cake.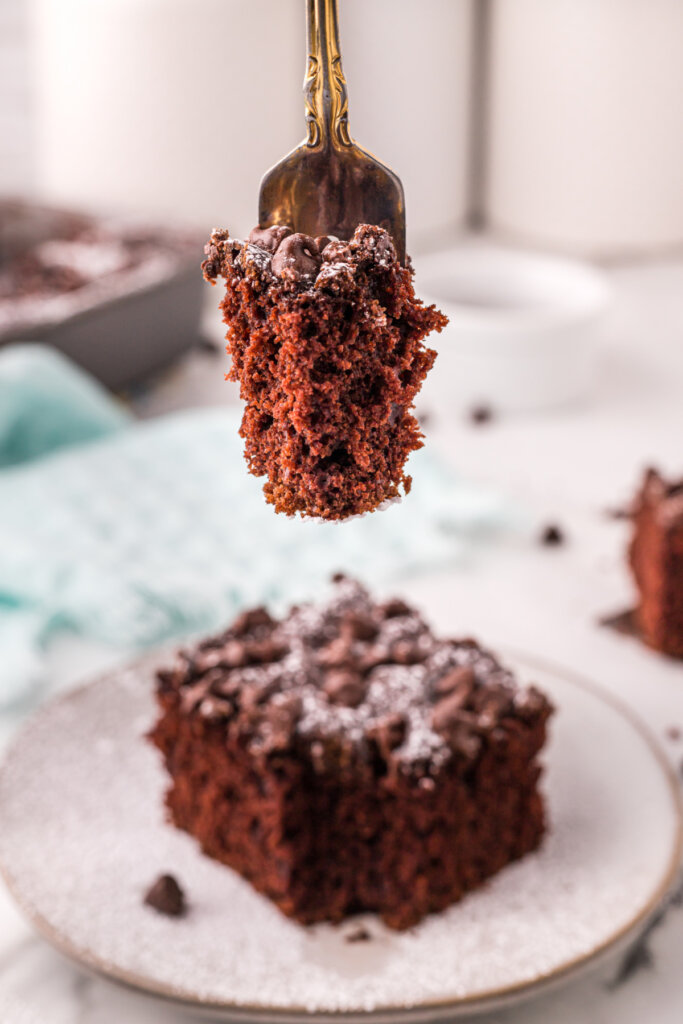 Chocolate Snack Cake: FAQs
How long does it take to cook this snack cake recipe?
A little less than an hour. You'll want to set aside 15 minutes for preparing the recipe and 40 minutes to bake it.
How many servings does this snack cake recipe produce?
It should be cut up into about nine or so individual snack cakes, depending on the size you want your slices to be.
Are there any additions you recommend?
Many people like to add just a hint of certain spices like cinnamon, for example, for a new twist on the chocolate flavor!! Using coffee instead of water or espresso powder will also give you a very fudge-like cake, depending on how much you put in the recipe.
Can you use another kind of vinegar instead of white vinegar?
Apple cider vinegar also works well in this recipe and lemon juice. Keep in mind with the lemon juice that some of the flavors may stick through baking, though. Not that a chocolate lemon cake sounds terrible -but it may not be what you're going for. 😉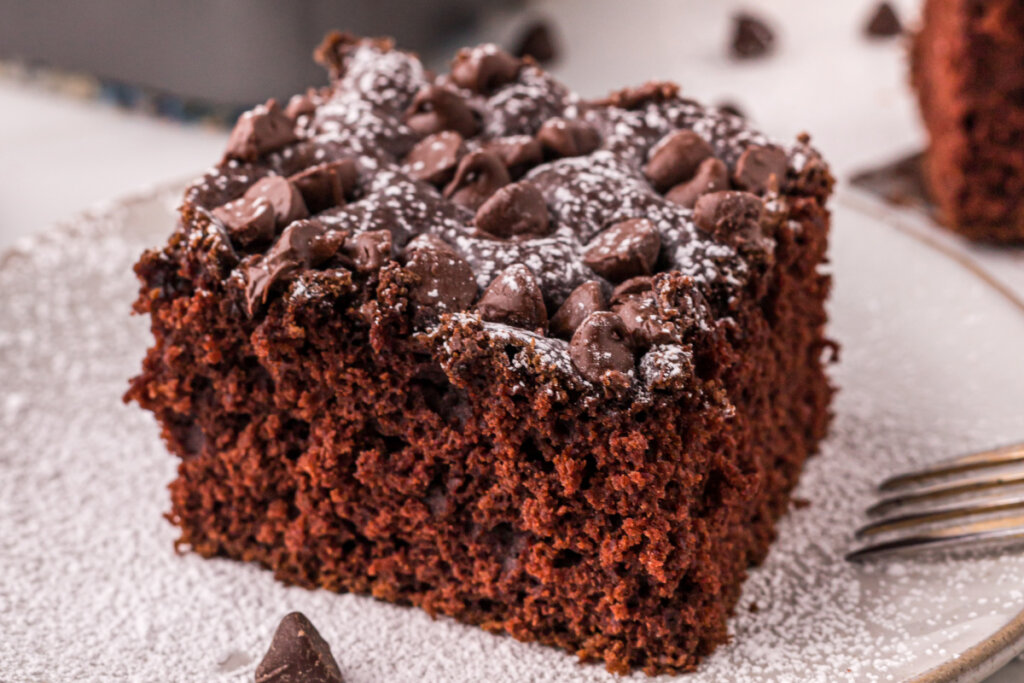 Other recipes you may enjoy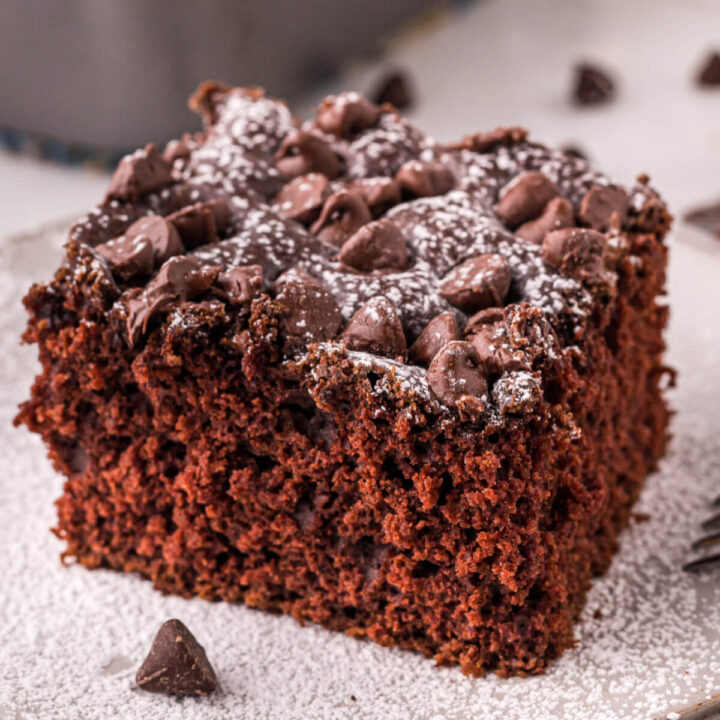 Chocolate Snack Cake
In a little under an hour, you can throw together this Chocolate Snack Cake with pantry staples, making it a tasty treat for any occasion.
Ingredients
1-2/3 cups all-purpose flour
1 cup packed brown sugar OR granulated sugar
1/4 cup baking cocoa
1 teaspoon baking soda
1/2 teaspoon salt
1 cup water
1/3 cup vegetable oil
1 teaspoon distilled white vinegar
1/2 teaspoon vanilla extract
1/2 cup semisweet chocolate chips (optional)
Powdered sugar, if desired
Instructions
Preheat oven to 350°F.
In an ungreased square baking pan (8x8x2-inches), mix flour, sugar, cocoa, baking soda, and salt with a fork. Stir in water, vegetable oil, vinegar, and vanilla extract. Sprinkle chocolate chips over the batter, if desired.
Bake 35-40 minutes, or until a toothpick inserted near the center tests clean. Cool in pan on a wire rack.
Sprinkle with powdered sugar before serving, if desired.
Notes
This cake can be stored airtight at room temperature for up to 2-3 days. For longer storage, refrigerate in an airtight container for up to 5-7 days.
Nutrition Information:
Yield:

9
Serving Size:

1 slice
Amount Per Serving:
Calories:

554
Total Fat:

12g
Saturated Fat:

2g
Trans Fat:

0g
Unsaturated Fat:

9g
Cholesterol:

0mg
Sodium:

267mg
Carbohydrates:

104g
Fiber:

3g
Sugar:

39g
Protein:

9g
Please note that the nutritional information listed on this page is an estimation based on the products I used. Ingredients and nutritional information can vary significantly between brands. Always be sure to read labels. Please verify that a recipe fits your needs before using it. Nutrition info may contain errors, so please verify it independently. Likewise, recipes may contain errors, so please use your common sense when following them.