One of my favorite things about being a blogger is getting free samples! I love trying new products and free is my favorite price! 😉 A few weeks ago, I was contacted by Dimples BBQ Sauce. They are located right here in North Carolina. They asked me if they could send a free sample of their BBQ Sauce – Of course you can send me a free sample!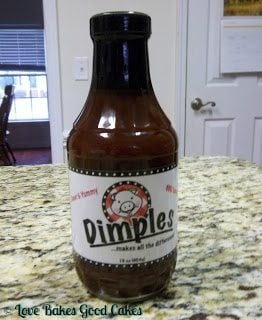 It is a wonderful, sweet and tangy sauce. We tried it on our grilled chicken one night and it was wonderful. I imagine it would be great on any of your grilled meats – even your grilled veggies! I knew I wanted to do a little something more than just grill with it. I pondered the idea for awhile and then the idea came to me. I wanted to make a pasta dish with the BBQ sauce … And this BBQ Chicken Bacon Pasta Bake was born. (I also made another dish using their sauce – and that recipe will be coming to the blog too! I'll even give ya a hint – it has something to do with cornbread!)
We served it up with a spinach salad and rolls. The BBQ sauce was just enough without being overpowering. My family loved this tasty casserole and I hope yours does as well!
(For the record, I hate this daylight savings time/not daylight savings time stuff …. by the time dinner rolls around now, it is completely pitch-black dark outside. I am trying to find a way to rectify the lack of natural lighting, so please bare with me while I figure out how to make my pictures turn out not so dark.)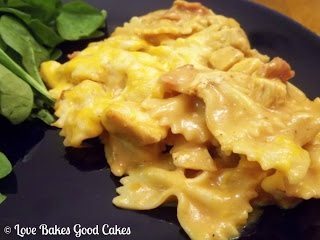 BBQ Chicken Bacon Pasta Bake
Yield: 6 servings
2 cups (about 1 lb.) cooked, chopped chicken
½ lb. bacon, cooked and crumbled
1 lb. pasta (I used bow-tie)
2 tbsp. all-purpose flour
2 cups milk
1 can (10¾ oz.) condensed cream of chicken soup, undiluted
½ cup Dimples BBQ Sauce (or your favorite brand)
1 clove garlic, minced
1½ cups (6 oz.) shredded Colby-Jack cheese, divided
Preheat oven to 350°F.
Coat a 9×13-in. baking dish with cooking spray and set aside.
Cook pasta according to package directions and drain.
Meanwhile, in a medium saucepan combine the flour, milk, cream of chicken soup, BBQ sauce and garlic. Bring to a simmer and cook and stir for 3-5 minutes or until the sauce thickens slightly. Stir in half of the cheese. Remove from the heat and set aside.
Return the pasta to the cooking pot and stir in chicken, bacon and soup mixture. Spoon into prepared baking dish. Top with the remaining cheese.
Bake 20-30 minutes or until the casserole is heated through and the cheese is melted.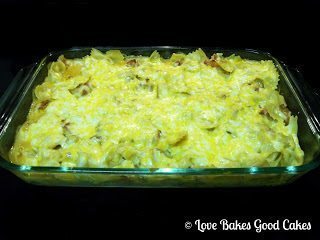 **I was in no way compensated for this post. All opinions are 100% mine. I was sent free BBQ Sauce to try, but was not asked to write any posts. However, I enjoyed the sauce and their gesture so much, I wanted to write a post including their product. Thank you, Dimples! 🙂
If you are interested in getting some of your own Dimples BBQ Sauce, be sure to check out their site, HERE. You can also follow them on Facebook.
I hope you enjoy!

Shared at these
fun parties!
Featured at What's Cooking, Love?

Don't forget to like, share and comment ♥


Copyright © Love Bakes Good Cakes 2012 All Rights Reserved