Whether for a weekend brunch or a weeknight dinner, these Banana Fluffernutter Crepes are delicious and easy to make! Enjoy!
This post may contain affiliate links. As an amazon associate, I earn from qualifying purchases. See my full Disclosure Policy for details.
Confession … I never had crepes as a child. Seriously. Apparently, I had a very deprived childhood. I was in my 30's (*GASP*) before I had my first bite of a crepe!! As a matter of fact …. These Crepes with Walnut Cream and Caramel Sauce from my bloggy friend, Linda – made me realize just how deprived I was! It has only been in the last year that I have tried them – and I still can't figure out why I never had them before?! They're so easy to make – they're pretty cheap – and you can literally fill them with almost anything – sweet or savory!!
One of our favorite varieties of fillings for crepes is actually a spin off of a favorite sandwich – the fluffernutter. Super delish!
Surprise your family with a fun weekend brunch – or have something a little bit different for dinner one night! These Banana Fluffernutter Crepes are sure to be a hit!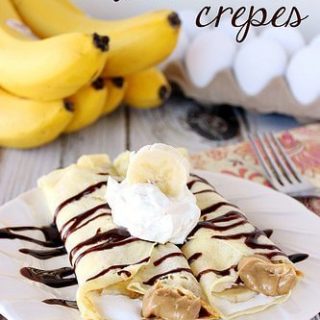 Banana Fluffernutter Crepes
Whether for a weekend brunch or a weeknight dinner, these Banana Fluffernutter Crepes are delicious and easy!
Ingredients
For the crepes
1 1/2 cups milk
4 eggs
1 cup all-purpose flour
1 1/2 tsp. sugar
Pinch of salt
8 tsp. butter
For the filling
Creamy peanut butter
Marshmallow creme
Sliced bananas
For the garnish
Chocolate sauce
Sweetened Whipped Cream (click the link to see my simple homemade recipe!!)
Additional banana slices
Instructions
In a small bowl, whisk the milk and eggs. In a separate bowl, combine the flour, sugar and salt.
Add the flour mixture to the milk mixture and mix well. Cover and refrigerate for one hour.
In an 8-in. nonstick skillet, melt 1 tsp. butter over medium heat. Pour 2-3 tbsp. of the batter into the center of the pan. Lift and tilt the pan to coat the bottom evenly with the batter. Cook until the top appears dry, carefully turn with a spatula and cook an additional 15-20 seconds longer.
Remove the crepe to a wire rack. Repeat the process with the remaining batter, adding butter to the skillet as needed.
To serve:
Top each crepe with peanut butter, marshmallow creme and sliced bananas. Roll up and carefully place on a plate. Drizzle with chocolate sauce. Add a dollop of sweetened whipped cream. Top the sweetened whipped cream, then with an additional banana slice, if desired.
To store crepes:
Once the crepes have cooled, stack crepes with waxed paper or paper towels between them.
Refrigerate and use within 2-3 days. Fill with desired filling.
Nutrition Information:
Amount Per Serving:
Calories:

0
Total Fat:

0g
Saturated Fat:

0g
Cholesterol:

0mg
Sodium:

0mg
Fiber:

0g
Sugar:

0g
Protein:

0g
Originally published on March 19, 2014. Updated on April 26, 2021.