With this Homemade Guacamole recipe, you can have restaurant-quality guac at home! This award-winning recipe is versatile and delicious.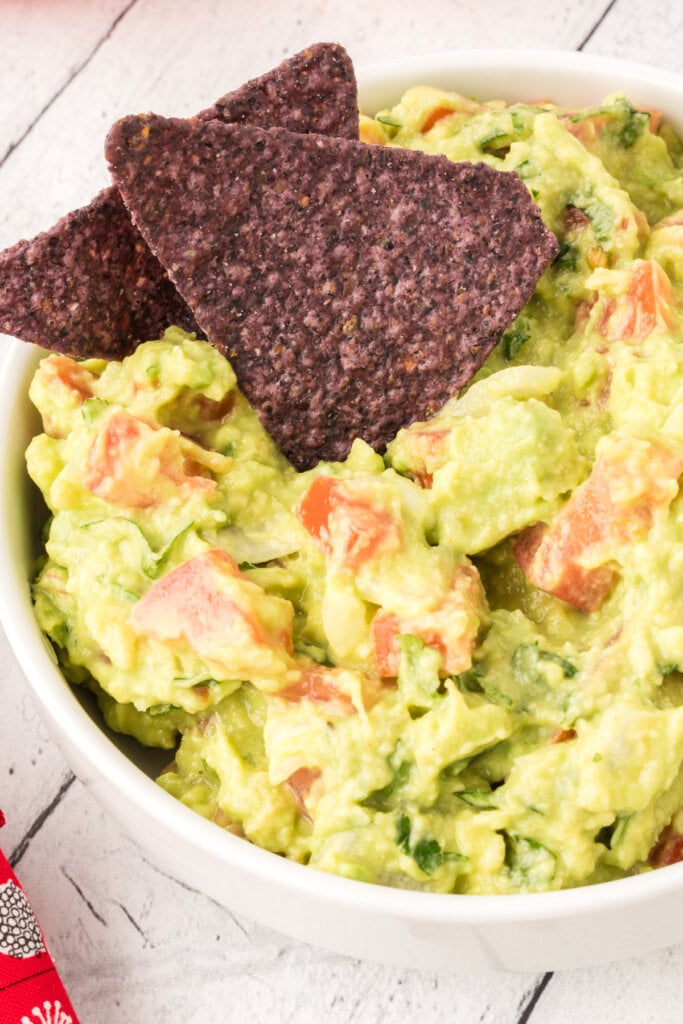 Homemade Guacamole
This Homemade Guacamole recipe is the best! Whether you scoop it up with chips, slather it on a burrito, or dig in with a spoon – there's no denying how versatile and delicious it is!
Homemade Guacamole – is there anything any better, y'all?! And did you know it's super easy to make restaurant-quality guacamole at home?!
One of the great things about guacamole is how many things you can use it with. I'm not gonna lie – I ate part of this batch on slices of French bread for lunch. Don't judge me. It was delicious and addicting!! And yes, I would do it again too.
This guacamole recipe, in particular, uses ingredients you likely have at home already, which makes it super simple. It's also just a two-step process. Yes, it doesn't take that much to make great guacamole! Which surprised me when I first discovered it.
Every time I find out something tasty is easy to whip up. I thank the universe. No advanced cooking skills are required to create awesome dishes!!
This recipe is fast and delicious, but it's also award-winning and often requested when we host parties or get-togethers!
I've even had one reader tell me that even though they used the same ingredients, my recipe gives guacamole "je ne sais quoi" – an expression of a quality that makes something or someone attractive, distinctive, or special in some way, but its hard to put into words.
Use this guacamole on nachos or in a taco, as a side-dip to a bigger meal, or maybe just stare at it longingly during the day as I do! 😍 I hope you enjoy it!!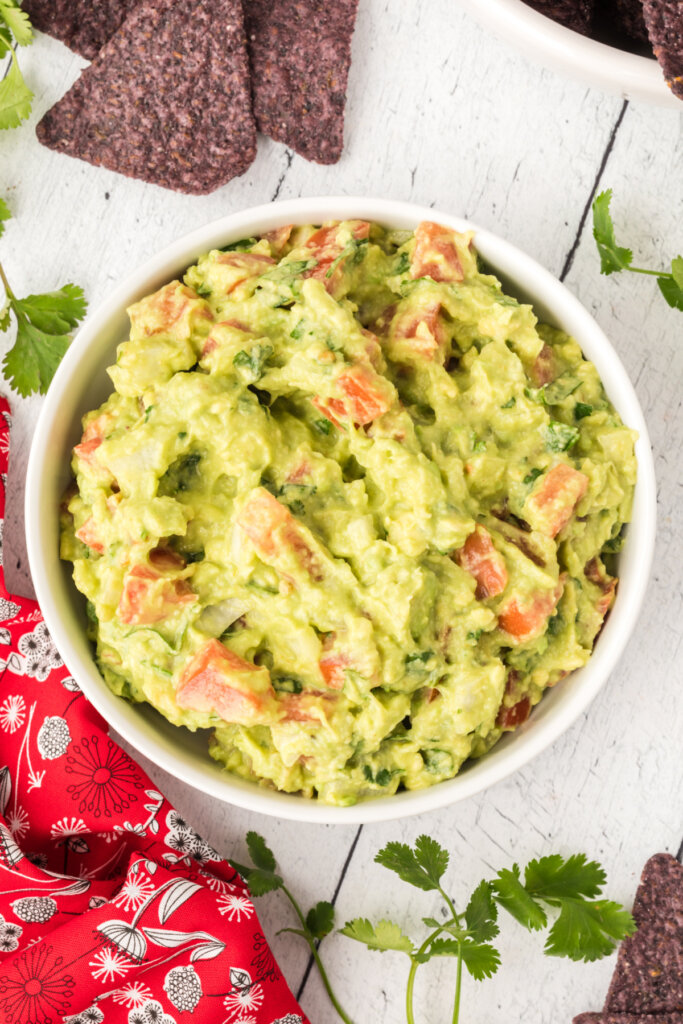 Homemade Guacamole: Ingredients & Equipment
To make guacamole, you'll need …
Ingredients
avocados – you can't have guacamole without the lovely avocados! You'll want them peeled and pitted. Make sure it's at the right ripeness level because the guacamole will taste off otherwise. I talk more about choosing the right avocados in the FAQs section!
lime – juiced. Another essential part of your guacamole. I can't think of many recipes that don't use lime juice!
salt, garlic, cumin, onion – for lots of flavors!
cilantro – alright, I know cilantro is a little bit controversial, but I think it tastes good in guacamole. You barely know it's there, but if it's missing, you also notice it's missing – it's hard to explain. All in all, I'd keep the cilantro in!
Roma tomatoes – a delicious add-in for your guacamole. Don't chill them first – make sure they're at room temperature. Chill tomatoes, and they tend to lose flavor!
Equipment
bowl or molcajete – for mixing and mashing your yummy guacamole ingredients.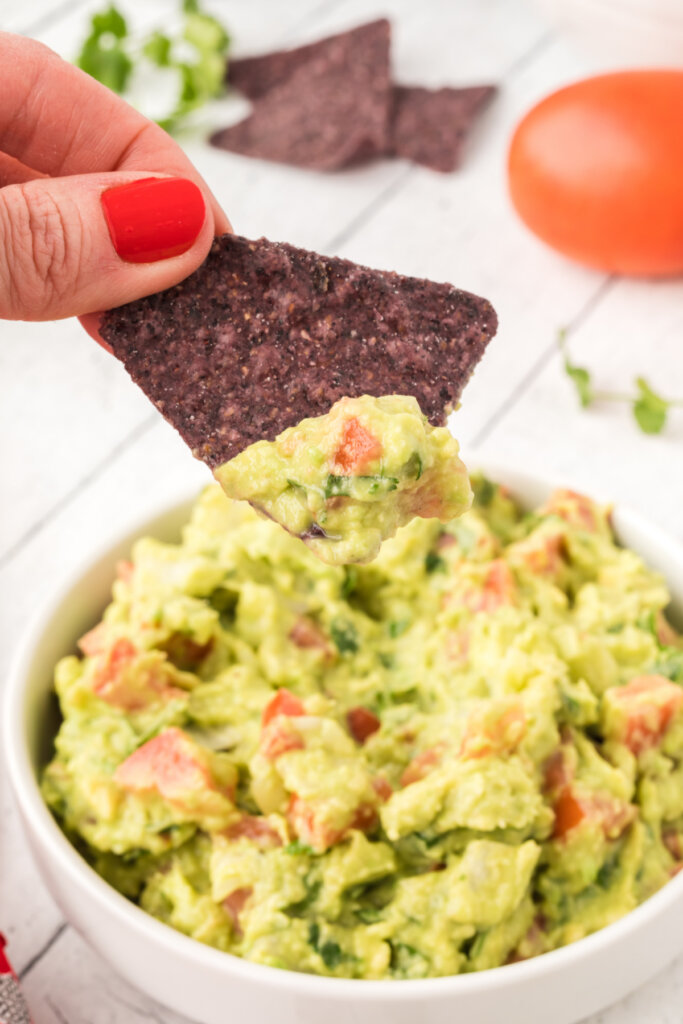 Guacamole: FAQs
How should I store this guacamole, so it doesn't turn brown quickly?
Put it in a container with half an inch of water on top. That should keep it from browning for about three days! When you are ready to eat the guac, just pour off the water and enjoy! 
How much guacamole does this recipe produce?
About six servings of it, which is enough for everyone to have a big dollop on their plate (or in their burrito) if they so choose!!
How long does it take to make guacamole?
Just ten to fifteen minutes! And no cooking time, either! It's all cutting or mashing the ingredients together.
Can I use lime juice from a bottle instead of juiced limes?
You can, but the fresh juice makes a world of difference, trust me!
How do you know if an avocado is ripe enough to use in this guacamole recipe?
Press on the outside of the avocado before peeling it. You're looking for a little bit of give – if it's too squishy or too hard, it's not ready (or its time has passed). If you're still unsure, a taste test will do the trick. As I said, you want an avocado that's just right, or else you'll have a flavorless (or weird-flavored) guacamole!!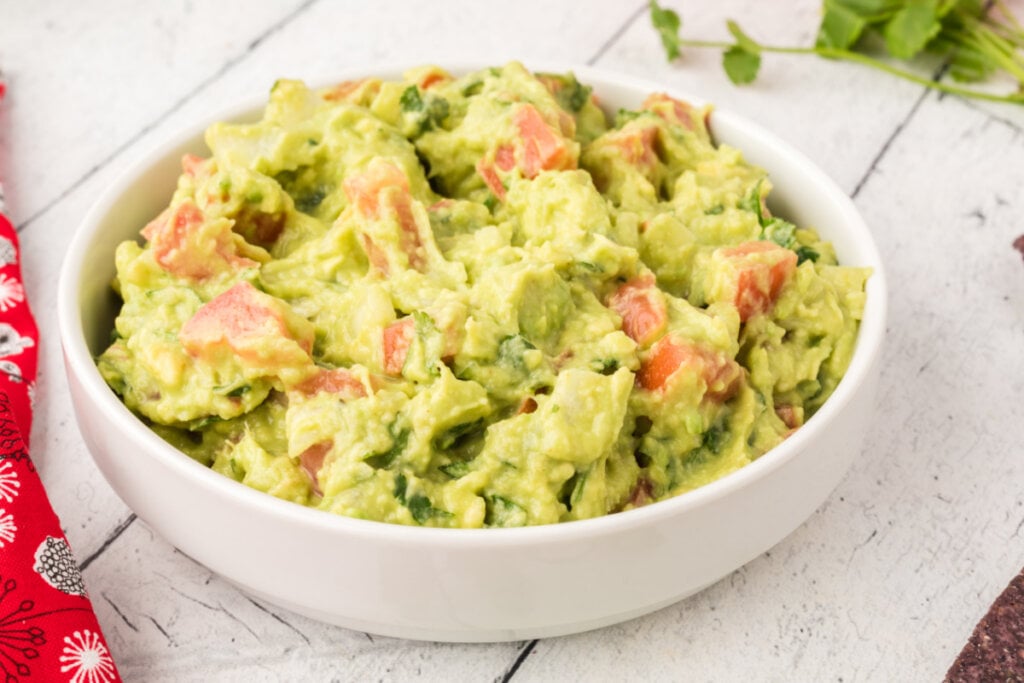 Other recipes you may enjoy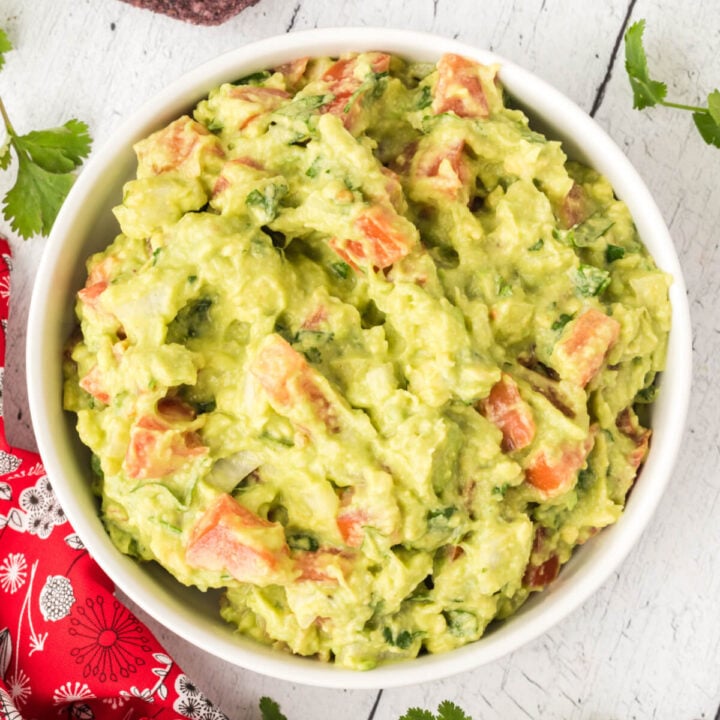 Homemade Guacamole
With this Homemade Guacamole recipe, you can have restaurant-quality guac at home! This award-winning recipe is versatile and delicious.
Ingredients
3 avocados - peeled, pitted and mashed
1 lime, juiced
1 teaspoon salt
1/2 cup finely diced onion
3 tablespoons chopped fresh cilantro
2 Roma tomatoes, seeded and chopped
2-3 cloves garlic, minced
1/2 teaspoon ground cumin
Instructions
Mash the avocados, lime juice and salt in a molcajete or medium bowl. Mix in the onion, cilantro, tomatoes, and garlic. Stir in the cumin.
Serve immediately.
Notes
To keep the guacamole from turning brown, put it in an airtight container with half an inch of water on top. That should keep it from browning for about three days! Be sure to store the container of guacamole in the refrigerator. Drain the water off when you're ready to use the guac.
Recommended Products
As an Amazon Associate and member of other affiliate programs, I earn from qualifying purchases.
Nutrition Information:
Yield:

6
Serving Size:

1
Amount Per Serving:
Calories:

177
Total Fat:

15g
Saturated Fat:

2g
Trans Fat:

0g
Unsaturated Fat:

12g
Cholesterol:

0mg
Sodium:

362mg
Carbohydrates:

12g
Fiber:

7g
Sugar:

2g
Protein:

3g
Please note that the nutritional information listed on this page is an estimation based on the products I used. Ingredients and nutritional information can vary significantly between brands. Always be sure to read labels. Please verify that a recipe fits your needs before using it. Nutrition info may contain errors, so please verify it independently. Likewise, recipes may contain errors, so please use your common sense when following them.
Originally published on March 9, 2014. Updated on March 28, 2022.