This Slow Cooker Refried Beans recipe is so easy to make! It's the perfect addition to – or side dish for – all of your Mexican dishes.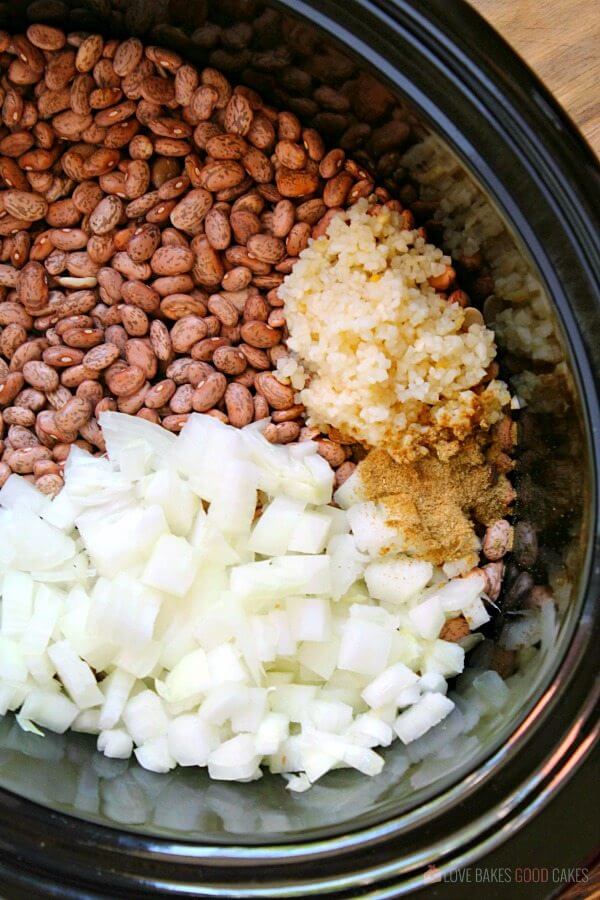 Slow Cooker Refried Beans
If you've followed Love Bakes Good Cakes for any length of time, you know I'm a big fan of Mexican and Tex-Mex food. I'm not saying I could be … okay, I am saying …. but I think I could easily be bribed with street tacos, tamales, or any other array of Latino fare.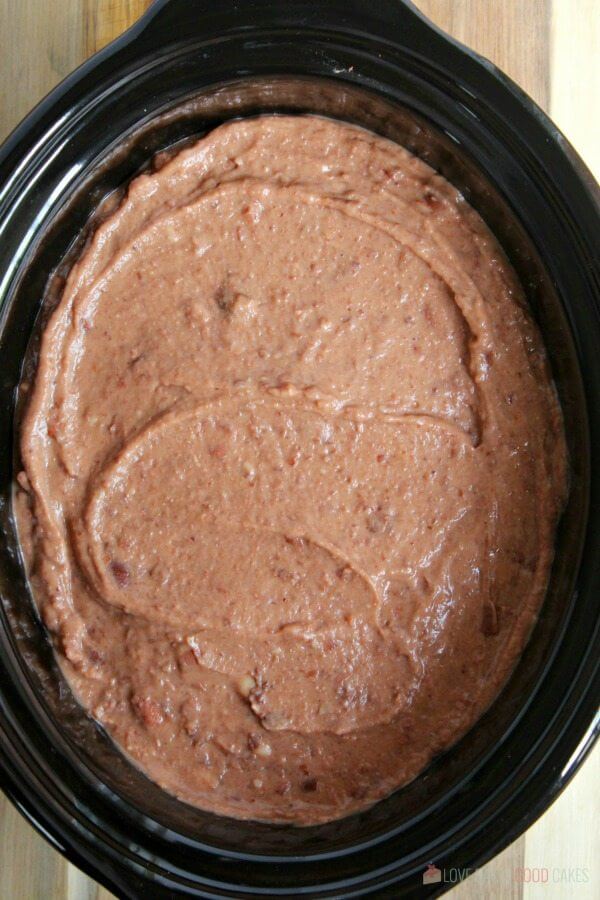 One of my favorite things about living in the Phoenix area is the easy access to authentic Mexican food. It's everywhere and I **LOVE** it. Brian doesn't even need to ask me what I want for dinner when we go out – he knows it's forever and always to a local Mexican joint. The ones that are more off the beaten path have been my favorites.
I feel like I've hit the jackpot when I find those few places that make real, from-scratch, authentic refried beans. You can taste the difference. Mmmmmm! Just give me a big ol' spoonful and I'm good!
I am convinced that the simplest dishes, with the most common and basic ingredients, always seem to taste the best. Don't you think so?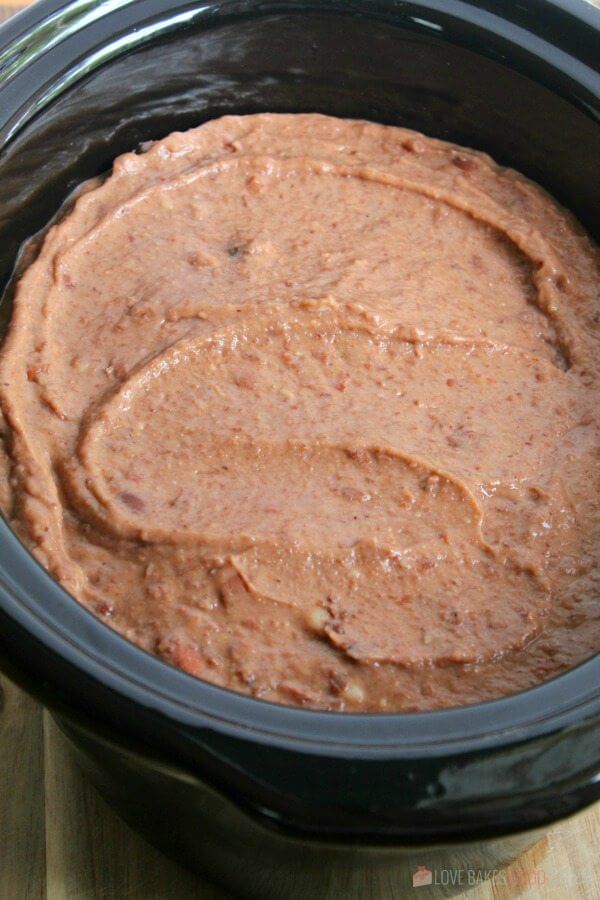 So, this Slow Cooker Refried Beans recipe although not entirely "authentic" – is completely awesome! You won't even miss the "refry" or the lard. And the best part?! Your slow cooker pretty much does all of the work!
These Slow Cooker Refried Beans make a great side dish for all of your Mexican dishes. They're also great in some of our favorite dishes, like Bean Burritos, Burrito Supremes, 7 Layer Burritos, layered in a Mexican-style Lasagna, used as a dip for tortilla chips – or anywhere else you would normally use refried beans! One of my absolute favorites is to add a bit to our taco meat to make it stretch a bit further and to help cut the cost of using so much meat. Meat is expensive, y'all!
We freeze 2 cups (16 oz.) portions for later use. It's equivalent to a small can of refried beans. To use, completely thaw in the refrigerator then reheat or use in your favorite recipes as the recipe calls for.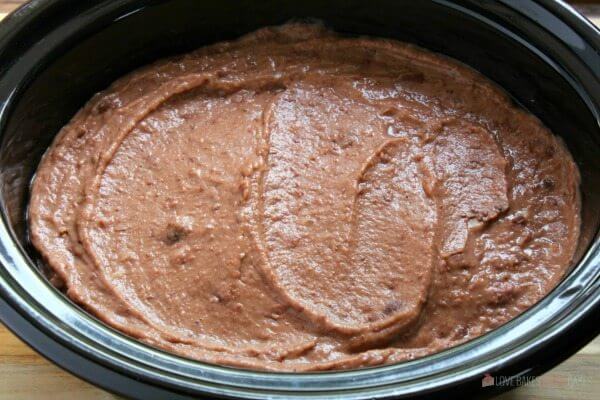 Other recipes you may enjoy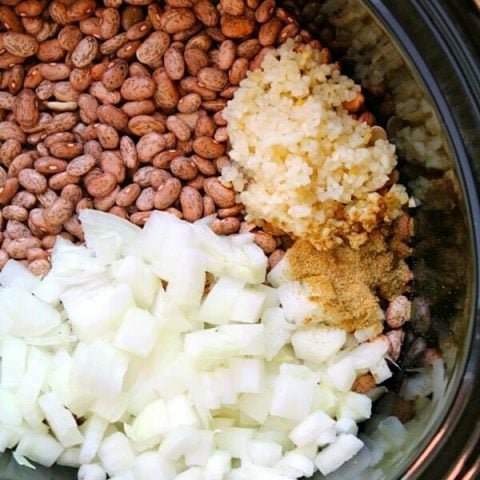 Slow Cooker Refried Beans
Total Time:
6 hours
15 minutes
This Slow Cooker Refried Beans recipe is so easy to make! It's the perfect addition to - or side dish for - all of your Mexican dishes.
Ingredients
2 pounds pinto beans, sorted and rinsed
1 medium white or yellow onion, finely chopped
4-6 cloves garlic, minced
2 tablespoons salt
1 teaspoon ground black pepper
2 teaspoons ground cumin
2-1/2 quarts hot water
Instructions
Combine all ingredients in a slow cooker. Turn the heat setting to HIGH, cover, and cook for 4 hours.
Turn the heat down to LOW and cook for an additional two hours.
Strain away the liquid into a bowl, and pour the beans into a large bowl or the bowl of a stand mixer (this is an easy way to mash the beans). Mash with a potato masher or mix on medium speed in the stand mixer, adding liquid back into the beans 1/4 cup at a time until it reaches your desired consistency. Discard remaining liquid and add more salt or cumin to beans if needed.
Serve and store any leftover refried beans in the fridge for up to 2 weeks, or freeze.
Nutrition Information:
Amount Per Serving:
Calories:

216
Total Fat:

1g
Saturated Fat:

0g
Cholesterol:

0mg
Sodium:

530mg
Fiber:

10g
Sugar:

2g
Protein:

13g