This Tipsy Mermaid Cocktail is a refreshing and pretty ocean-themed drink. This drink will make you feel like you're floating in the sea! Can you think of any drink more perfect for summertime?!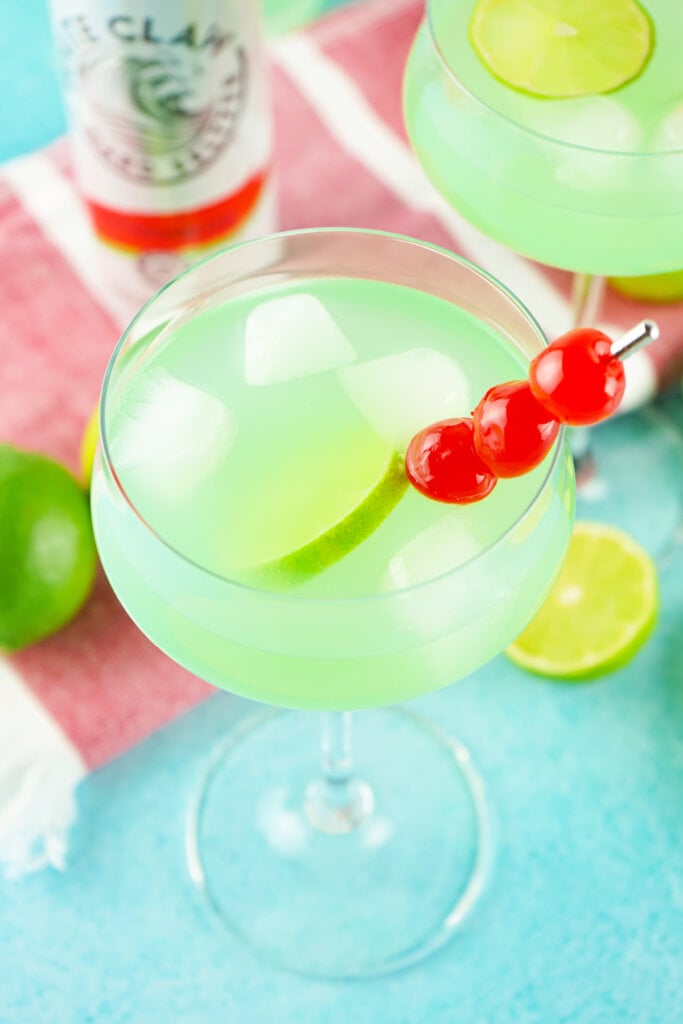 Mermaid Punch
Pineapples, rum, and blue curaçao are all very, very tropical … wouldn't you agree? Today I have to show y'all a drink with all these flavors wrapped up into one: the Tipsy Mermaid Cocktail! It earns its name by being as refreshing as a dip in the ocean!
This Mermaid Punch is a simple and easy-to-make cocktail that you'll positively love, y'all. Perfect for pool parties, beach outings, and just relaxing on a summer night, it doesn't even take five minutes to make. It only needs a few common ingredients and, as with most cocktails, the recipe is quick as all get-out. This is one of the best rum summer drinks!
Blue as tropical water waves and packed with both fruitiness and warm alcohol, it's a drink fit for a real princess of the sea! (Or, hey, prince of the sea!)
Boozy or not, we all need a good beverage as the months grow warmer, don't you think?! This cocktail is like a tropical princess of a drink! Enjoy this Tipsy Mermaid Cocktail!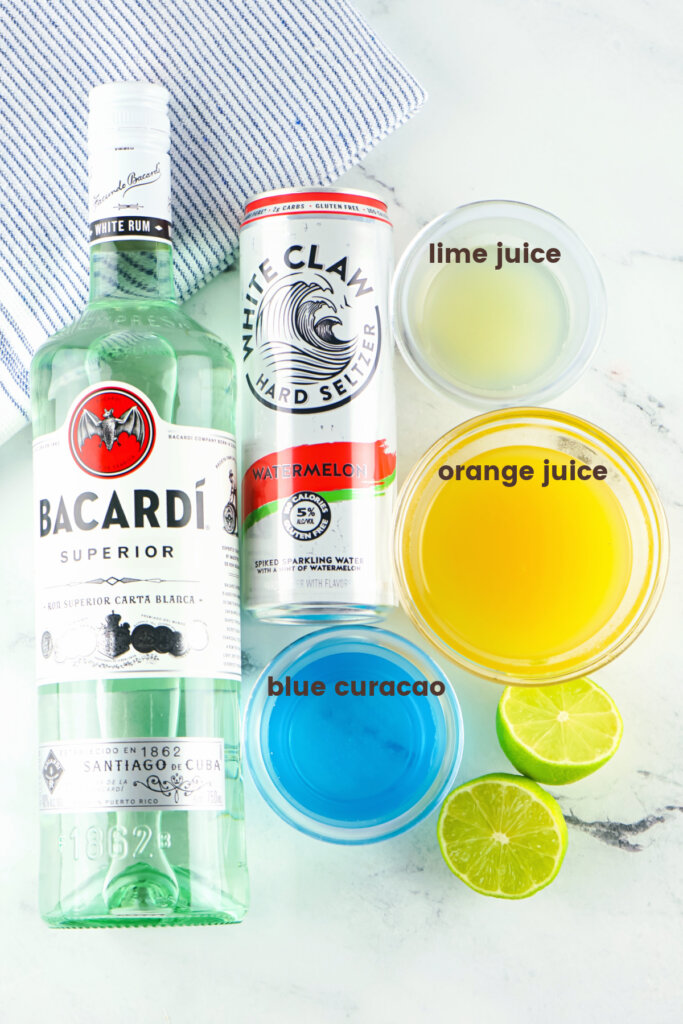 Drunken Punch: Ingredients & Equipment
For this Tipsy Mermaid Cocktail, you'll need …
Ingredients
rum – white or light rum is the usual choice for mixed drinks since dark rum often has a much bolder flavor that may not mix well. Of course, you can use whatever you'd like!
blue curaçao – blue curaçao is a bright blue liqueur with a citrus flavor, similar to Triple Sec or Grand Mariner. it'll give our Tipsy Mermaid her ocean blue color.
pineapple juice – any you like is fine!
lime juice – fresh-squeezed is best! However, you can also always get by with bottled juice.
white claw – you can choose whatever flavor you like best, though the watermelon flavor is what we'll be using in this recipe!
ice – Try freezing some of the cocktail or juice used to make ice cubes that won't dilute the drink as they melt.
slice of lime, pineapple, or a maraschino cherry – Optional, as a garnish.
Equipment
pitcher – For mixing this Tipsy Mermaid Cocktail.
long spoon – To stir the cocktail together, of course!
a long glass – Optional, but these are best for sipping cocktails like this one!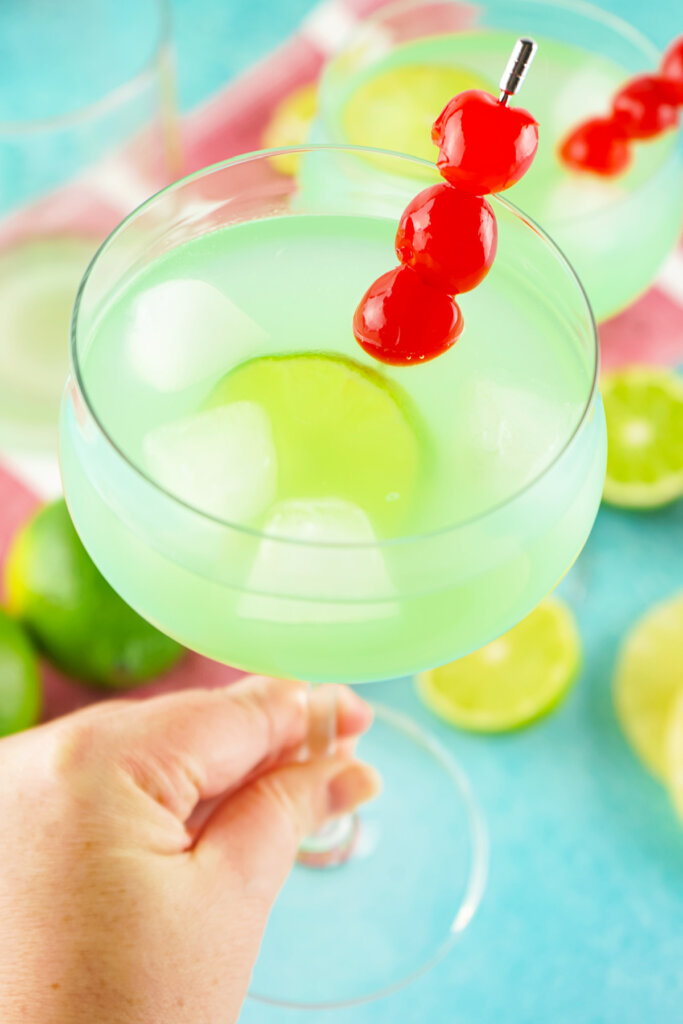 Mermaid Rum Punch: FAQs
What substitutions or additions can I make with this recipe?
Here are a few ideas…
– You can leave out the rum if so desired, or replace it with vodka instead
– Adding in club soda for an even more bubbly presentation and a lighter taste
– Try adding sprite instead for a sweeter taste (yum!!)
– Adding in fruit chunks like pineapple or cucumber slices can some extra flavor…and give you a little snack at the end of each glass too!
How long can I store a tipsy mermaid cocktail?
You can keep your cocktails chilled in a fridge for up to two weeks when kept in a sealed bottle, though you should mix the leftovers again before serving. (Be aware that the taste may not be as satisfying, y'all! Still good, but cocktails are always best fresh!)

You can also try freezing a Tipsy Mermaid. Pouring it in a popsicle mold can give you a nice frozen treat on hot summer days! I think I may try that today! 😉
What other garnishes can I try?
Crushed mint leaves are a popular option! You can also try strawberries on a stick or crushed raspberries. Lastly, you can rim the glass with sugar or salt for both an added taste and a more elegant presentation, using a citrus juice to adhere to it. Corn syrup or honey can also work as a "glue" there.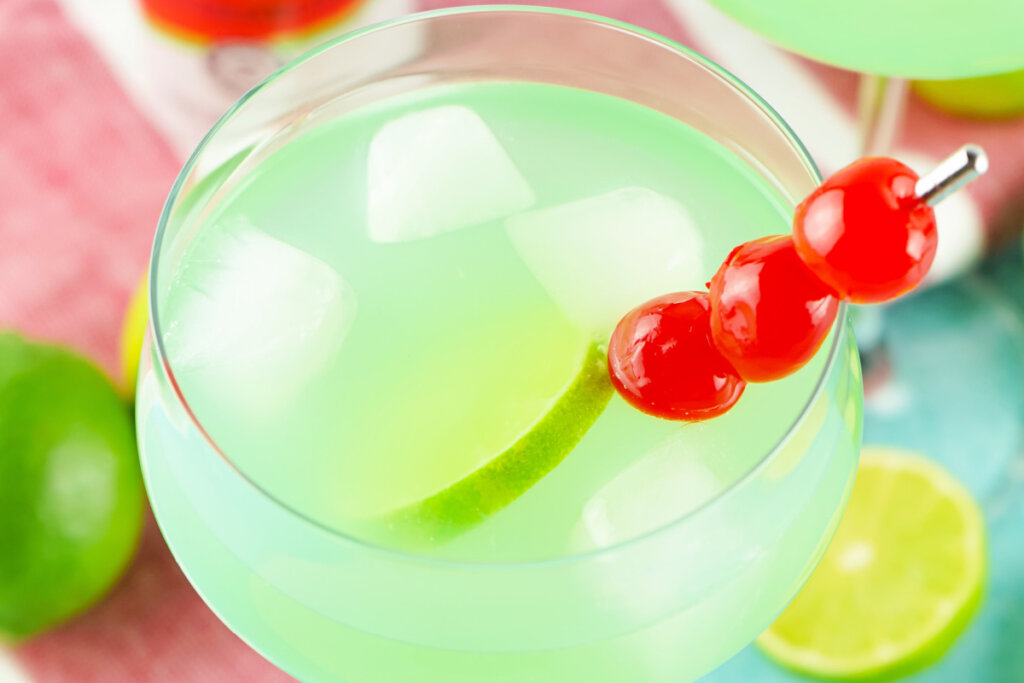 Other recipes you may enjoy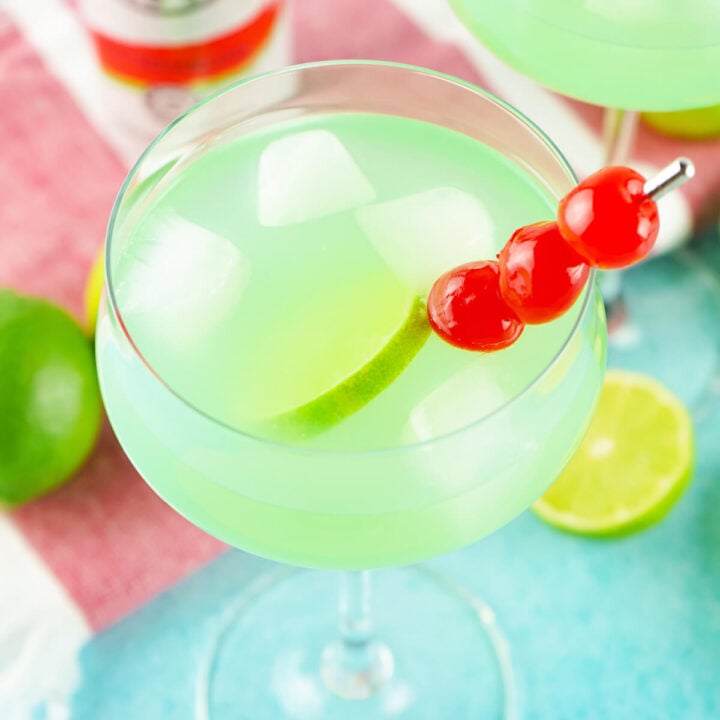 Tipsy Mermaid Cocktail
This Tipsy Mermaid Cocktail is a refreshing and pretty ocean blue drink. This drink will make you feel like you're floating in the sea! Can you think of any drink more perfect for summertime?!
Ingredients
3 ounces pineapple juice
2 ounces white or light rum
2 ounces blue curacao
1 ounce lime juice
1 can (12 ounces) White Claw Watermelon Seltzer
ice
lime slices, pineapple wedges, and/or maraschino cherries, for garnish
Instructions
Combine the pineapple juice, rum, blue curacao, and lime juice in a small pitcher and lightly stir.
Pour in the White Claw and give it another light stir.
Pour the cocktail mixture into individual glasses with ice. If desired, garnish with a lime slice, pineapple slice, or maraschino cherries.
Serve immediately.
Notes
This cocktail is meant to be lightly flavored and not overpowering with gorgeous, eye-catching colors. However, if you want more flavor, add more pineapple juice. You can also play with the amounts to suit your tastes and preferences.
You can use any flavor of White Claw (or another seltzer for that matter!) you prefer. Watermelon is the best for this drink in my opinion. You'll just want to make sure the flavor matches the drink or you'll end up with a strange-tasting cocktail.
If you don't have lime juice, you could swap it with lemon juice, in a pinch - it still tastes great!
For an added flavor bonus, use spiced or banana rum instead of white or light rum for a real island taste.
It's important that you don't overmix once you add the seltzer. Overmixing tends to flatten the seltzer and it makes the flavor not near as good.
Recommended Products
As an Amazon Associate and member of other affiliate programs, I earn from qualifying purchases.
Nutrition Information:
Yield:

2
Serving Size:

1 glass
Amount Per Serving:
Calories:

176
Total Fat:

0g
Saturated Fat:

0g
Trans Fat:

0g
Unsaturated Fat:

0g
Cholesterol:

0mg
Sodium:

6mg
Carbohydrates:

29g
Fiber:

2g
Sugar:

20g
Protein:

2g
Please note that the nutritional information listed on this page is an estimation based on the products I used. Ingredients and nutritional information can vary significantly between brands. Always be sure to read labels. Please verify that a recipe fits your needs before using it. Nutrition info may contain errors, so please verify it independently. Likewise, recipes may contain errors, so please use your common sense when following them.