Mexican Rice makes a hearty side dish for so many recipes! It's almost a staple. Add it to your next lunch or dinner for more of that authentic Mexican flavor.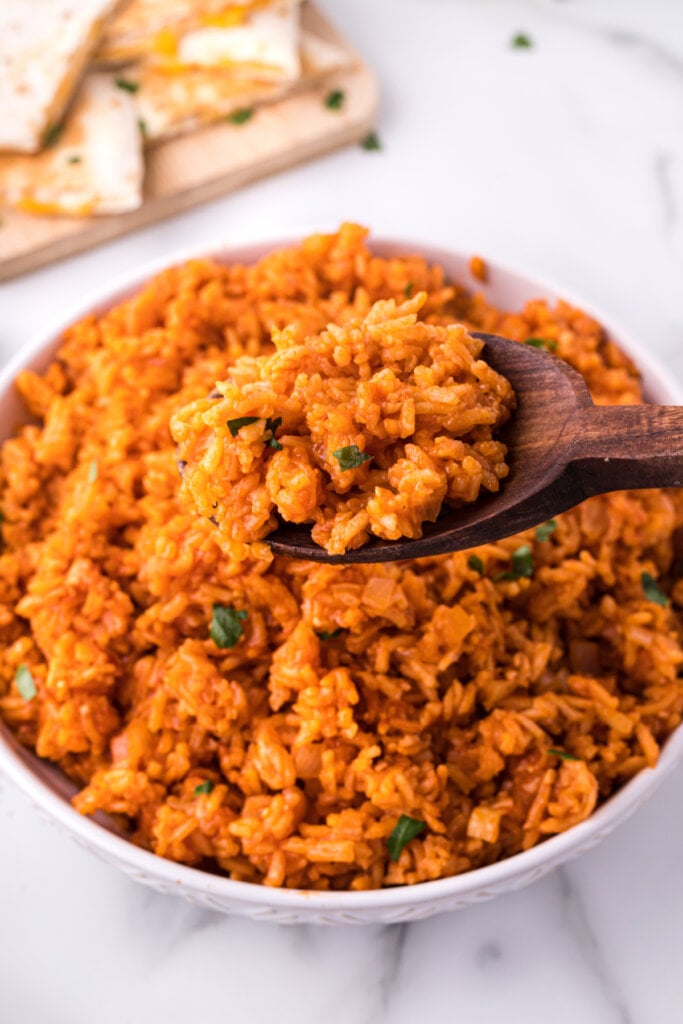 Mexican Rice Recipe
When I think of Mexican food, I think of tacos and enchiladas and burritos and quesadillas … I think of queso and refried beans and peppers, but most importantly, I think of Mexican Rice. A Mexican-style meal just isn't right without the rice!
Essentially, Mexican Rice is rice cooked with lots of tomato, onion, and garlic flavor. Many people add hot spices, as well, although I left the spice out of this recipe – feel free to add your own if you so desire!! It's filling, goes with any Spanish/Latin meal, and is (as you'll see) super easy to make.
Honestly, what's a Mexican meal without the accompanying rice? As I said, it's such a staple! Let me show you!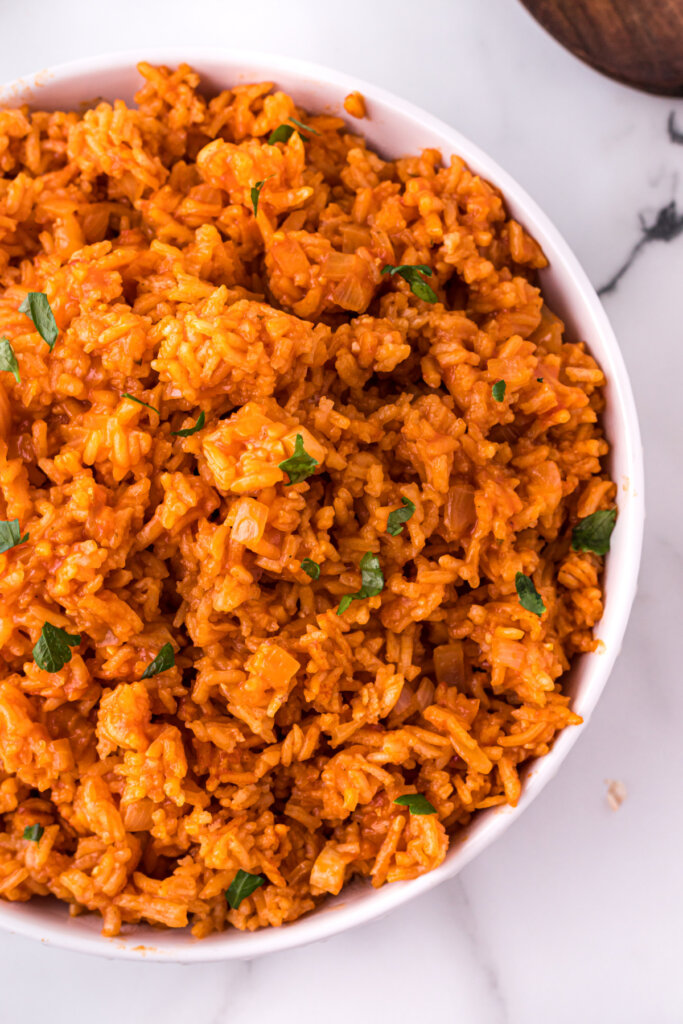 Recipe for Mexican Rice: Ingredients & Equipment
For this Mexican Rice recipe, you'll need …
Ingredients
vegetable oil – you'll cook your Mexican Rice in this oil.
long-grain rice – in my opinion, the best kind of rice to use for this recipe! Make sure to rinse it first.
onion, garlic – your veggies, which add enormously to the flavor of the rice – trust me.
tomato sauce, chicken broth, chicken bouillon, and tomato-chicken bouillon – your final ingredients, which give the rice its traditional Mexican flavor you know and love, as well as the reddish color.
Equipment
saucepan – about medium-sized, for cooking all this delicious Mexican Rice!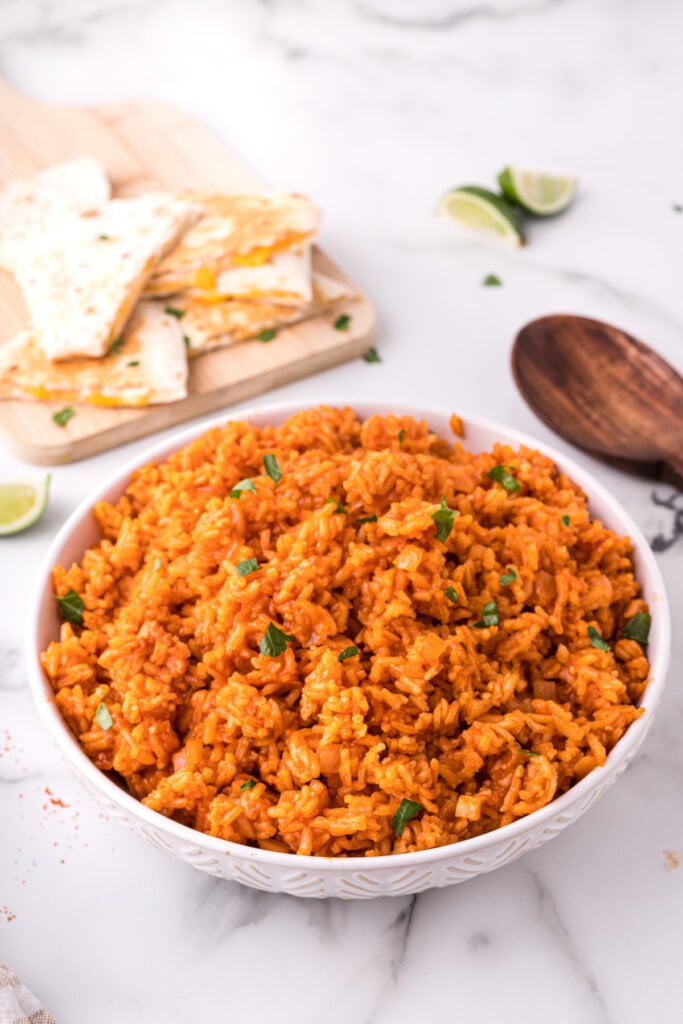 Mexican Rice Recipe Easy: FAQs
How many servings does this recipe produce?
About 6 servings. Likely enough for all your loved ones!
How long does it take to make Mexican Rice?
Only about 40 minutes! 10 minutes of prep, 25 minutes of cooking, and 5 minutes of letting the rice stand after it's done cooking. Easy!
Do you have to use long-grain rice for this recipe?
Not at all. I just think it tastes best in this recipe. Brown rice is also really good, though!
Are there any additions you recommend?
Yes! Mexican Rice is pretty versatile, like most rice dishes. And there's a lot you can add to it while still maintaining that Mexican flavor. Try things like:
– Topping it with cilantro if you're a big cilantro fan, that is. (I know it's really controversial for some!)
– Add lime juice after the rice is done. It'll make the flavors pop!
– Add black beans or cooked chicken to make your rice a full meal rather than just a side. Corn also mixes in well.
– Throwing in some chopped bell peppers or jalapeno peppers with the broth. Of course, you can also add chopped tomatoes, too!
– Give your rice a kick via chili flakes, cumin, paprika, and other spices. Sometimes you just need a bit of heat.
My rice really isn't getting fluffy. Am I doing something wrong?
Usually, when this happens, you may have opened the lid on the pan to peek at the rice before it was done. Resist the urge!! You need that steam to create the best texture. So don't open the lid until it's finished.
How should I store leftovers?
Your leftovers should last in an airtight container in the fridge for about a week. You can keep Mexican Rice in the freezer for about six months in an airtight container.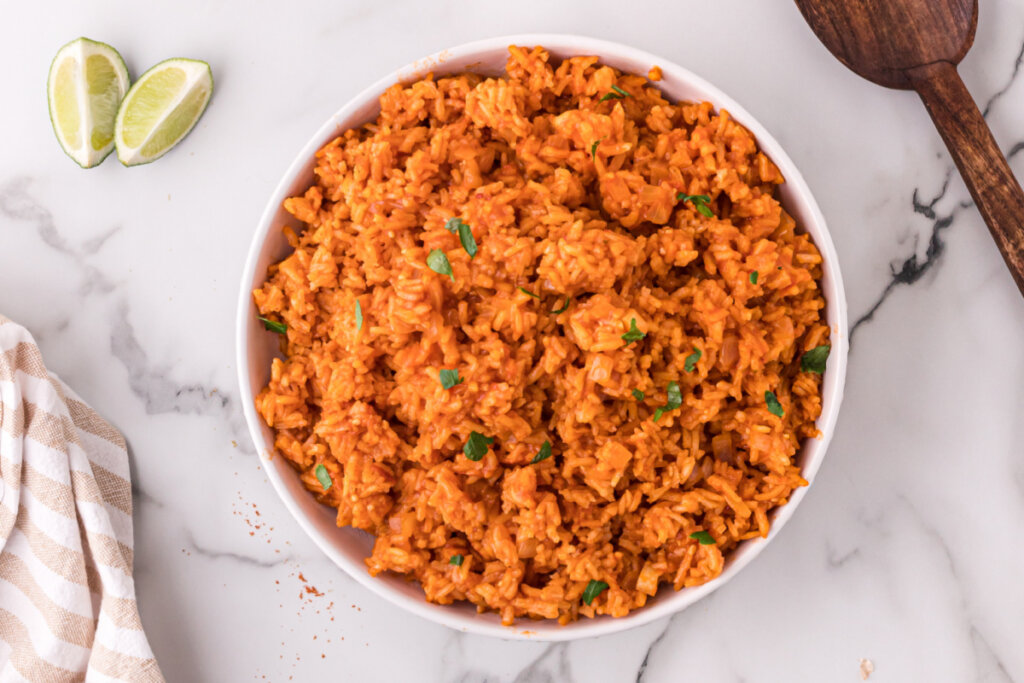 Other recipes you may enjoy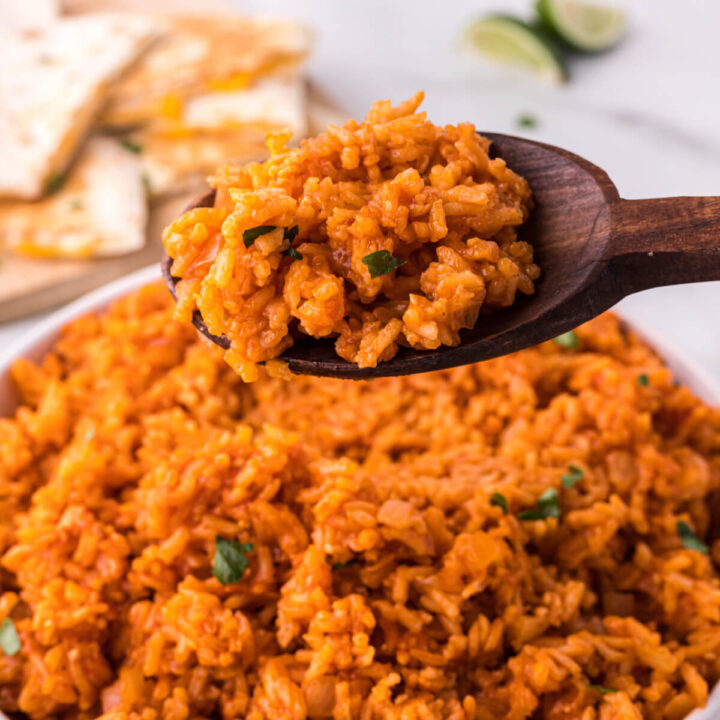 Mexican Rice
Mexican Rice makes a hearty side dish for so many recipes! It's almost a staple. Add it to your next lunch or dinner for more of that authentic Mexican flavor.
Ingredients
1 tablespoon vegetable oil
1 cup long-grain rice, rinsed
1/2 medium onion, chopped
2 cloves garlic, finely minced
1 can (8 oz.) tomato sauce
2-1/4 cups chicken broth
1/2 tablespoon granulated chicken bouillon
1/2 tablespoon granulated tomato-chicken bouillon
Instructions
In a medium saucepan, heat the oil over medium heat. Stir in the rice and onion. Cook, stirring occasionally until the rice begins to puff and turn golden.
Stir in the garlic. Carefully pour in the tomato sauce, chicken broth, chicken bouillon, and tomato-chicken bouillon. Stir to combine ingredients. Bring the mixture to a boil, cover, and reduce the heat to low. Cook for 20 minutes.
Remove the pan from the heat and allow to stand for 5 minutes before fluffing the rice with a fork.
Serve immediately.
Notes
Make the flavors pop by adding a squeeze of lime juice to the rice after cooking.
For best results, once the rice mixture has come to a boil and the lid is placed on top - DO NOT PEEK!
If desired, add some chopped green bell pepper or jalapeno pepper and /or a chopped Roma tomato when adding the broth.
Try this recipe topped with chopped cilantro - or try stirring some into the rice while it cooks!
Recommended Products
As an Amazon Associate and member of other affiliate programs, I earn from qualifying purchases.
Nutrition Information:
Yield:

6
Serving Size:

1
Amount Per Serving:
Calories:

83
Total Fat:

3g
Saturated Fat:

0g
Trans Fat:

0g
Unsaturated Fat:

2g
Cholesterol:

4mg
Sodium:

912mg
Carbohydrates:

11g
Fiber:

1g
Sugar:

2g
Protein:

2g
Please note that the nutritional information listed on this page is an estimation based on the products I used. Ingredients and nutritional information can vary greatly between brands. Always be sure to read labels.
Originally published on May 3, 2012. Updated on June 15, 2022.