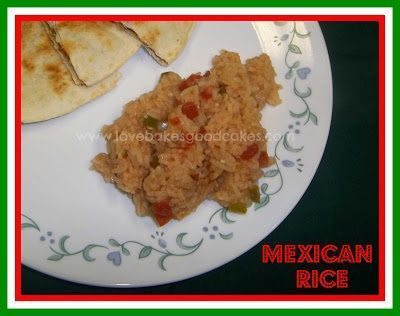 Mexican Rice
Yield 6 servings
1 cup long-grain rice
1 tbsp. vegetable oil
2 cups chicken broth
1/2 onion, chopped
1/2 green pepper, chopped
1 fresh jalapeno, seeded and chopped
1 tomato, seeded and chopped
1 cube chicken bouillon
salt and pepper to taste
1/2 tsp tsp. ground cumin
1/2 cup chopped cilantro (optional)
1 clove minced garlic
In a medium saucepan, heat rice in oil over medium heat about 3-5 minutes. Pour in chicken broth and bring to a boil. Stir in onion, green pepper, jalapeno and diced tomato. Season with bouillon cube, salt and pepper, cumin, cilantro and garlic. Bring to a boil, cover and reduce heat to low. Cook for 20 minutes.
***I like to use my rice cooker for this recipe. My cooker has a 2 cup of rice minimum, therefore, I double the recipe and substitute 1-14.5 oz. can of petite-diced tomatoes for the fresh chopped tomatoes. Combine all ingredients in the rice cooker and stir. Close lid and press the cook button.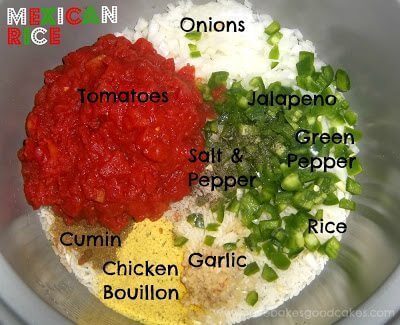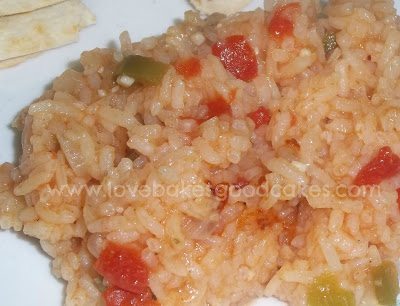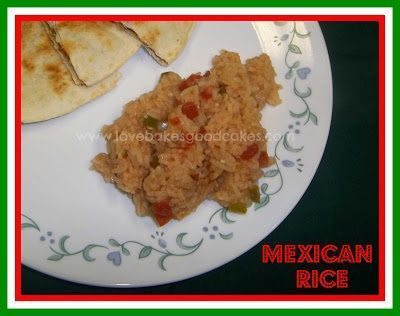 I hope you enjoy! Shared at these
fun parties!
Don't forget to share and comment ♥
Copyright © Love Bakes Good Cakes 2012-2013 All Rights Reserved