Take your taste buds South of the border with this Tijuana Burger! This summer, just in time for the 4th of July holiday, Best Foods [aka – Hellmann's] is staging a "Burgervention," putting an end to dry burgers across America. #burgervention #beef #Southwest #grilling
Tijuana Burger
This shop has been compensated as part of a social shopper amplification for Modern Mom and its advertiser. All opinions and text are 100% my own.
I'm sure y'all have figured out by now that I really dig the flavors of the Southwest. I feel so blessed to live in Phoenix – obviously, I am surrounded by great Southwest/Mexican food! Seriously, it's Mexican foodie heaven! 🙂 Since we're just getting into Summer and grilling season, I wanted to create a new burger for my family that was far from boring, and had lots of great Southwest flavor!
I remember my mom using Best Foods mayonnaise (West of the Rockies … Hellmann's East of the Rockies) in her burgers sometimes with other seasonings, and her burgers were always so moist and flavorful! They were the best ever juicy burger! You just mix the mayonnaise right into the ground beef before placing the patties on the grill, locking in flavor and moisture! I wanted to incorporate that idea with this burger. It was a total success! The mildly spiced burger paired well with the pinto beans, guacamole and cabbage. I know, I know …. not your typical burger toppings – but I promise you, this is goooood!! I felt like I was eating a gourmet burger at some fancy restaurant! My family agreed that this Tijuana Burger had to go into our grilling rotation!
With 4 simple steps, you'll be on your way to a great burger experience … 1) Mix 2) Shape 3) Grill 4) Eat …. Y'all are gonna love this Tijuana Burger!!
We served these Tijuana Burgers up with French Fries for the perfect Summer meal. You can make an easy Fry Sauce by mixing up 2 parts Best Foods mayonnaise with one part ketchup! It makes me hungry just thinking about it …. I know we'll be having this meal again soon!
Visit Best Foods or tweet @BestFoods #burgervention for recipes and tips to make the Best Ever Juicy Burger for family and friends this summer.
Don't forget to follow Best Foods on Twitter, Facebook and Pinterest for more great recipe ideas and special offers!
Other recipes you may enjoy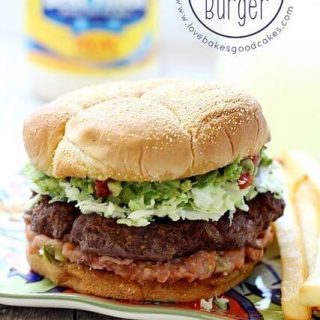 Tijuana Burger
Take your taste buds South of the border with this Tijuana Burger! This summer, just in time for the 4th of July holiday, Best Foods [aka - Hellmann's] is staging a "Burgervention," putting an end to dry burgers across America.
Ingredients
For the burger patties
2 pounds (80/20) ground beef
1/2 cup Best Foods real mayonnaise
1/2 cup plain dry bread crumbs
2 cloves garlic, minced
2 tablespoons Worcestershire sauce
2 teaspoons ground cumin
1 teaspoon chili powder
1/2 teaspoon paprika
1/4 teaspoon salt
1/4 teaspoon pepper
2 tablespoons vegetable oil
For the sandwich
1 can (15 oz.) pinto beans, rinsed
3 tablespoons prepared salsa
1 tablespoon chopped pickled jalapeño
1/2 teaspoon ground cumin
Prepared Guacamole (click link to see my homemade version)
1 1/2 cup shredded cabbage
6 cornmeal dusted hamburger buns (or your favorite hamburger bun!)
Instructions
Preheat a gas grill over high heat or a charcoal grill until it glows bright orange and ashes over.

While the grill preheats, place the pinto beans in a medium microwave-safe bowl and mash slightly. Add the salsa, pickled jalapeño and cumin. Mix well. Set aside.
In a large bowl, combine the ground beef, Best Foods mayonnaise, Worcestershire sauce, bread crumbs, garlic, cumin, chili powder, paprika, salt and pepper until well mixed. Divide and shape the ground beef into 6 patties. Brush the burgers lightly with oil.
Grill the burgers until browned and slightly charred on the first side (about 3-4 minutes). Flip the burgers over and continue to cook until desired doneness - about 4 minutes for medium-rare, longer for a more done burger.

Microwave the beans (covered but vented) on HIGH heat for 30-60 seconds or until heated through.
To assemble the burger, place the bean mixture on the cut side of the bottom bun. Top with a burger patty. Top with cabbage. On the cut side of the top bun, spread with guacamole. Replace the top bun over the cabbage. Serve!
Nutrition Information:
Amount Per Serving:
Calories:

810
Total Fat:

53g
Saturated Fat:

15g
Cholesterol:

115mg
Sodium:

793mg
Fiber:

6g
Sugar:

5g
Protein:

37g
Originally published on June 18, 2014. Updated on April 29, 2021.