Treat yourself to this Purple Cow Shake! Only 3 ingredients! Easy and delicious! #milkshake #coolsummer
Purple Cow Shake
Have you ever heard of a Purple Cow Shake? Or maybe you've heard or a Purple Cow Float? I know, it sounds crazy … but it is soooo good! The shake is a combination of grape juice, milk and ice cream, while the float typically is grape soda over vanilla ice cream (like a Root Beer Float).
Were getting into the Summer mode here at the Love Bakes Good Cakes house …. we're getting a pool put in our backyard, so excitement is brimming over! The kiddos can't wait to watch the construction and finally be able to hop in! They should be out to start digging the hole for the pool tomorrow or Friday – so be prepared for Instagram pictures! 🙂
Speaking of Summer, it's been really hot here in Phoenix – not that I'm complaining – I actually like the heat better than the cold! 🙂 But, the heat does tend to make me drink more throughout the day. I drink a lot of water (and coffee, but that's another story!) – but really, there's only so much water one can drink before you just have to have something else, ya know?! I know I've told y'all before that I LOVE fruity drinks in the Summer and this Purple Cow Shake reminds me of my childhood. It's so simple to make since there are only 3 ingredients!
Other recipes you may enjoy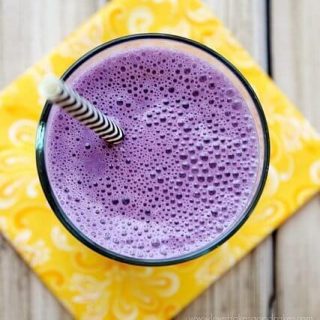 Purple Cow Shake
Yield:
2 large drinks or 4 small drinks
Treat yourself to this Purple Cow Shake! Only 3 ingredients! Easy and delicious!
Ingredients
6 ounces (from a 12 oz. can) frozen grape juice (undiluted - do not add water!)
1 cup milk (any kind you like)
2 cups vanilla ice cream
Instructions
Place the grape juice and milk in a blender. Add the ice cream. Cover and blend on high speed until thoroughly mixed (about 30-60 seconds).
Pour into glasses and serve immediately.
Nutrition Information:
Amount Per Serving:
Calories:

396
Total Fat:

18g
Saturated Fat:

11g
Cholesterol:

70mg
Sodium:

166mg
Fiber:

1g
Sugar:

46g
Protein:

8g
Originally published on June 18, 2014. Updated on April 29, 2021.