These adorable Tigger Tails are a Disneyland copycat. Make them as a sweet treat for all the kids (or the kids at heart) in your life!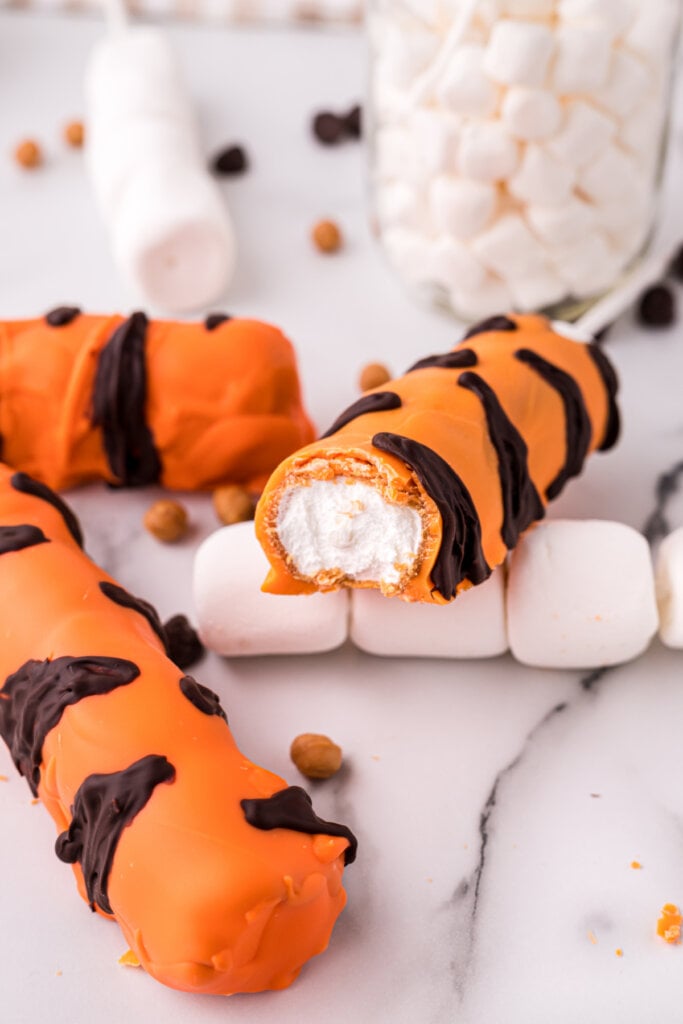 Tigger Tails Disneyland
If you've never been, let me tell you, the Disney parks are known for all kinds of awesome, adorable, and downright tasty food. They aren't making me say this, y'all – it's true! I have seriously known adults who have gone there just to dine out and get the best Disney snacks! Heck, I certainly would.
You have the Dole Whip Float, the Mickey Mouse red velvet cake pops and ice cream bars, and pretty much everything they serve at the Beauty and the Beast restaurant. Too much to list here! It's not just the fun of being at the parks. I swear they get the best cooks and chefs to work there sometimes.
Today, the Disney snack we're talking about? Tigger Tails! You can get these at Disneyland in California, and maybe the other parks, too – I'm not sure. Essentially, they're four marshmallows on a lollipop stick coated with caramel and orange chocolate or sugar crystals. (I've heard both being used! Maybe they've changed the recipe over time!) The stripes are dark chocolate drizzles. So cute!
And, as it turns out, so easy to make at home, too! Follow these instructions, and you can make your own Tigger Tails!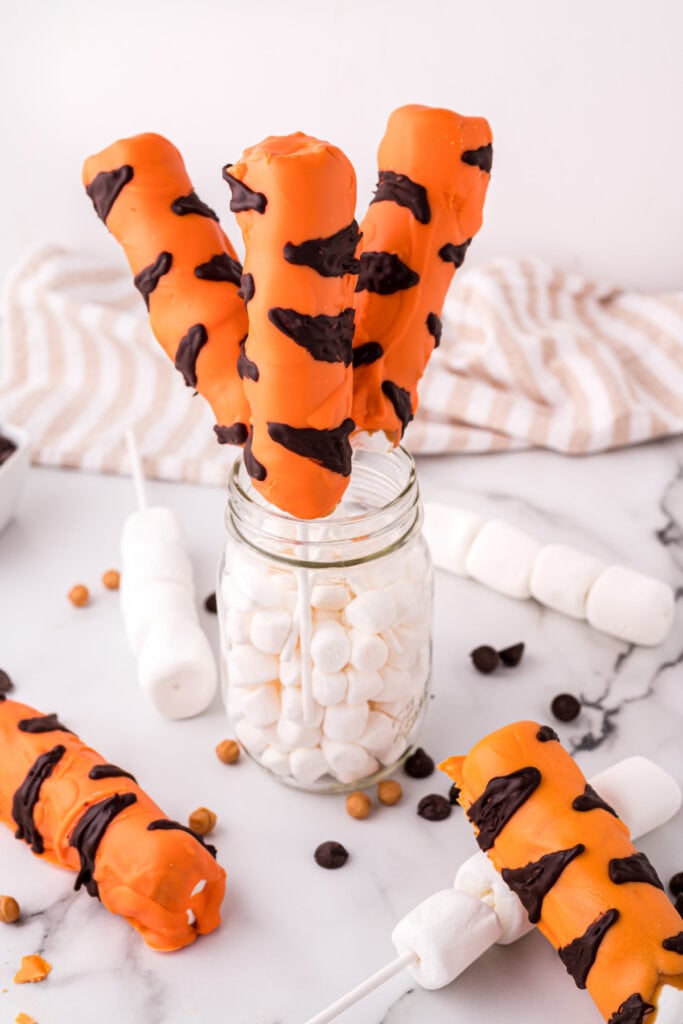 Tigger Tails: Ingredients & Equipment
For this Tigger Tails recipe, you'll need …
Ingredients
large marshmallows – you'll need 24 of them. Stacked onto the lollipop sticks, these form Tigger's tail, of course!!
caramel bits and orange candy melts – you'll dip your stacked marshmallows into these when melted to form the outer coating/"fur" on the Tigger tails.
dark chocolate chips, coconut oil – melted and mixed, you'll drizzle these on top of your finished Tigger tails. These make Tigger's "stripes"! Yum!
NOTE: For sparkly Tigger Tails, after dipping them into the orange candy melts, quickly sprinkle them with orange sanding sugar before proceeding with the recipe.
Equipment
lollipop sticks – to hold your Tigger tails. You'll stack the marshmallows on these, so you want ones that are 6 to 8 inches long.
microwave-safe bowls – for melting your candy and dipping your marshmallows.
spoon – to drizzle melted chocolate on top of your Tigger tails.
cookie sheet, parchment paper – this is where your Tigger tails will dry.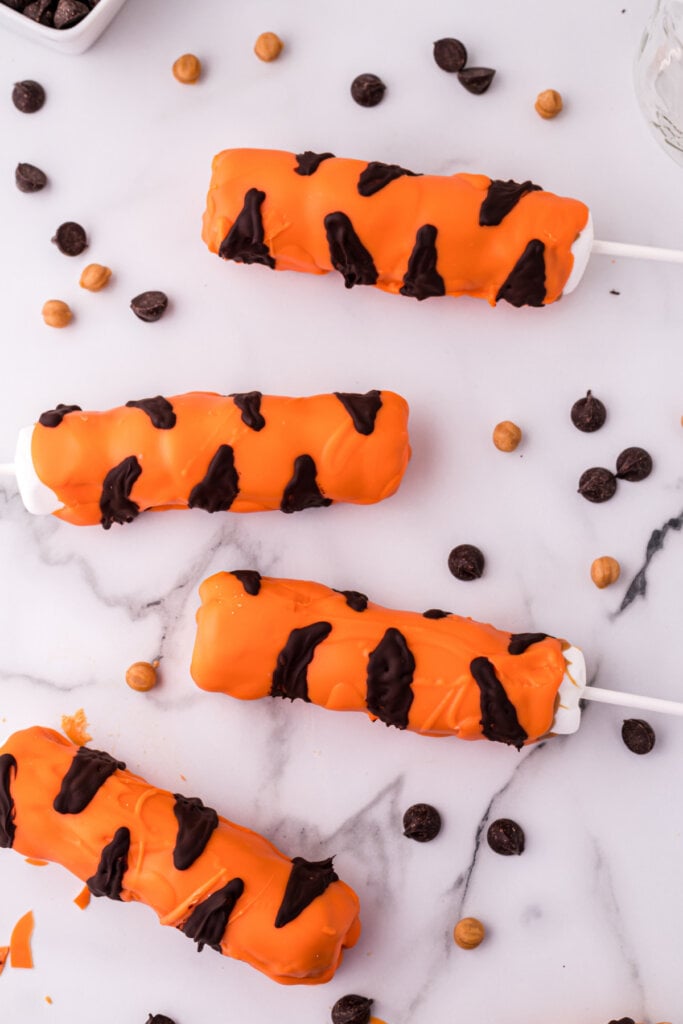 Tigger Tails: FAQs
How many Tigger Tails does this recipe make?
It should make around 6 of them! Enough for all the kids at home (hopefully)!
How can I speed up the cooling/hardening process with the chocolate outer coating?
You can safely stick these into the fridge to make them harden faster. It shouldn't affect the flavor or anything!
How long can I store these Tigger Tails?
They'll be fine in the fridge for about 4-5 days in an airtight container. Be sure to put parchment paper between them, so they don't stick to each other!
My marshmallows keep melting whenever I add the caramel. What should I do?
Be sure not to overheat the caramel! I've made this mistake too. If it's too hot, it'll melt your Tigger tails.
What should I do if I have trouble getting a full coating of chocolate on the marshmallows using a bowl?
If your bowl isn't big enough, or you're just not getting enough chocolate on those tails, put the melted chocolate in a mason jar or something similar! That way, you can stick the tails into the jar and swirl them around.
Can you use a squeeze bottle instead of a spoon to make the stripes?
Absolutely! I tend to have a spoon around more often than a squeeze bottle!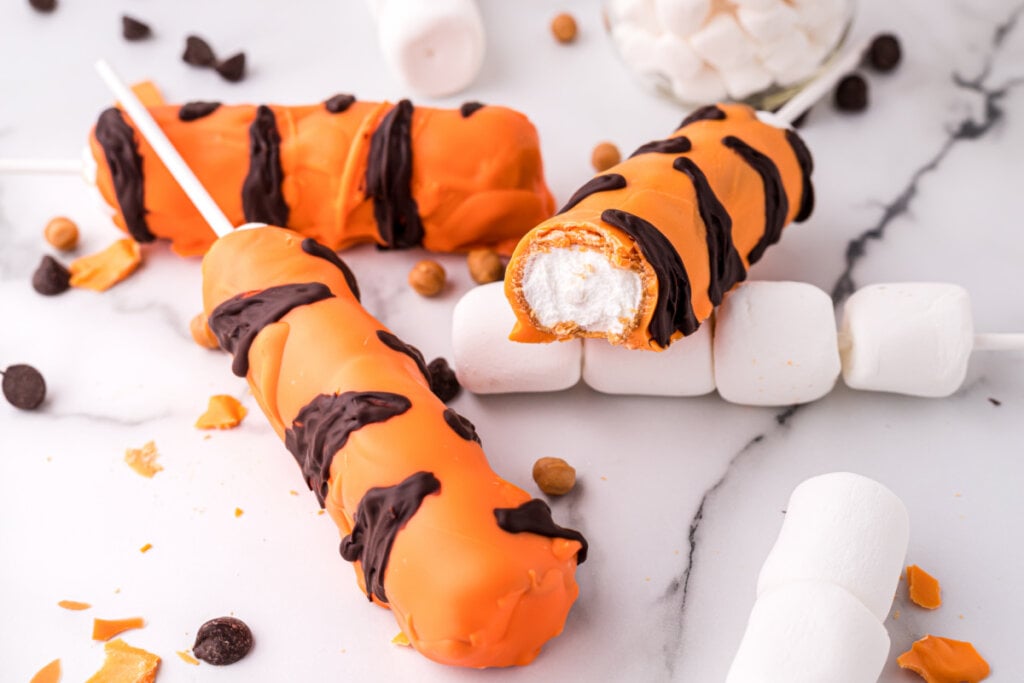 Other recipes you may enjoy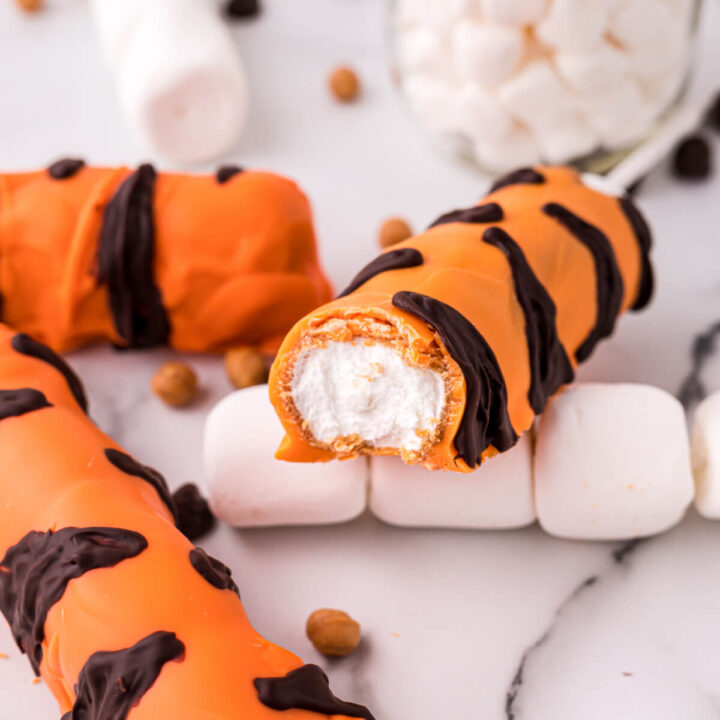 Tigger Tails
Total Time:
2 hours
25 minutes
These adorable Tigger Tails are a Disneyland copycat. Make them as a sweet treat for all the kids (or the kids at heart) in your life!
Ingredients
1 package of 6 to 8-inch lollipop sticks
24 large marshmallows
1 bag (11 oz.) caramel bits
1 bag (12 oz.) orange candy melts
1/2 cup dark chocolate chips
1/2 teaspoon coconut oil
Instructions
Stack 4 marshmallows on each candy stick.
Melt the caramel bits according to the package directions and allow them to cool slightly. Dip the marshmallows into the caramel, being sure to coat them completely, gently shaking any excess off. Place the marshmallow sticks on the parchment to allow the caramel to harden, about 15 minutes.
Melt the orange candy melts according to the package directions. You want the candy to be just melted and not too hot. Dip each marshmallow stick into the candy melts covering the caramel completely. Gently shake off any excess. Transfer the marshmallow sticks to the parchment paper to harden.
In a small bowl, combine the chocolate chips and coconut oil. Microwave in 15-second increments, stirring at the end of each time, just until melted. Use a spoon or food-grade squeeze bottle and drizzle the melted chocolate over the Tigger Tails.
Allow the chocolate to cool and harden completely before serving.
Notes
I found it easiest to place the caramel and melted candy coating in a wide-mouthed quart-size mason jar or similar size glass. You can easily hold the stick and tilt the jar and rotate the stick as necessary to coat the marshmallows.
You can speed up the hardening/cooling process by placing the Tigger Tails in the refrigerator.
For sparkly Tigger Tails, after dipping them into the orange candy melts, quickly sprinkle them with orange sanding sugar before proceeding with the recipe.
Store your treats in an airtight container with wax paper or parchment paper between the layers in the refrigerator for up to 5 days.
Recommended Products
As an Amazon Associate and member of other affiliate programs, I earn from qualifying purchases.
Nutrition Information:
Yield:

6
Serving Size:

1 Tigger Tail
Amount Per Serving:
Calories:

199
Total Fat:

5g
Saturated Fat:

3g
Trans Fat:

0g
Unsaturated Fat:

2g
Cholesterol:

1mg
Sodium:

29mg
Carbohydrates:

39g
Fiber:

1g
Sugar:

28g
Protein:

1g
Please note that the nutritional information listed on this page is an estimation based on the products I used. Ingredients and nutritional information can vary significantly between brands. Always be sure to read labels. Please verify that a recipe fits your needs before using it. Nutrition info may contain errors, so please verify it independently. Likewise, recipes may contain errors, so please use your common sense when following them.