Chicken Fried Rice is an economical dinner idea! It's versatile too – use shrimp, pork, ham, or Spam in place of the chicken! The possibilities are endless with this basic recipe. It's a great way to re-purpose leftovers!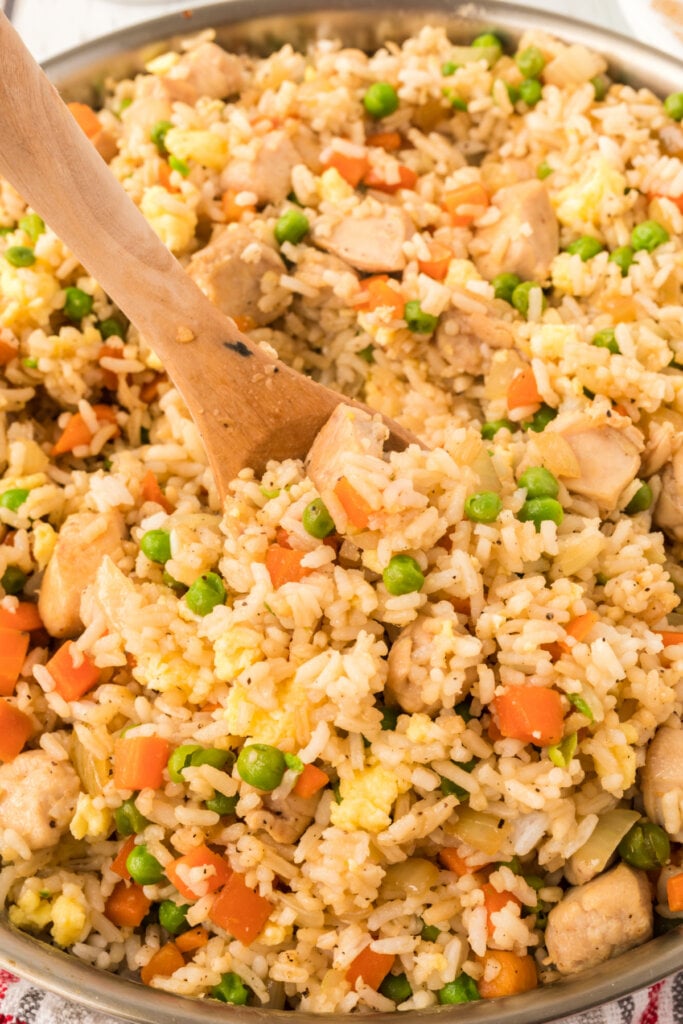 Chicken and Fried Rice
This Chicken Fried Rice is one of my family's absolute favorite recipes! Not only is it easy on the pocketbook, but it rivals the stuff you get at your favorite take-out joint! I think I like it better than takeout. Even better? I almost always have all of the ingredients on hand to make this tasty chicken fried rice.
By the way, even if you aren't sure you have all the ingredients … use leftovers! They get a new life when you combine rice with chicken, vegetables, eggs, and a few seasonings in this quick and easy recipe. So good, y'all!!
One of the great things about this recipe is you can change up the protein, too. Substitute shrimp, pork, ham, Spam, or even go meatless! You can add whatever veggies you have on hand and if you like, add pineapple and/or ginger, as well.
I could eat this stuff every single day and never get tired of it … maybe I should try that sometime … yum. 😉
Fast! Easy! Tasty! Filling! The four best traits for any good meal, like this fried rice & chicken!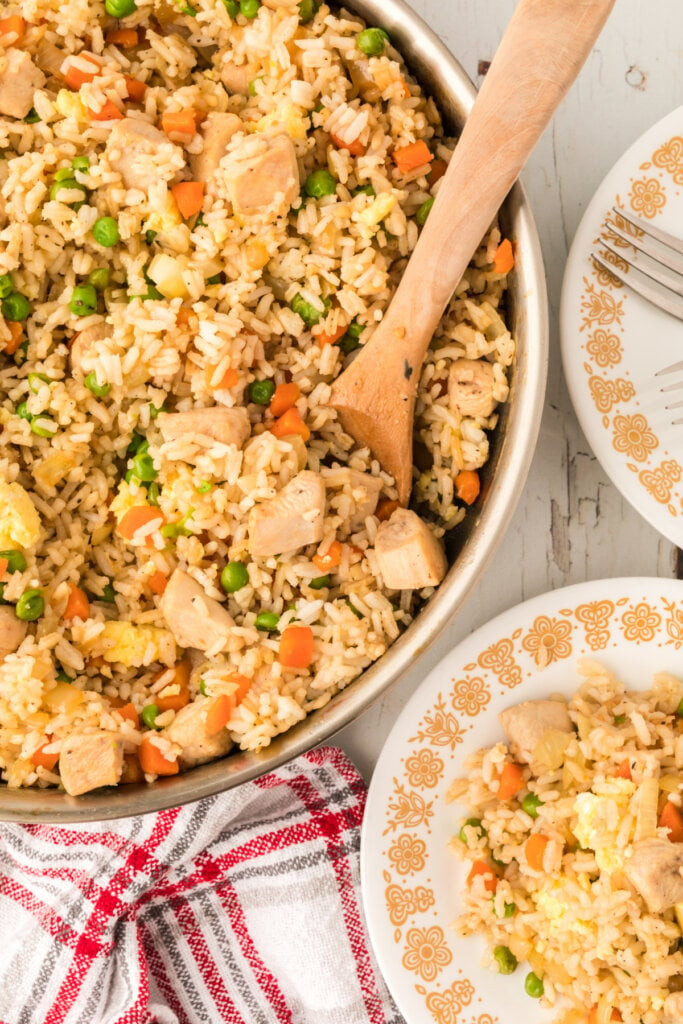 Recipes for Chicken Fried Rice: Ingredients & Equipment
To make fried rice and chicken, you'll need …
Ingredients
egg, water, butter – this makes the scrambled egg that serves as one of the base parts of your chicken fried rice.
chicken – or your meat/protein of choice. Use whatever cut you like, though I prefer chicken breasts personally. Thighs also work well.
white rice – make sure it's cooked, but COLD! This is important for your dish.
vegetable oil – to saute your vegetables, below. You can also use canola oil.
onion, garlic, peas, carrots – the veggies in this tasty dish. You can leave out the peas and carrots if you're not a fan, but the onion and garlic are crucial to the flavor!
soy sauce, black pepper – the final part of your chicken and fried rice, added for taste.
Equipment
bowl – medium-sized, to beat your egg.
large skillet or wok – to cook the ingredients of your chicken fried rice.
A few tips for making Fried Rice
Be sure to use cold-cooked rice in this recipe!
Changes things up by switching the protein – substitute shrimp, pork, ham, Spam, or even go meatless!
Switch up the veggies – or use pineapple tidbits!
Leftover meat and veggies give this recipe a super quick start!
Add ginger for that little bit of extra flavor.
Serve this recipe with Sriracha sauce or extra soy sauce on the side!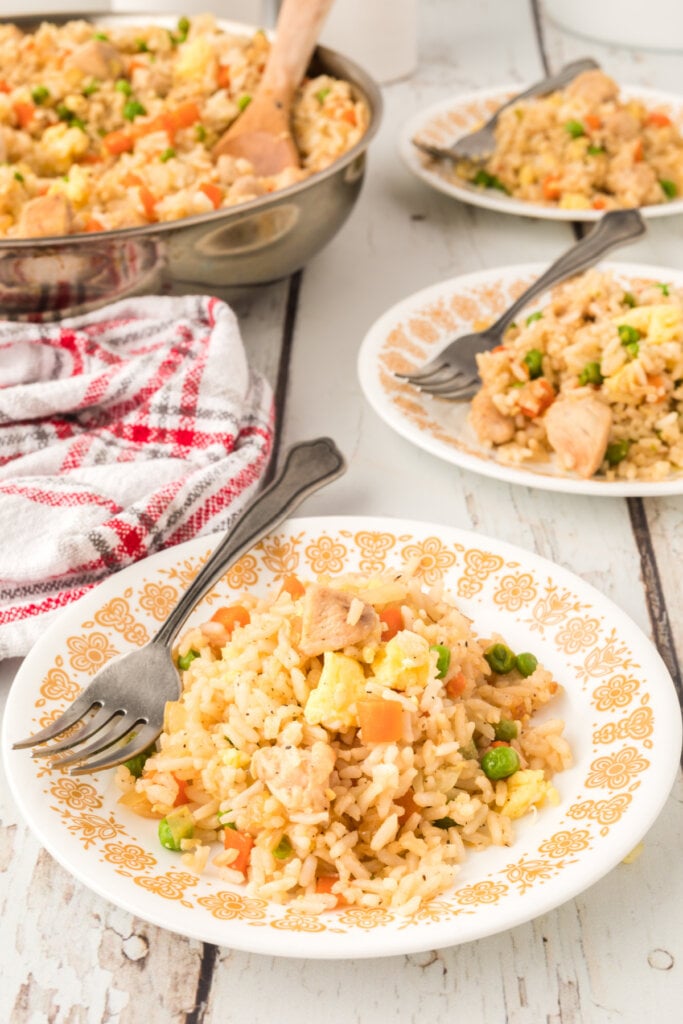 Fried Rice and Chicken: FAQs
What kind of onions should I use?
I like yellow or green onions in this recipe. 
Many recipes use sesame oil! Can I add it to this dish?
Yes, of course! Sesame oil is a great addition, though personally … I think this recipe is fine without it. We all have different tastes!!
Can you use brown rice instead of white rice?
I don't see why not. It'd make a healthier dish, too! The white rice is, as always, just a preference thing.
What kind of soy sauce should I use?
With these recipes, I tend to go low-sodium, just so I'm not accidentally making everything too salty to eat. (Plus, it's healthier!) If you know your soy sauces well, however, go for the regular kind!
How many servings does this Chicken Fried Rice make?
About 6-8 servings/bowls. Probably enough for a small family to have seconds!! For a bigger family or get-together, you may need to make two batches or double the recipe.
How long does it take to make Chicken Fried Rice?
Just a half-hour! 20 minutes of cooking and 10 minutes of prep.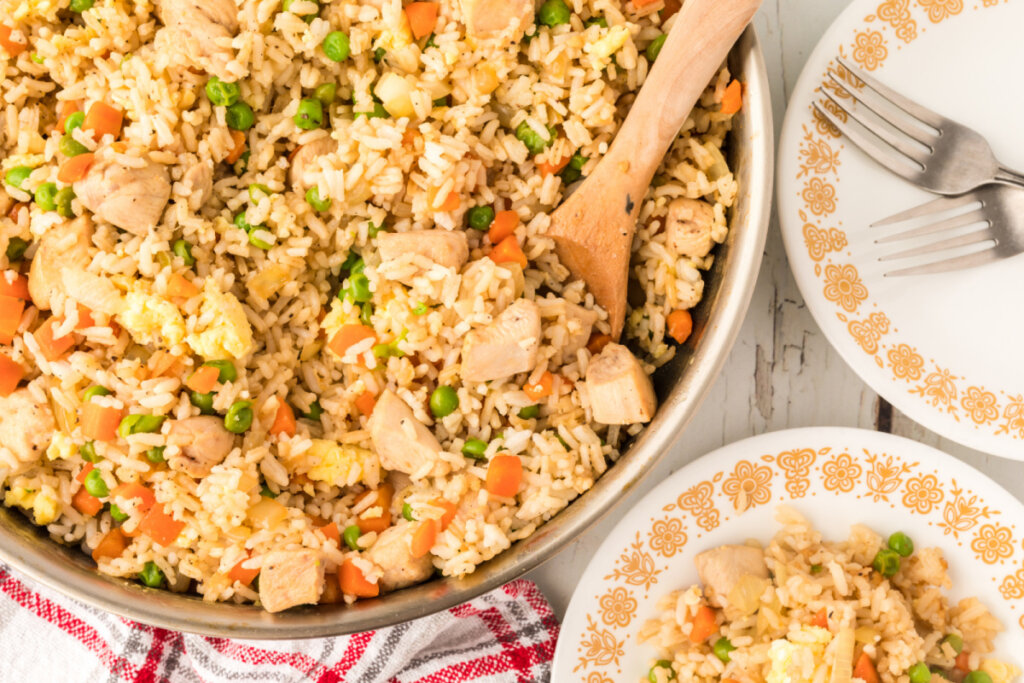 Other recipes you may enjoy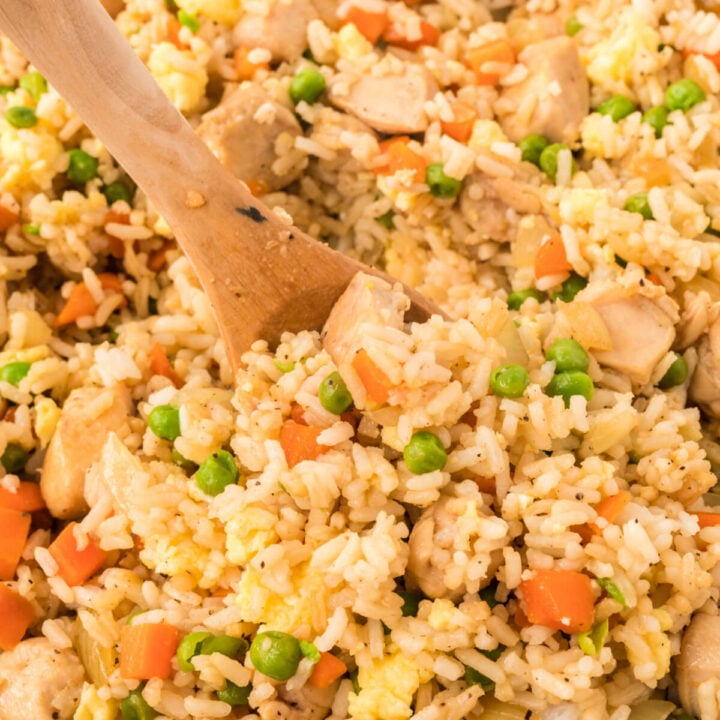 Chicken Fried Rice
Chicken Fried Rice is an economical dinner idea! It's versatile too - use shrimp, pork, ham, or Spam in place of the chicken! The possibilities are endless with this basic recipe. It's a great way to re-purpose leftovers!
Ingredients
2 large eggs
2 tablespoons water
2 tablespoons butter
2 tablespoons vegetable oil
1 medium onion, chopped
2-3 cloves garlic, minced
1 bag (12-16 oz.) frozen peas and carrots, thawed, (optional)
4 cups cooked white rice, cold*** (see note)
1/4 cup soy sauce
1 teaspoon black pepper
2 cups cooked chicken meat, or meat of choice
Instructions
In a small bowl, beat the egg with water.
Melt butter in a large skillet or wok over medium-low heat. Add egg and scramble until cooked through. Remove from skillet to a small bowl.
Heat oil in the same pan. Add onion, garlic, and peas and carrots. Saute until the onion is soft. Then add rice, soy sauce, black pepper, and chicken. Stir-fry together for about 3-5 minutes, until mixture is well combined. Add the eggs; stir to combine.
Serve hot.
Notes
It is very important to use COLD, cooked white rice for this recipe!
Recommended Products
As an Amazon Associate and member of other affiliate programs, I earn from qualifying purchases.
Nutrition Information:
Yield:

8
Serving Size:

1
Amount Per Serving:
Calories:

331
Total Fat:

16g
Saturated Fat:

5g
Trans Fat:

0g
Unsaturated Fat:

9g
Cholesterol:

112mg
Sodium:

531mg
Carbohydrates:

26g
Fiber:

1g
Sugar:

1g
Protein:

21g
Please note that the nutritional information listed on this page is an estimation based on the products I used. Ingredients and nutritional information can vary greatly between brands. Always be sure to read labels.
Originally published on April 26, 2012. Updated on June 13, 2022.