This Spanish Tilapia is super easy and budget-friendly. I serve it with Saffron Rice and usually some sort of green veggie.
This post may contain affiliate links. As an amazon associate, I earn from qualifying purchases. See my full Disclosure Policy for details.
Spanish Tilapia
The truth is, we don't eat a lot of fish or seafood at our house. Brian isn't particularly fond of it … and I didn't eat much of it growing up – so my knowledge of how to cook or prepare it is severely lacking compared to other things. However, this Spanish Tilapia, is one of the few fish dishes I adapted from a version my mom makes!
The extent of my fish or seafood experience growing up amounted to frozen fish sticks or clams, salmon patties and tuna sandwiches. No joke. I remember us having shark steak once ….. and something with shrimp maybe a handful of times? As a kid, I actually had it in my mind that "I didn't like that kind of stuff" because, well, I never really had it.
As an adult, I am more adventurous in my eating (have I ever told y'all the story of my friend Ty and I at the Chinese restaurant?! Bahahaha!! If not, I'll have to enlighten you to my shenanigans! Be forewarned, you may never want to be seen dining with me in public!) – and I have tried several fish and/or seafood dishes that I have enjoyed. Almost all of those experiences have been at restaurants – because I have no clue what I'm doing with those dishes. I'm learning, though! 🙂
Other recipes you may enjoy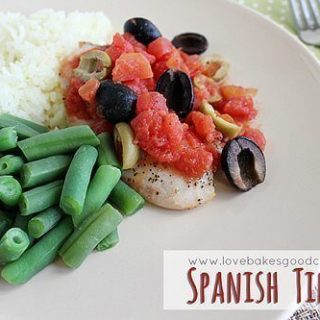 Spanish Tilapia
This Spanish Tilapia is super easy and budget-friendly. I serve it with Saffron Rice and usually some sort of green veggie.
Ingredients
1 pound tilapia fillets
Salt & pepper, to taste
A swirl of olive oil
1 small onion, chopped
2 cloves garlic, minced
1 can (14.5 oz.) Italian-style diced tomatoes
1/4 cup slice black olives
1/4 cup sliced green olives
1/2 lemon, sliced
Cooked rice or pasta, for serving (optional)
Instructions
Season the tilapia with salt and pepper.
In a large skillet, heat olive oil over medium-high heat. Add the onion and garlic and cook until the onion softens, about 4-5 minutes. Add the tomatoes, black and green olives and lemon. Bring just to a boil and reduce heat to medium-low. Allow to simmer for 10 minutes. Add the fish to the skillet and cook for 7-9 minutes or until the fish flakes easily with a fork. Discard the lemon slices.
Serve with rice or pasta.
Nutrition Information:
Amount Per Serving:
Calories:

157
Total Fat:

4g
Saturated Fat:

1g
Cholesterol:

57mg
Sodium:

600mg
Fiber:

3g
Sugar:

4g
Protein:

24g
Originally published on October 3, 2013. Updated on April 24, 2021.