The "King" would approve of these Elvis Puddin' Cookies! A peanut butter, banana pudding cookie filled with bits of bacon and chocolate! #baconmonth #putsomepiginit
Elvis Puddin' Cookies
With all of these "Elvis" themed recipes on my blog, I'm starting to think I might need help! Maybe it's just the shock factor for me? People always seem to flock to bacon dishes and they tend to be surprised when you tell them there's bacon in any kind of dessert! At least in the dessert world, bananas and peanut butter sound like they belong with bacon, don't they? Making a dish or dessert with that combo seems natural and calling it "Elvis" comes with the territory – his sandwich preferences are quite well known after all.
Since bacon month is winding down, I have to tell y'all, I have had a ton of ideas to share over the past few weeks. My original recipe today was supposed to be a salad (I will probably be sharing that in the future some time!) How this ended up being cookies, I'll never know – other than it was a lightbulb moment! Or maybe my thought process is really that random?
This is a cookie the King of Rock n' Roll would have loved!
Other Posts You May Enjoy: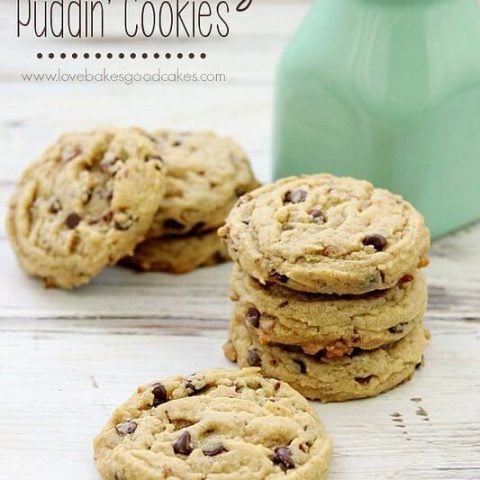 Elvis Puddin' Cookies
The "King" would approve of these Elvis Puddin' Cookies! A peanut butter, banana pudding cookie filled with bits of bacon and chocolate!
Ingredients
3/4 cup butter (1 1/2 sticks) butter, softened
1/2 cup creamy peanut butter
1/2 cup sugar
1/2 cup brown sugar
2 eggs
1 tsp. vanilla
2 1/4 cups all-purpose flour
1 tsp. baking soda
1/2 tsp. salt
1 box (3.4 oz.) instant banana cream pudding
10 slices bacon, cooked and crumbled
1 cup mini chocolate chips
Instructions
1. In a medium bowl, cream the butter, peanut butter, sugar and brown sugar with an electric mixer until well combined. Add the eggs and vanilla; mix well.
2. In a separate medium bowl, combine the flour, baking soda, salt and dry pudding. Slowly add the dry ingredients to the creamed mixture, mixing well. Stir in the bacon and chocolate chips. Cover the bowl with saran wrap and refrigerate for at least 30 minutes.
3. Preheat oven to 350°F. Line baking sheets with parchment paper or Silpat. Scoop or roll the dough into 1-inch balls. Bake for 8-9 minutes. Allow cookies to cool for 2 minutes on the baking sheet before transferring to a cooling rack to cool completely. Store in a covered container.
Nutrition Information:
Amount Per Serving:
Calories:

162
Total Fat:

10g
Saturated Fat:

5g
Cholesterol:

26mg
Sodium:

89mg
Fiber:

1g
Sugar:

8g
Protein:

3g
Originally published on August 31, 2014. Updated on May 1, 2021.