Elvis RITZwiches – peanut butter, banana, and chocolate on RITZ crackers! An easy snack idea!!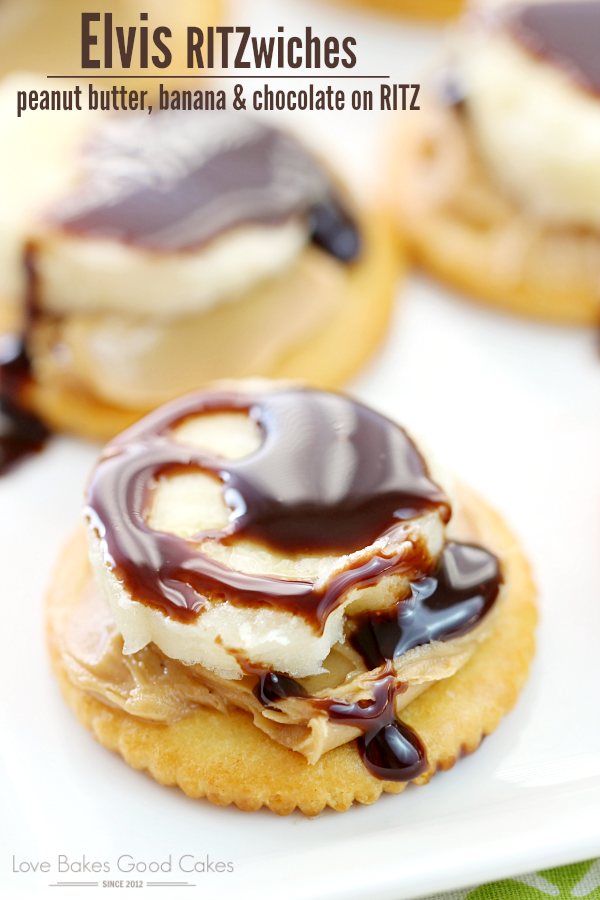 Elvis RITZwiches
Let me tell y'all, being sick is not fun! I don't get sick often, but when I do, it usually is pretty bad. So, I have spent the past two weeks trying to find some kind of medicine that would help me feel better (thanks, Mucinex!). and I have spent most of my time drifting in and out of sleep. I tried my best to keep my Facebook page up and running but didn't do much else during the time when I was sick. While I haven't completely recovered, (I still have a little bit of a cough), I feel so much better than I did a few days ago! So it's time to jump back into this blogging thing and get some posts up!
If you're anything like me, you don't want to eat too much when you're not feeling well. It's just not high on the priority list. I have pretty much survived the past two weeks on crackers and chicken broth … and at this point, I'm kinda sick of them both! Give me some real food!
My two younger kiddos, however, somehow think that eating crackers is a fun diet and would often want some when I had some. While I ate plain crackers, they're used to crackers with "stuff" on them – like these Elvis RITZwiches. I knew once I was feeling better, I needed to share them with y'all. It's not that they really require a recipe per se, but my younger kiddos loved the fact it was something they could make by themselves without help from me! They enjoy these Elvis RITZwiches as a snack occasionally and I love that we always have the ingredients on hand!
Other recipes you may enjoy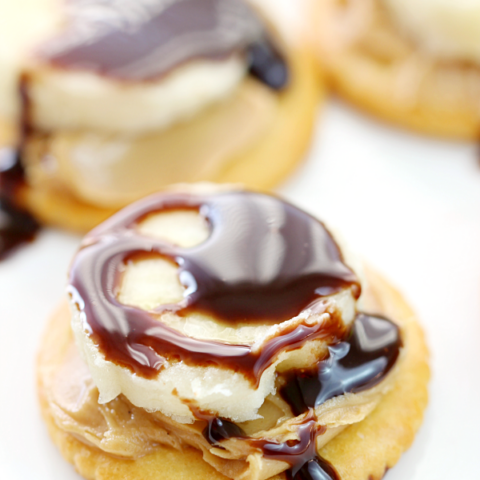 Elvis RITZwiches
Elvis RITZwiches - peanut butter, banana, and chocolate on RITZ crackers! An easy snack idea!!
Ingredients
16 RITZ crackers
1/3 cup creamy peanut butter
16 banana slices
chocolate syrup
Instructions
Spread peanut butter over RITZ crackers. Top each cracker with a banana slice. Drizzle about a tsp of chocolate sauce over each cracker.
Serve immediately.
Nutrition Information:
Amount Per Serving:
Calories:

303
Total Fat:

8g
Saturated Fat:

2g
Cholesterol:

0mg
Sodium:

62mg
Fiber:

7g
Sugar:

30g
Protein:

5g