This Taco Ring has all of the great Mexican flavors you crave in a buttery, flaky crescent roll crust. Perfect for dinner or game day!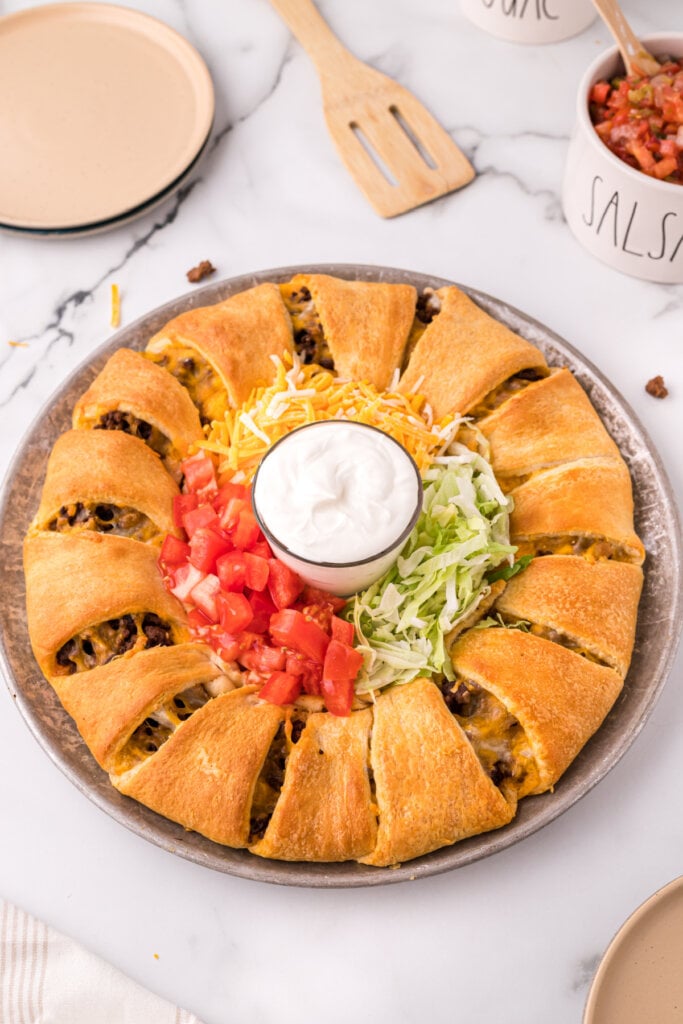 Taco Ring with crescent rolls
If your family loves taco night … and what family doesn't?! . ..then this recipe is perfect for you!
A taco ring is a great way to change things up while enjoying all of the delicious Mexican flavors you love. It's basically tacos cooked into a crescent roll crust and sliced a little like a casserole or cake. Yum!
I found this recipe originally on the Pampered Chef website and customized it for me and the kids. They love it and, believe it or not, love helping to make it. I know you'll love it too!
Serve it with your favorite taco toppings – lettuce, cheese, tomatoes, sour cream – for a simple, filling, and delicious meal.
This recipe is great for potlucks or for watching sports events, too! Super Bowl parties, anyone?!
This is a great recipe for a weeknight dinner or game day! I always love recipes that take old classics to a new level. (And I love tacos more than anything!)
This is going on rotation at your house – I'm just predicting it now. 😉 Enjoy!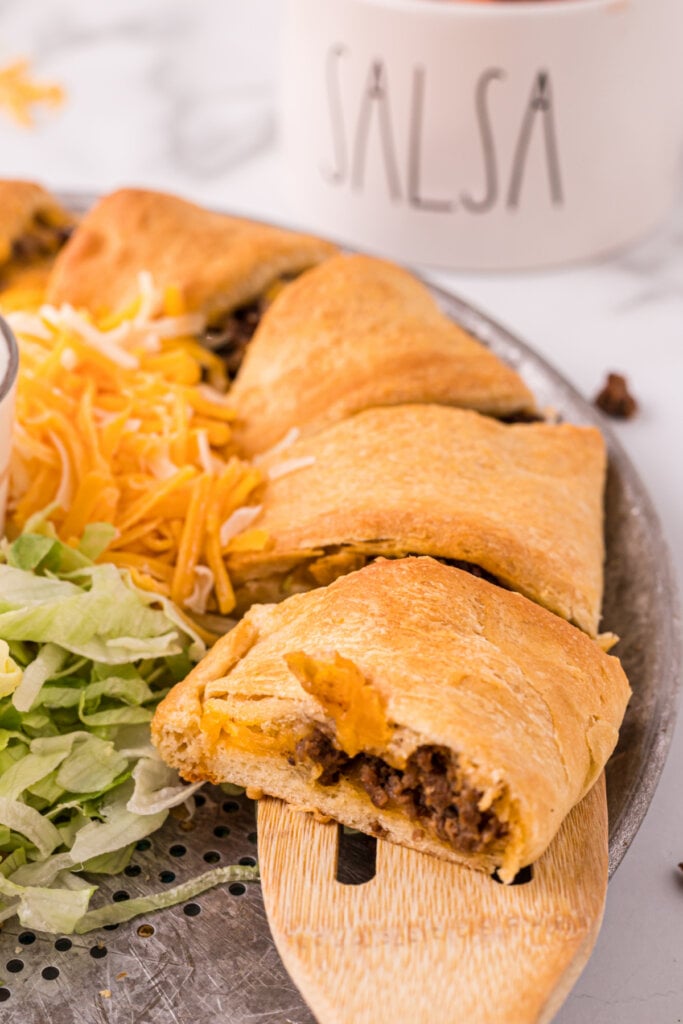 Taco Ring: Ingredients & Equipment
To make this crescent roll taco ring, you'll need …
Ingredients
ground beef, taco seasoning, and water – this is the base of your taco ring. You can't have a taco without some kind of hearty filling!! Combine your beef and seasoning in the way you usually would for standard tacos.
crescent rolls – about 2 tubes. These will form the "crust" of your taco ring and let me tell you, whoever came up with this idea is a GENIUS! You'll bake the taco ring until this crust is lightly browned.
toppings – any of your favorites. Taco sauce, shredded lettuce, sour cream, pico de gallo, diced onions, shredded cheese … if you like it on a regular taco, you'll like it in this taco ring, too.
Equipment
skillet – to cook your beef!
large round baking pan and parchment paper – to prepare and cook the taco ring itself. The parchment paper is important in this recipe, because the taco ring will tear if you don't use it, and then you'll have a taco mess instead! Not fun.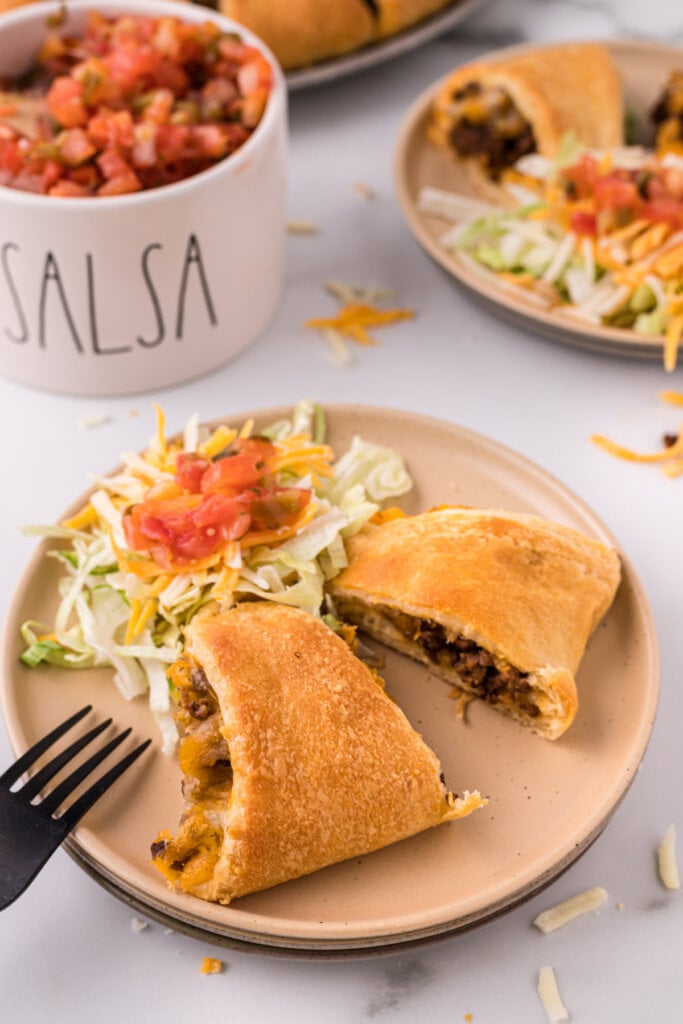 Taco Ring: FAQs
How should I store this?
Make sure leftovers are in a covered container or wrapped in plastic wrap and kept refrigerated for up to 3-5 days.
How should I reheat this?
Pop it in the microwave until heated through. Or place on a baking sheet and reheat in a 325°F oven for about 10 minutes or until heated through.
Can I freeze this?
Yes! Make sure it's tightly wrapped in plastic wrap and then in aluminum foil. It can be frozen for up to 3 months.
How long does it take to make this taco ring?
A little less than an hour. You'll want to put aside 10 minutes for prep and 40 minutes to cook the ring!
My dough keeps tearing when I try to make the taco ring. What can I do?
You'll want to work with cold crescent roll dough straight from the fridge, not a warm dough that's been sitting out!! For whatever reason, the cold dough is more durable.
Can I use homemade crescent roll dough?
Yes! I don't see why not. I just tend to use the canned Pillsbury crescent rolls to make things simple for myself.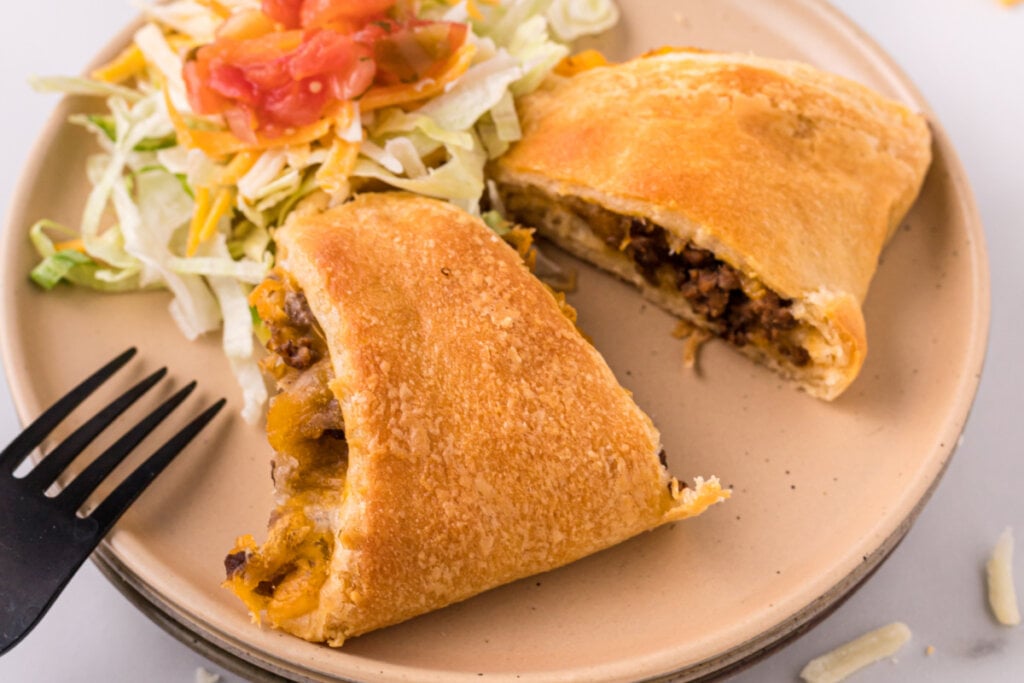 Other recipes you may enjoy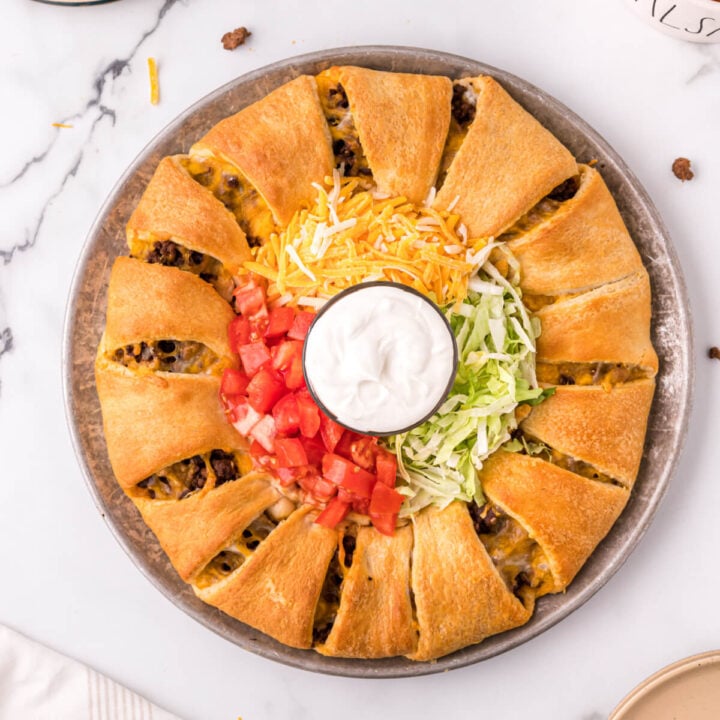 Taco Ring
This Taco Ring has all of the great Mexican flavors you crave in a buttery, flaky crescent roll crust. Perfect for dinner or game day!
Ingredients
For the Taco Ring
1 pound ground beef
1 package or 2 tablespoons taco seasoning
1/3 cup of water
2 tubes (8 oz. each) crescent rolls
Topping options
Shredded Lettuce
Chopped Tomatoes
Shredded Cheese
Pico de Gallo or Salsa
Taco Sauce
Sour cream
Other taco toppings you like
Instructions
Preheat oven to 375°F.
Cook ground beef in a skillet over medium-high heat until no pink remains, drain and add the meat back into the pan.
Add taco seasoning and water, and cook until most of the water has evaporated and the mixture has thickened slightly.
Place the crescent rolls in a circle on a large round baking pan with the narrow end facing out.
Spoon the taco meat onto crescent rolls to form a circle.
Sprinkle the shredded cheese evenly over the top of the taco meat.
Fold the crescent rolls over the meat and cheese to form a circle.
Bake for 20-30 minutes or until golden brown.
Serve immediately with toppings of your choice.
Notes
Ground chicken can be used in place of the ground beef.
Recommended Products
As an Amazon Associate and member of other affiliate programs, I earn from qualifying purchases.
Nutrition Information:
Yield:

8
Serving Size:

1
Amount Per Serving:
Calories:

232
Total Fat:

13g
Saturated Fat:

5g
Trans Fat:

1g
Unsaturated Fat:

6g
Cholesterol:

58mg
Sodium:

415mg
Carbohydrates:

9g
Fiber:

1g
Sugar:

2g
Protein:

18g
Please note that the nutritional information listed on this page is an estimation based on the products I used. Ingredients and nutritional information can vary greatly between brands. Always be sure to read labels.
Originally published on October 2, 2020. Updated On May 10, 2022.