Your friends and family will love the Mexican flavors in this Taco Pasta Salad. Serve it at your next gathering for a change from the usual.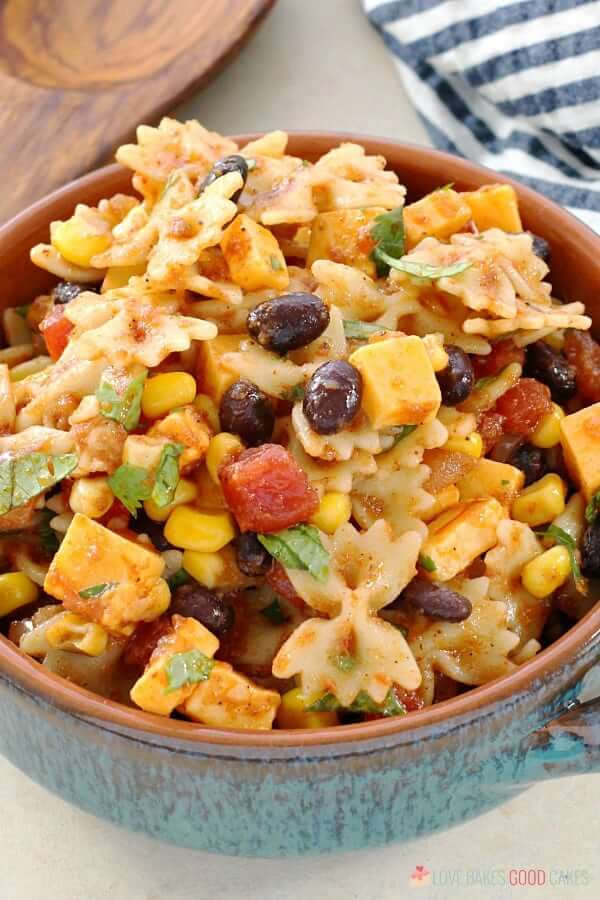 Taco Pasta Salad
Is it just me or do 20 years really go by that fast? Some of my old high school friends have gotten together on Facebook to plan our 20-year reunion …. how did that even happen?! It sure doesn't feel like it's been that long – and hearing that makes me feel old. I don't feel that old – although, I'm not really sure how "that old" feels?!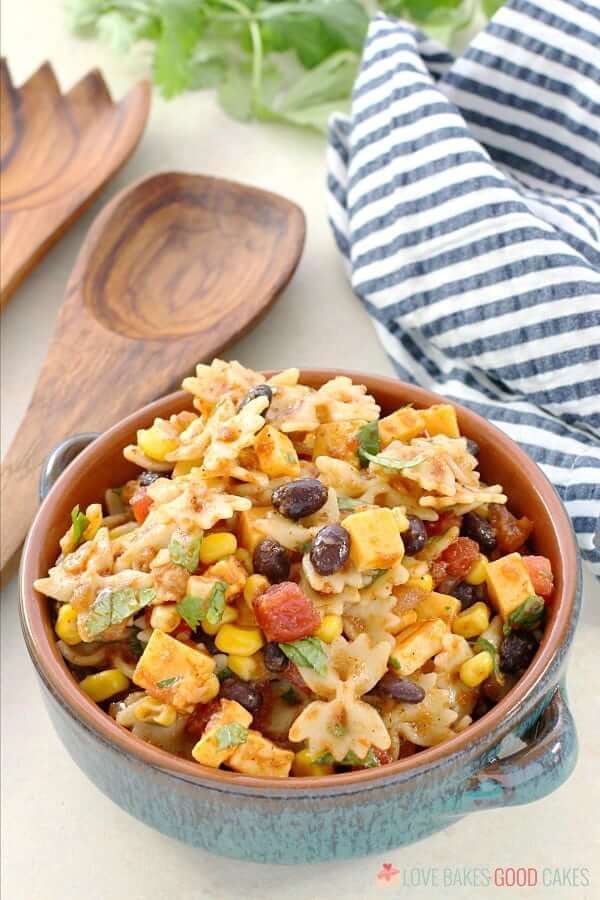 Right now, there's so much excitement for us since so many of us missed our 10-year reunion – social media wasn't then what it is today! I think we're on a mission to do it right …. For me, I don't know that I will make it back. I grew up in Florida and although I have kept in touch with some of my friends or been reunited with others, I left that place never wanting to look back. I am really on the fence about the whole thing – I'm excited but at the same time – very doubtful that I will go. I'm guessing many other people have been in my shoes and I'm wondering, how did y'all handle it? Did you go to your high school reunions?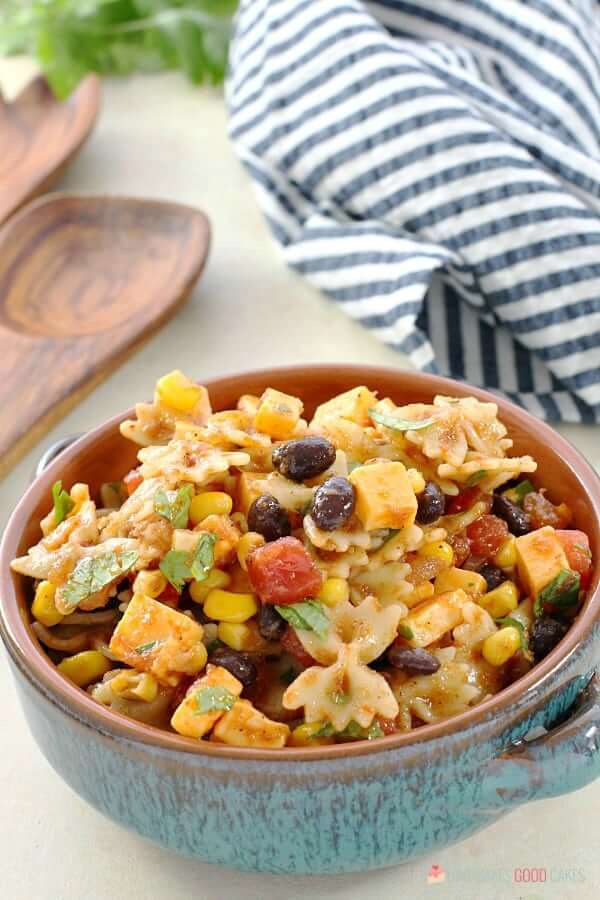 Anywho …. y'all didn't come by to talk about high school reunions, did ya? I didn't think so! 🙂 Let's talk about salads ….. Taco Pasta Salad to be more specific.
All of this talk about reunions made me think of family reunions and church potlucks – and this salad.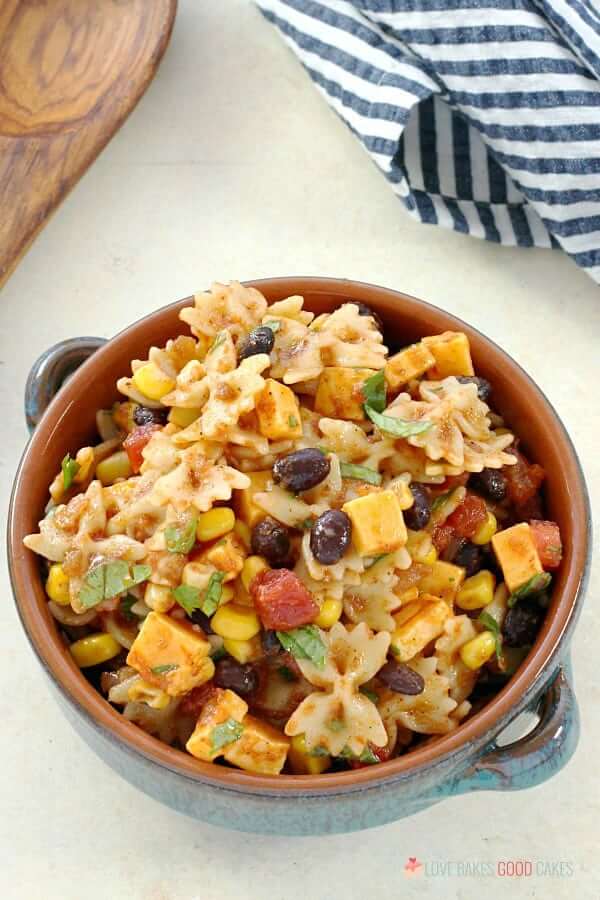 How to make Taco Pasta Salad
I had this salad at a potluck a few years ago and just had to have the recipe. Have you ever had a dish you just had to have the recipe before you left? This is one for me! Y'all this is one of those salads that I could easily make a meal out of. Seriously, it is that good! I like to eat the leftovers for lunch …. and I don't always like to share it! I hope you'll give it a try!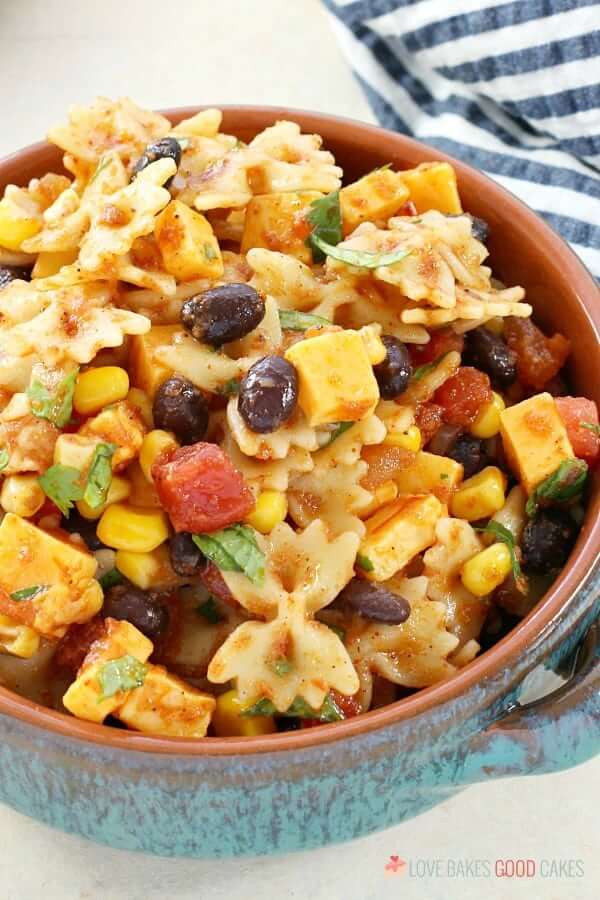 Things You'll Need: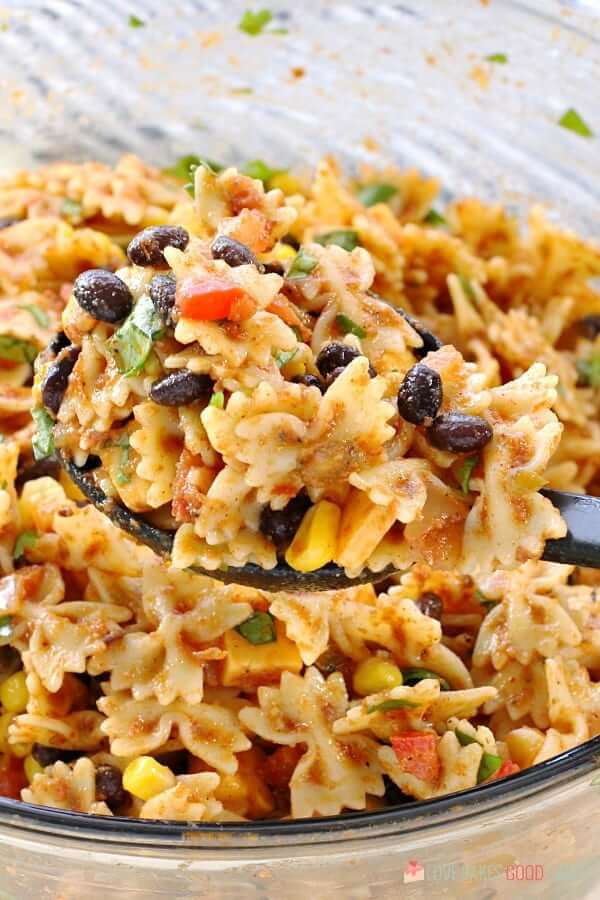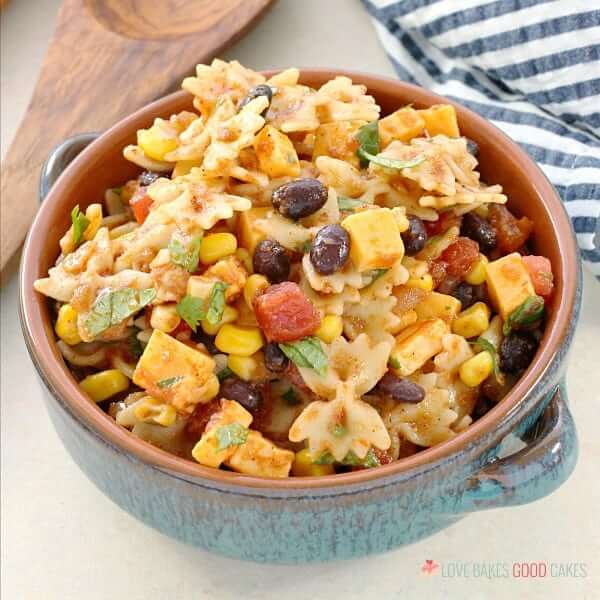 Other recipes you may enjoy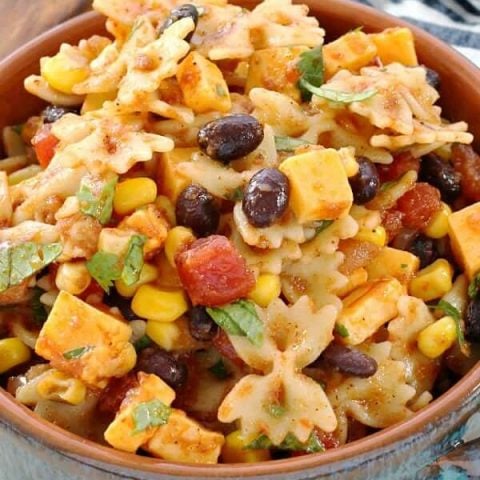 Taco Pasta Salad
Your friends and family will love the Mexican flavors in this Taco Pasta Salad. Serve it at your next gathering for a change from the typical pasta salads!
Ingredients
12 ounces bow-tie pasta
1-1/2 cups frozen corn
3-4 tablespoons lime juice
1 tablespoon cumin
2 teaspoons chili powder
1/4 teaspoon pepper
2 cloves garlic, minced
1/4 cup olive oil
1-1/2 cups salsa
1 can (15 oz.) black beans, rinsed and drained
1 Roma tomato, seeded and chopped
A handful of cilantro, chopped
2 cups (8 oz.) Cheddar cheese, cubed
Instructions
Cook pasta according to package directions. During the last 3 minutes, add the corn. Drain and rinse with cold water.
In a large bowl, combine the lime juice, cumin, chili powder, pepper, garlic, olive oil, and salsa with a whisk until well combined. Stir in the pasta, corn, black beans, tomatoes, cilantro, and cheese.
Serve immediately or refrigerate until serving time. Refrigerate any leftovers.
Nutrition Information:
Amount Per Serving:
Calories:

341
Total Fat:

14g
Saturated Fat:

5g
Cholesterol:

23mg
Sodium:

500mg
Fiber:

6g
Sugar:

3g
Protein:

14g
Originally published on July 24, 2013. Updated on April 23, 2021.