Start your day off right with one of these Southwest Breakfast Sandwiches! It's time to get rid of boring breakfasts … this sandwich is easy and economical!
Southwest Breakfast Sandwich and Ozeri Pan Review
Y'all, I am trying to be better about my breakfast choices. It's been very hard for me. I don't really like to have a lot to eat first thing in the morning, but I also feel that having just toast and coffee makes me feel a bit sluggish about mid-morning. I know I need something with a bit more sustenance, and I am working on changing bad habits.
One of the things I love the most about this Southwest Breakfast Sandwich is that it is far from boring in taste! I decided to skip adding bacon – but you could totally add some if you like it! For me, the fried egg, cheese and yummy veggies on a bagel were enough! As you can see, I like my eggs very well cooked …. notice the brown edges. LOL. I'm pretty sure that the egg would have failed middle school Home Ec class for being "over done" …. but that's the only way I'll eat it! I cooked it up in my brand new 8″ Green Earth Frying Pan by Ozeri, with Textured Ceramic Non-Stick Coating from Germany (100% PTFE and PFOA Free)
…. isn't that the coolest color of green?!
Let me tell you, I love this pan for cooking eggs – and I also used it for cooking my crepes in the Banana Fluffernutter Crepes recipe I posted the other day! This pan has a nice weight to it, and it's easy to clean! I won't let my kiddos cook with it – they have to use my old pans! Ha … yeah, I'm mean like that! 🙂 Unlike other ceramic pans, the Ozeri Green Earth Pan utilizes GREBLON – an ultra-safe ceramic coating from Germany which is 100% PTFE and PFOA free! Even under high temperatures, no harmful toxic fumes are ever released into the environment!
Cooking with Green Earth
This pan claimed that you were able to use about half the amount of oil you would normally use – and I was pleasantly surprised to find out that claim was actually quite true! For me, even cooking is important as well, and this pan handled the job with ease. As you can see from my egg, browning is not a problem with this pan – it was a piece of cake and I didn't have to worry about anything sticking to the pan! If you're in the market for a new pan, definitely consider this little gem …. I'm going to try to talk Brian into the 10-in. Ozeri

and 12-in. Ozeri

pans too!
Other recipes you may enjoy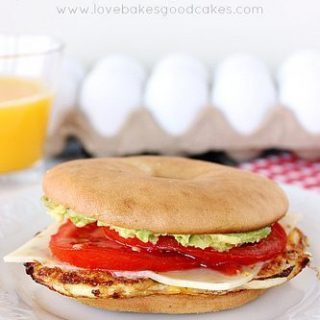 Southwest Breakfast Sandwich
Start your day off right with one of these Southwest Breakfast Sandwiches! It's time to get rid of boring breakfasts ... this sandwich is easy and economical!
Ingredients
4 bagels, toasted (if desired)
2 tablespoons butter
4 eggs
Salt and pepper, to taste
4 slices of Pepper Jack cheese
4 tablespoons salsa
4-8 thin tomato slices
1 avocado
1 tablespoon fresh squeezed lime juice
Instructions
In a large skillet over medium high heat, melt the butter. Crack eggs into the pan and poke the yokes to break them. Allow eggs to cook until mostly set, then carefully flip each egg over and continue to cook to desired doneness. Season with salt and pepper, if desired.
Place fried eggs on the bottom portion of each bagel. Top with a cheese slice, one tablespoon of salsa and tomato slices.
In a small bowl, mash the avocado and stir in the lime juice. Spread onto the top portion of each bagel. Replace the top portion of each bagel on top of the tomatoes.
Serve!
Nutrition Information:
Amount Per Serving:
Calories:

571
Total Fat:

27g
Saturated Fat:

12g
Cholesterol:

200mg
Sodium:

779mg
Fiber:

6g
Sugar:

10g
Protein:

24g
Originally published on March 23, 2014. Updated on April 26, 2021.