You'll want to make this Southern Bacon-Fried Cabbage again and again! It's hard to believe that such simple ingredients could result in such a flavorful and delicious side dish!


Are you a fan of cabbage?! For the most part, I can take it or leave it, it's just okay to me …. unless you're talking about this Southern Bacon-Fried Cabbage. Goot Lort! I really believe that some of the most simple recipes are the best. Wouldn't you agree? When it comes to this Southern Bacon-Fried Cabbage, I know it to be true!
We're talking four ingredients – cabbage, onion, garlic, and bacon … along with a few seasonings. Somehow, it cooks into this mesmerizing dish that I cannot stop eating! I could totally understand chocolate cake friends, but we're talking about cabbage!! Cabbage!!


I don't know what it is about Southern Bacon-Fried Cabbage, but like I said, I cannot stop eating it when it's made! I find myself grabbing a spoon from the drawer to get a taste …. you know, you have to taste test when you're cooking! Five minutes later, the same thing! The great thing is my family digs this side dish just as much as I do, so there are never any leftovers! Which, I guess depending on how you look at it, that's a good thing! The only problem is that it means there is less for me … which maybe that's why I have to "taste-test" it so much?! I have to make sure I get my fair portion!! 😀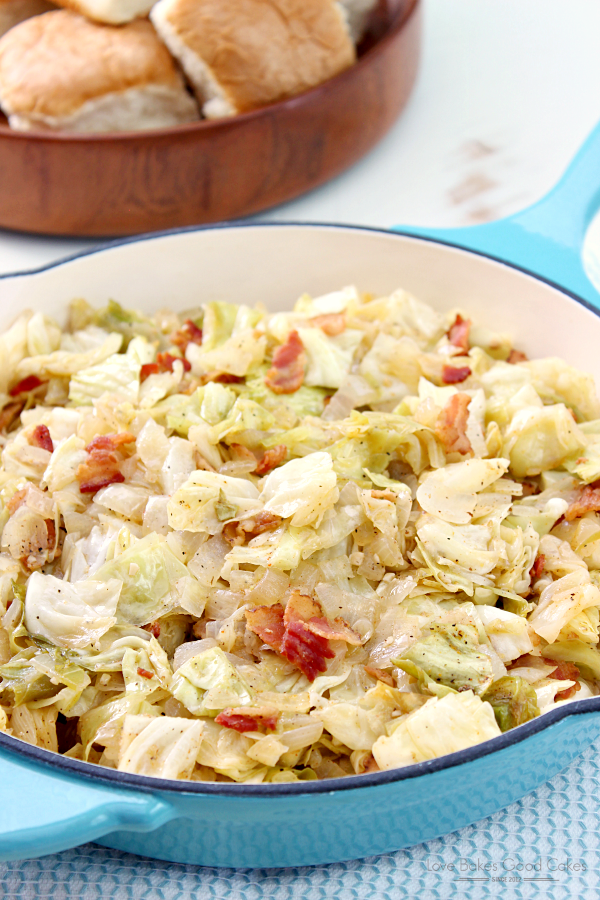 To celebrate Bacon Month, we've got a few giveaways going on – be sure to stop by and enter for a chance to win! We've got a year supply of Torani, $100 gift card for Lodge Cast Iron, and $125 PayPal cash …. that's 3 prizes with 3 winners!! Good luck, y'all!!
Southern Bacon-Fried Cabbage
by Jamie @ Love Bakes Good Cakes
Prep Time: 10 minutes
Cook Time: 45 minutes
Yield: 6 servings
Ingredients
6 slices bacon, chopped
1 large onion, chopped
3 cloves garlic, minced
1 large head cabbage, cored and chopped
2 tsp. seasoned salt
½ tsp. ground black pepper
½ tsp. onion powder
½ tsp. garlic powder
Instructions
1. Cook the bacon in a
jumbo cooker
over medium-high heat until crisp. Remove the bacon to a paper towel-lined plate. Reserve 2 tbsp. of the bacon grease and discard the rest.
2. In the same jumbo cooker, return the 2 tbsp. bacon grease. Over medium-high heat, cook the onion until it is soft, about 4 minutes. Add the garlic and continue to cook for an additional 1 minute. Stir in the cabbage and continue to cook and stir for 4-5 minutes. Add the seasoned salt, pepper, onion powder and garlic powder. Mix well.
3. Reduce heat to low, cover, and allow to simmer, stirring occasionally, for about 30 minutes.
4. Just before serving, mix the bacon into the cooked cabbage. Serve immediately.
Other Posts You May Enjoy:
Roasted Brussels Sprouts with Bacon and Almonds