Garlic Butter Roasted Cabbage is an easy, low-carb side dish perfect for any meal. Roasting this vegetable takes it to another level!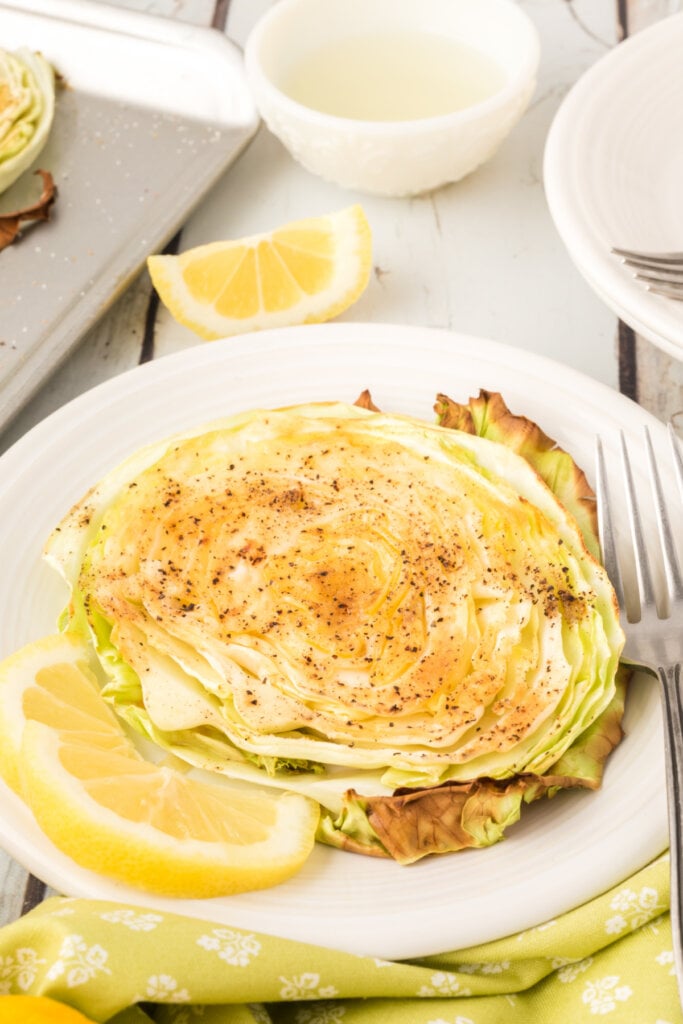 Baked Cabbage Recipes
There is just something about roasting veggies that makes the food taste all the more awesome. One of our favorite veggies to roast is cabbage.
In this particular case, green cabbage! Because, yes, you can roast cabbage.
Roasting is so easy, and it brings out the natural sweetness of green cabbage. On a science level, the oven's dry heat caramelizes the sugars in vegetables, which brings about an amazing depth of flavor. So good!
Though …
I know what some of you are thinking: cabbage is so bland! This Garlic Butter Roasted Cabbage will change your mind, though. Even if you're not a fan of garlic, or butter, or garlic butter, you can change this up and add the flavors you enjoy most. There's a roasted cabbage dish for everyone.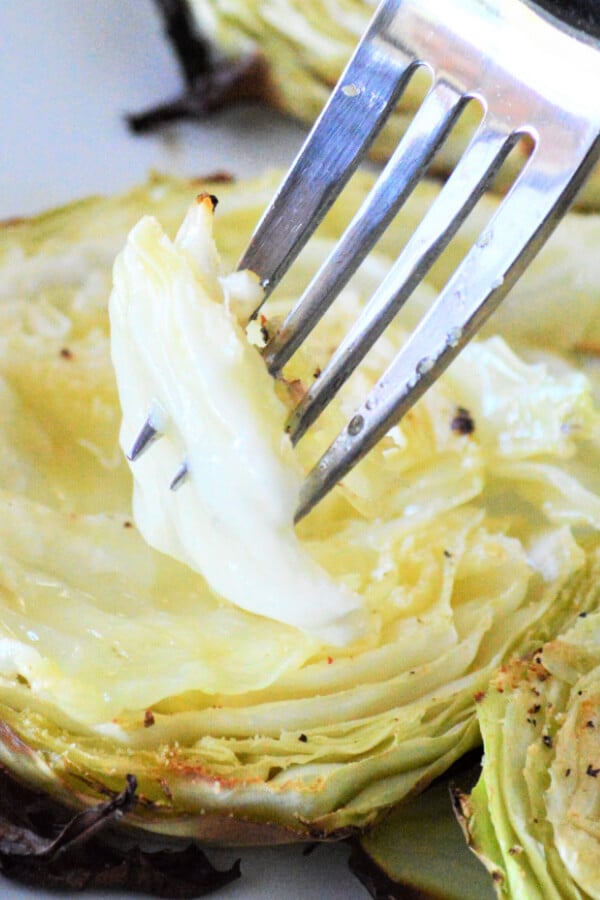 If you're still not convinced, or you have picky eaters in the house, just remember how healthy cabbage is! Some of the benefits include…
It's packed with nutrients! Half a cup of cooked cabbage has about a third of the vitamin C you need for the day. It also gives you doses of fiber, folate, potassium, magnesium, vitamins A and K, and more.
It's good for digestion! Cabbage has 1 gram of fiber for every 10 calories. That helps fill you up, so you eat less.
It's LOADED with antioxidants!
I've met a lot of people that don't like cabbage – but I think they just haven't tried THIS recipe for roasted cabbage! I hope you enjoy this Garlic Butter Roasted Cabbage recipe as much as I do!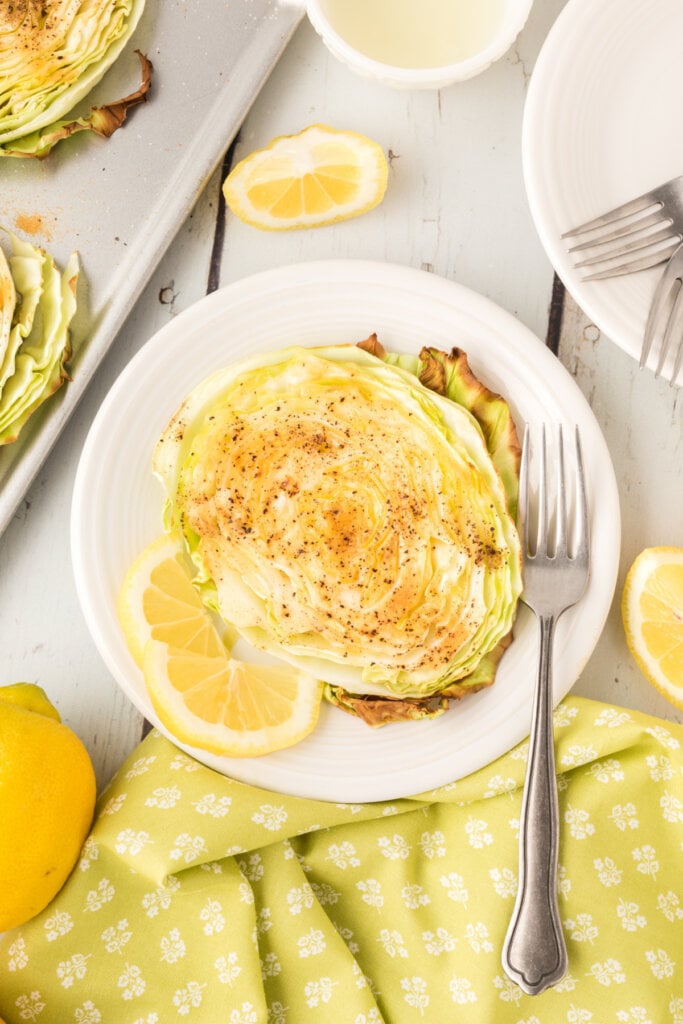 Roasted Cabbage Recipe: Ingredients & Equipment
For this Roasted Garlic Butter Cabbage recipe, you'll need …
Ingredients
cabbage – (obviously!! 🤪) One head washed. Be sure to discard any blemished leaves! I prefer to use green cabbage.
butter – use whichever kind you prefer. If you're looking for a vegan-friendly dish, use a dairy-free alternative because it'll still taste wonderful!
garlic powder – you'll sprinkle this onto your buttered cabbage "steaks" and…behold! You will have garlic buttered cabbage!!
salt and pepper – to taste. You might feel this recipe needs a little something more.
fresh lemon juice – optional, but you might want to serve this (or a slice of lemon) with your cabbage in the end for extra zest!
Equipment
baking sheet – the best way to roast your cabbage steaks.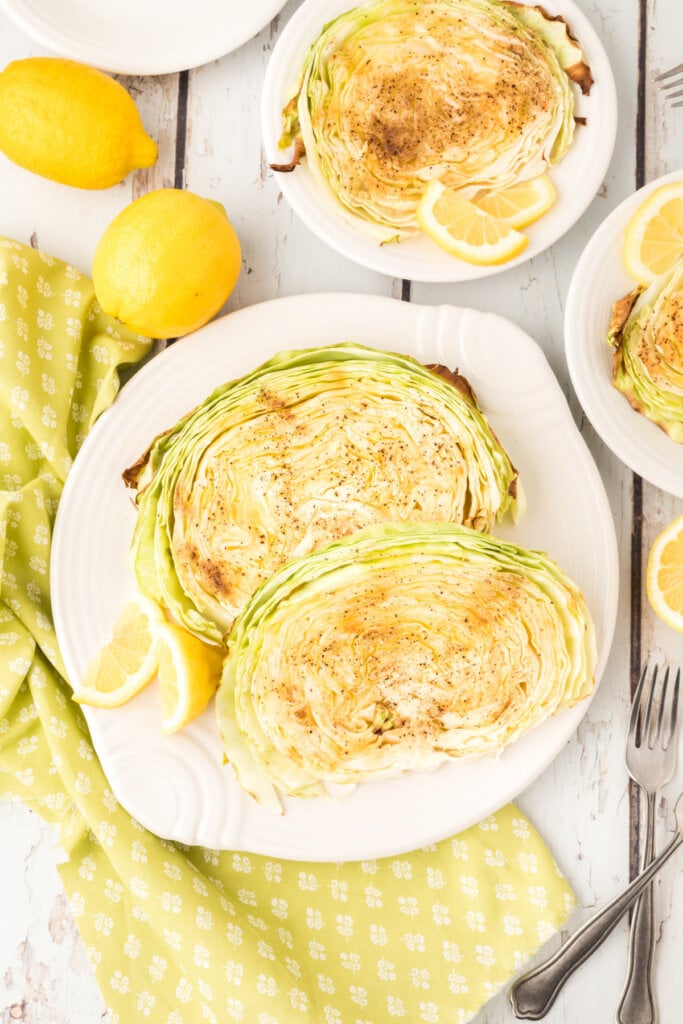 Roasted Garlic Butter Cabbage: FAQs
How many servings does this recipe for Roasted Cabbage make?
About 6-8, enough for a small family dinner! Everyone can have it as a side!
How long does it take to make Garlic Butter Roasted Cabbage?
Just a half-hour! You'll need 10 minutes to prep the ingredients and 20 minutes to roast the cabbage. Easy!
Do you have to use green cabbage?
Not at all! Use your favorite variety.
What should I serve with Roasted Cabbage?
The great thing about cabbage is it pairs well with so many other foods! Enjoy it with pork, beef, lamb, poultry, fish, seafood, or even as part of a vegetarian meal. We serve it up with just about everything in my house!
How do you roast cabbage in the oven?
It's super easy! Slice the cabbage into steaks, approximately ½ inch thick. Place the cabbage slices on a baking sheet, add your garlic and butter (and/or any other toppings and flavors), then roast them in the oven for 20 minutes or until the edges of the cabbage turn brown. Perfect, y'all!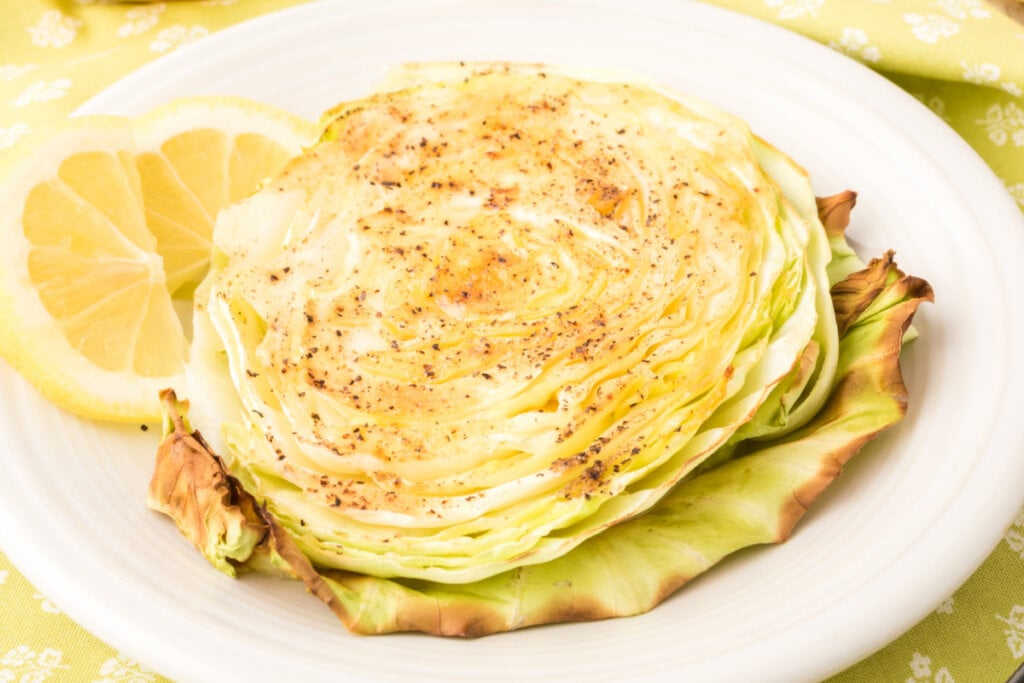 Other cabbage recipes you may enjoy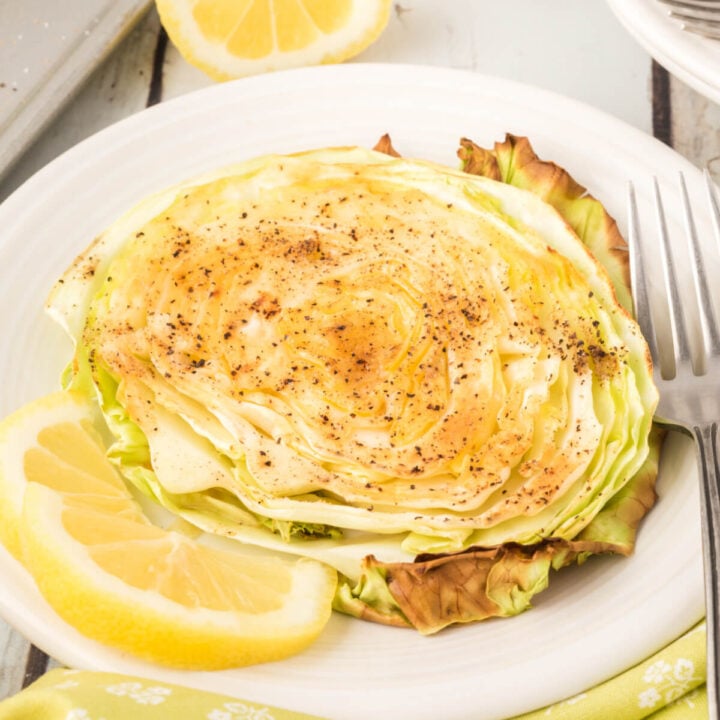 Garlic Butter Roasted Cabbage
Garlic Butter Roasted Cabbage is an easy, low-carb side dish perfect for any meal. Roasting this vegetable takes it to another level!
Ingredients
1 head of cabbage, washed, and discard any blemished or outer leaves.
3 tablespoons butter
2 teaspoons garlic powder
salt & pepper, to taste
fresh lemon juice, optional
Instructions
Preheat the oven to 400°F.
Slice the cabbage into steaks, approximately 1/2 inch thick. Place the cabbage slices on a baking sheet and spread a small amount of butter onto each cabbage steak. Sprinkle the garlic powder, salt & pepper over the top of each cabbage slice.
Roast in the oven for approximately 15- 20 minutes or until they are tender and the edges are turning a crispy brown.
Remove from the oven and let cool, slightly. Serve with a slice of lemon, if desired.
Notes
Change things up by trying different seasonings.
You can use olive oil in place of the butter.
Try this with different varieties of cabbage!
Cut the cabbage into small wedges for a different look.
Recommended Products
As an Amazon Associate and member of other affiliate programs, I earn from qualifying purchases.
Nutrition Information:
Yield:

8
Serving Size:

1
Amount Per Serving:
Calories:

84
Total Fat:

4g
Saturated Fat:

3g
Trans Fat:

0g
Unsaturated Fat:

1g
Cholesterol:

11mg
Sodium:

63mg
Carbohydrates:

7.6g
Fiber:

3.1g
Sugar:

4g
Protein:

2g
Please note that the nutritional information listed on this page is an estimation based on the products I used. Ingredients and nutritional information can vary greatly between brands. Always be sure to read labels.
Originally published on March 25, 2021. Updated on August 2, 2022.