Exploding with flavors, there's no better way to treat yourself than with this old-fashioned Apple Spice Cake! Throw on some caramel frosting for an even tastier treat!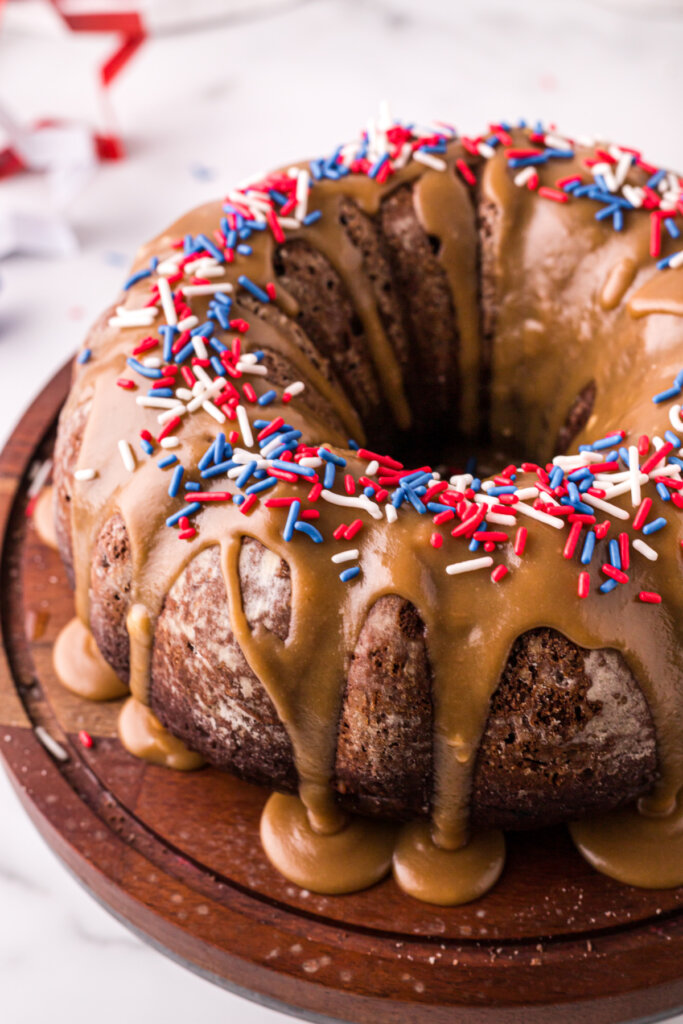 Apple Spice Cake with Caramel Frosting
I have made this recipe for Apple Spice Cake with Caramel Frosting for over twenty-five years! It's always a hit wherever I serve it.
Usually, I serve it as one of our cakes for the 4th of July – and it's especially a hit in the fall with its spices and apples!
This cake reminds me of a very old-fashioned cake – maybe something similar to what our great-grandmas may have made.
This cake is full of fruit and nuts with a chocolate-spice tone that's not overly sweet. The caramel glaze pairs well with the cake, giving it a little sweetness.
Overall, there's really no better (or easier to make) sweet treat than this Apple Spice Cake. It's such a great snack, and I hope you'll give it a try!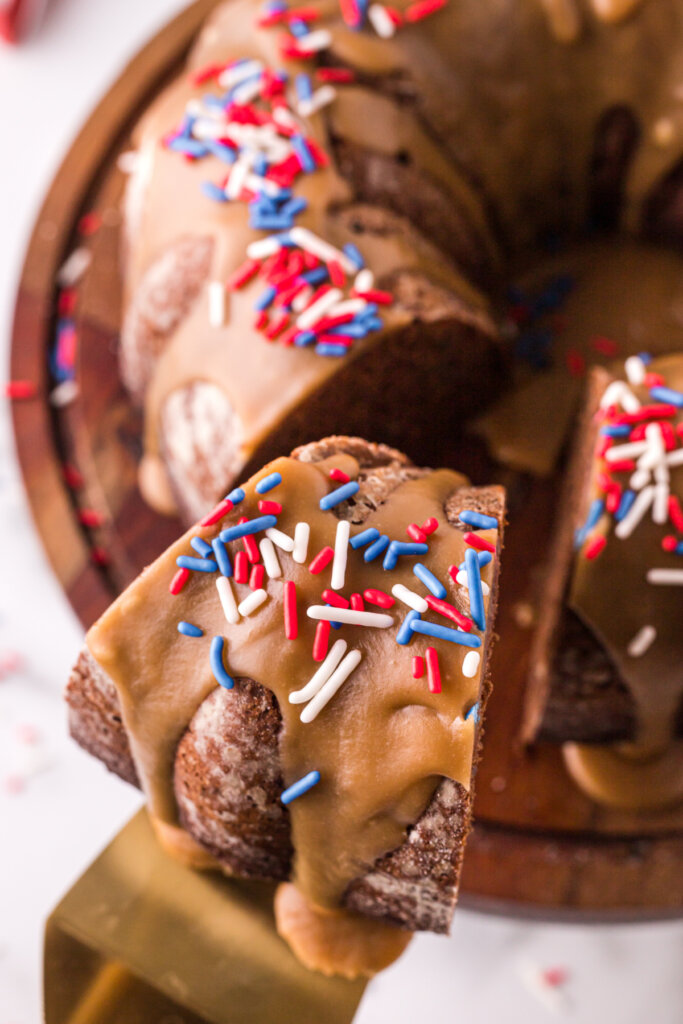 Apple Spice Cake: Ingredients & Equipment
For this Apple Spice Cake with Caramel Frosting recipe, you'll need …
Ingredients
For the cake
all-purpose flour – there are many different kinds of flour, each suited for various dishes, but all-purpose is best for most baked goods like this Apple Spice Cake.
baking powder and baking soda – these help your baked goods rise, especially if you're not using yeast.
butter, sugar, eggs, and buttermilk – more common baking ingredients. If you've made a cake before, you know the drill with these guys! With the eggs and buttermilk, ensure they're room temperature, as they'll give your apple spice cake a nice squishy texture in the end.
applesauce – this provides the apple flavor in your spice cake, of course!
salt – as I always say…salt enhances the flavors of the other ingredients in any sweet baked treat, and you'd taste the difference without it.
cinnamon, cloves, allspice, ground ginger, nutmeg, cocoa – your spices!
Raisins: An add-in for your cake!
toasted pecans – coarsely chopped. Another add-in for your cake! (Note: To toast pecans, bake in a 300°F oven for about 15 minutes.)
For the caramel frosting
brown sugar, powdered sugar – sifting your powdered sugar before mixing helps it blend so much easier!
vanilla extract – always adds a dash of flavor to any glaze.
butter, milk – these give your glaze that gooey (but amazing) consistency you need!
Equipment
10-cup Bundt pan – greased and floured. For baking your cake!
bowls – a large one for your "wet" ingredients and a medium-sized one for your "dry" ingredients.
spatula – for prepping your batter.
saucepan – you'll use this for cooking up your glaze!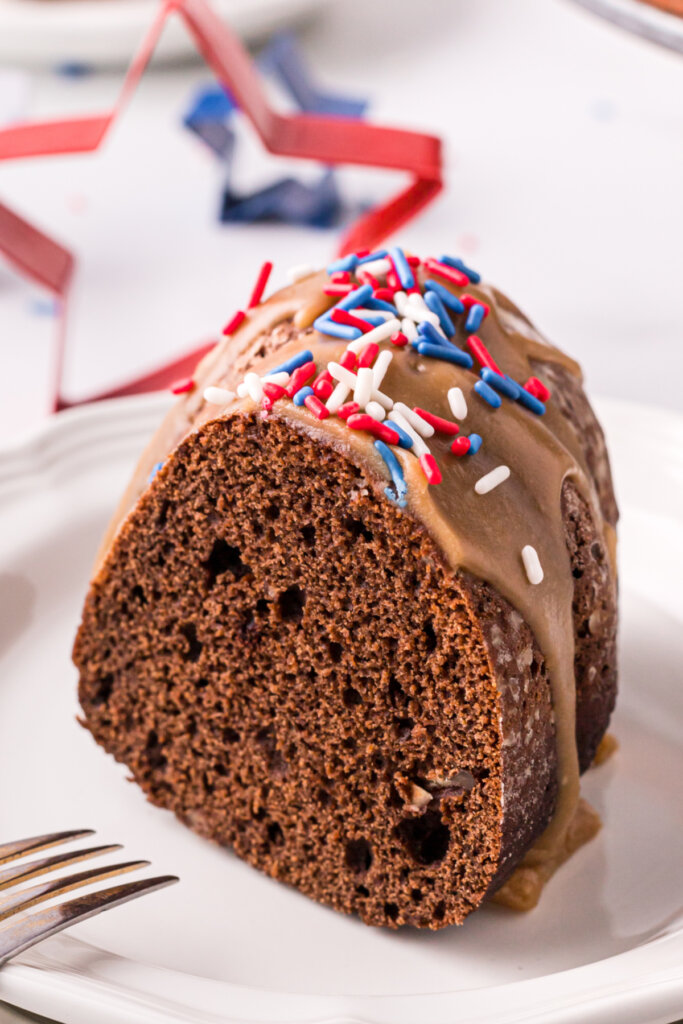 Spice Cake with Apples: FAQs
How many servings does this Apple Spice Cake make?
Between 12 and 18, depending on how you cut the cake!
How long does it take to make Apple Spice Cake?
Only about an hour and a half! You'll want 30 minutes to prep the ingredients and an hour to cook them.
How can I store my cake?
In the fridge, you can keep the leftover cake in an airtight container for about 3-5 days. Although, you should ideally finish it as soon as possible if you want to taste the best quality cake!

If you want to freeze the individual slices, you should start by wrapping each piece in parchment paper or cling wrap, then placing it into a freezer-safe baggy. To thaw the cake slices, bring them to room temperature if they are already frosted. You can set the cake in the microwave for 30 seconds or so if it's not frosted.
Also! You can freeze the unfrosted cake a day before serving and then make and add the frosting when ready to serve. I've done this before!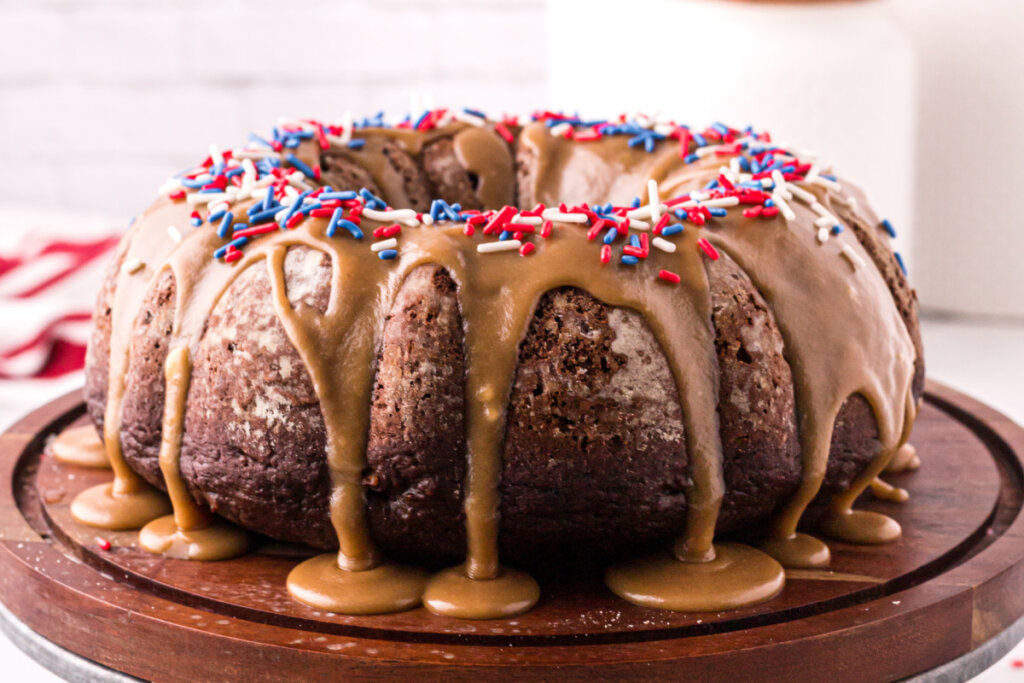 Other recipes you may enjoy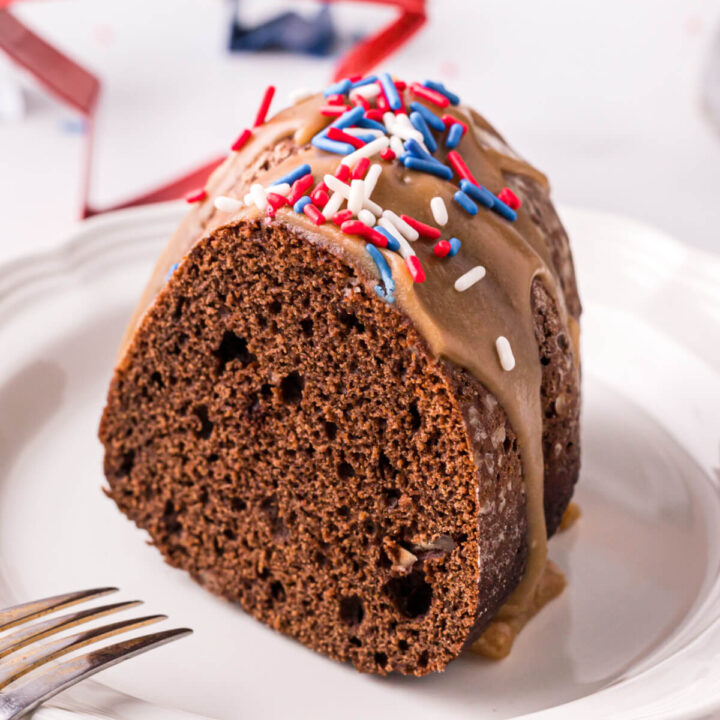 4th of July Apple Spice Cake with Caramel Glaze
Total Time:
1 hour
30 minutes
Exploding with flavors, there's no better way to treat yourself than with this old-fashioned Apple Spice Cake! Throw on some caramel frosting for an even tastier treat!
Ingredients
For the cake
1/2 cup butter, softened
1 cup granulated sugar
3 large eggs
1 cup applesauce
2 cups all-purpose flour
1-1/2 teaspoons baking powder
1/2 teaspoon baking soda
1/4 teaspoon salt
1 teaspoon ground cinnamon
1/2 teaspoon ground cloves
1/2 teaspoon allspice
1/2 teaspoon ground ginger
1/2 teaspoon nutmeg
1/2 cup cocoa powder
1/2 cup buttermilk
1 cup raisins
1 cup toasted pecans, coarsely chopped **(see note below)
For the Caramel Glaze
1 cup firmly packed brown sugar
4 tablespoons butter
1/2 cup milk
2 cups powdered sugar
1 teaspoon vanilla extract
Instructions
For the cake:
Preheat the oven to 325°F. Grease and flour a 10-cup Bundt pan and set aside.
In a large bowl, cream together the butter and sugar until smooth. Add the eggs, one at a time, mixing well after each addition. Add the applesauce and combine.
On a large piece of waxed paper or in a medium-sized bowl, sift together the flour, baking powder, baking soda, salt, spices and cocoa.
Using a rubber spatula, alternately fold half of the dry ingredients, all of the buttermilk, and then the remaining flour mixture into the applesauce mixture. Stir in the raisins and pecans.
Pour the batter into the prepared pan and level with the spatula. Bake on the center oven rack for 50-60 minutes or until a skewer inserted near the center of the cake tests clean.
Cool on a rack for about 10 minutes - then remove from the pan and allow to cool completely on the rack. Top with Caramel Glaze (recipe below).
For the Caramel Frosting:
In a heavy-bottomed saucepan, bring the brown sugar and butter to a boil over medium-high heat. Remove from the heat and add the milk (be careful, it may splatter!) Return the pan to the heat and bring it back to a boil. Add the powdered sugar and constantly stir until it is fully incorporated. Remove from the heat and stir in the vanilla.
Drizzle the frosting over the cooled cake.
Notes
To toast pecans: Bake in a 300°F oven for about 15 minutes.
Nutrition Information:
Yield:

18
Serving Size:

1 slice
Amount Per Serving:
Calories:

352
Total Fat:

13g
Saturated Fat:

6g
Trans Fat:

0g
Unsaturated Fat:

7g
Cholesterol:

52mg
Sodium:

212mg
Carbohydrates:

56g
Fiber:

2g
Sugar:

41g
Protein:

4g
Please note that the nutritional information listed on this page is an estimation based on the products I used. Ingredients and nutritional information can vary significantly between brands. Always be sure to read labels. Please verify that a recipe fits your needs before using it. Nutrition info may contain errors, so please verify it independently. Likewise, recipes may contain errors, so please use your common sense when following them.
Originally published on June 12, 2013. Updated on August 12, 2022.