This Slow Cooker Chicken Posole is big on Mexican flavors! Let the slow-cooker do the work and then get ready for some good eats!
This post may contain affiliate links. As an amazon associate, I earn from qualifying purchases. See my full Disclosure Policy for details.
Slow Cooker Chicken Posole
Soup is one of my favorite things. Ever. We eat it year-round – even when it's hotter than you know what outside! I have tons and tons of soup recipes. I have had this recipe for years and do not remember where it came from originally. Aside from chili, this Slow Cooker Chicken Posole is my absolute next favorite soup! I especially love this recipe because I can throw it all in the crockpot and let it do it's thing. It smells ah-mazing, tastes even better, and there is little "work" involved!
Just a little side information, posole or pozole, "is a traditional pre-Columbian soup or stew from Mexico, which once had ritual significance." If you're interested in the ritual significance, Keep reading this paragraph, if you're not interested, you might want to go ahead and go to the next paragraph! You just might be surprised what went into this soup originally! All I can say is, "Yuck!" – Originally, after a human sacrifice, they put human beings in posole!!!
Some time ago, it was changed to pork – because it was said that pork and human taste very similar! I'm going to have to take their word on that, and really, I don't want to think about or dwell on that thought too long! My family prefers chicken to pork, so we use chicken, But feel free to use pork if you prefer. Occasionally, I use fire-roasted tomatoes for our posole, and other times I used just regular diced tomatoes – the choice is yours! We also like to top ours off with cilantro, lime wedges and tortilla chips. Sometimes we like to add avocado.
Other recipes you may enjoy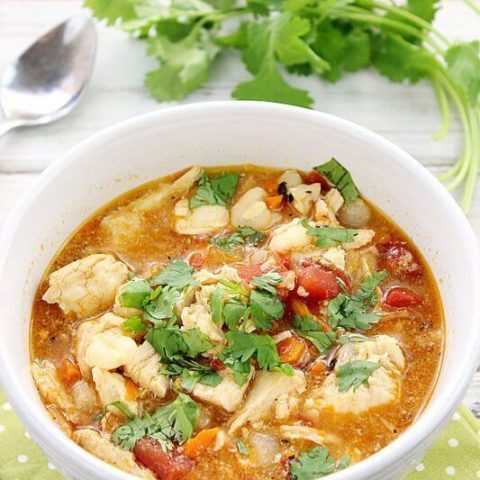 Slow Cooker Chicken Posole
Total Time:
8 hours
20 minutes
Let your slow cooker do the work! With ingredients like - chicken, tomatoes, carrots, onion and hominy in a zesty and flavorful broth - this Slow Cooker Chicken Posole is big on Mexican flavors!
Ingredients
1 can (15 oz.) yellow or white hominy, drained
1 can (14.5 oz) Mexican-style diced tomatoes
1 can (10 oz.) mild green enchilada sauce
2 medium carrots, diced
1 medium onion, chopped
3-4 garlic cloves, minced
2 teaspoons cumin
1 1/2 pounds boneless, skinless chicken breast halves (about 3-4)
Chopped cilantro, optional
Lime wedges, optional
Instructions
In a 4 quart slow cooker, combine the hominy, tomatoes, enchilada sauce, carrots, onions, garlic and cumin.
Add the uncooked chicken and stir to combine. Cover and cook on LOW for 6-8 hours or until the chicken is cooked through and the vegetables are tender. Remove chicken from the slow cooker and shred. Stir chicken back into the slow cooker.
Serve in bowls. Top with cilantro, if using. Serve with lime wedges and tortilla chips.
Nutrition Information:
Amount Per Serving:
Calories:

357
Total Fat:

6g
Saturated Fat:

1g
Cholesterol:

124mg
Sodium:

1200mg
Fiber:

7g
Sugar:

12g
Protein:

43g
Originally published on September 1, 2012. Updated on April 21, 2021.