This simple and tasty Beefy BBQ Mac and Cheese starts with the blue box stuff and transforms into an easy dinner idea with a delicious twist.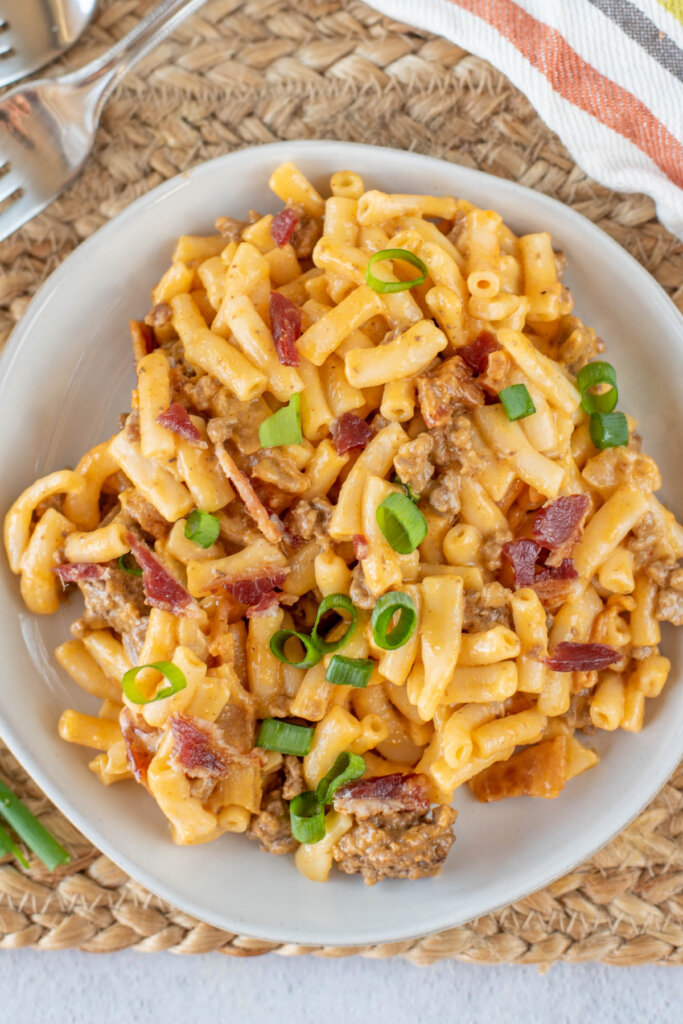 What to add to boxed mac and cheese
Like many moms, I keep blue boxes of mac n' cheese on hand. My kids LOVE it. It's a favorite in our house alongside grilled hot dogs and baked beans!
You can almost guarantee nine times out of ten if we're having hot dogs at our house; mac n' cheese and baked beans are on the menu!
While there's nothing wrong with plain ol' mac n' cheese, though, I like to mix things up sometimes!
This Beefy BBQ Mac and Cheese is a great meal idea for when time is tight. The whole thing can be done in about 20 minutes! Not to mention, it's relatively budget-friendly!
Back when my kids were younger, and money was tight, I came up with lots of ways to change up a box of Kraft mac and cheese! This recipe still remains one of our favorites!
You can serve this BBQ Beefy Mac with a salad, veggie, and maybe some fruit, and you're good to go!
This is one of the best twists on mac and cheese out there! Enjoy, y'all!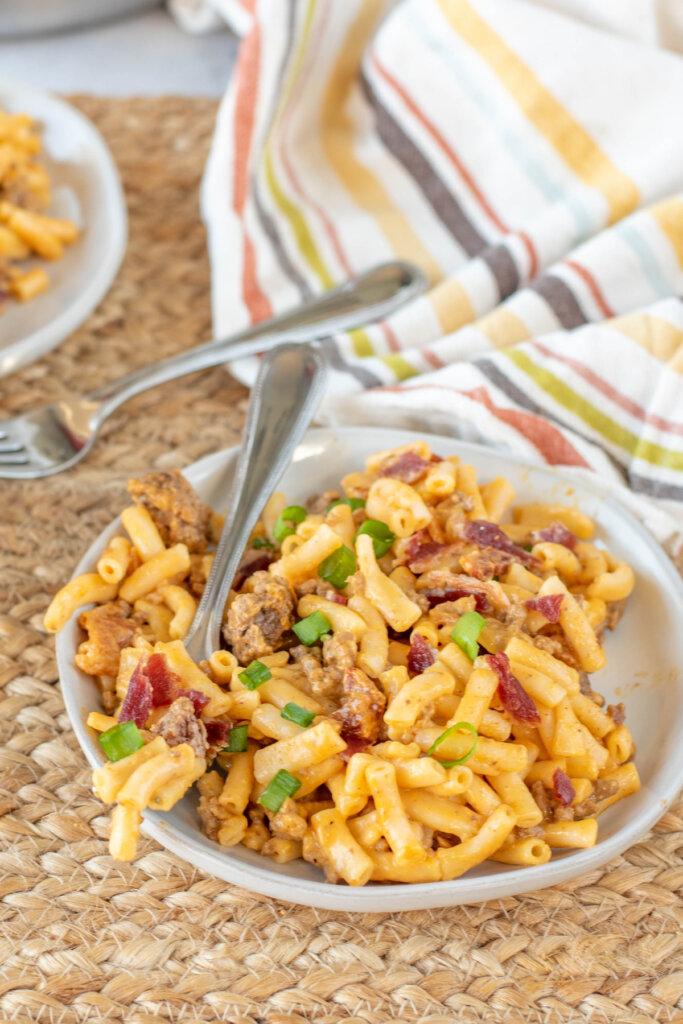 Ground Beef Mac and Cheese: Ingredients & Equipment
For this Beefy BBQ Mac and Cheese recipe, you'll need …
Ingredients
ground beef – lean. This recipe is a great way to use old leftovers, too!
onion – chopped onions are a perfect addition to any mac and cheese, BBQ or not.
mac and cheese dinner – get yourself a box from the store to make things simple, and cook the noodles based on the directions!
butter, milk, shredded cheddar cheese – staples of any mac and cheese dish! These give you a creamy consistency.
BBQ sauce – this provides the dish's BBQ flavor, of course.
bacon – cooked and crumbled. You'll mix some in with the mac and cheese, but it also tastes wonderful as a topping!
green onions – chopped green onions are another fantastic topping for beefy BBQ mac and cheese.
Equipment
skillet – for browning your beef.
any supplies you'll need for your mac and cheese dinner – usually a pot, something to strain the noodles, etc.. you know what to do!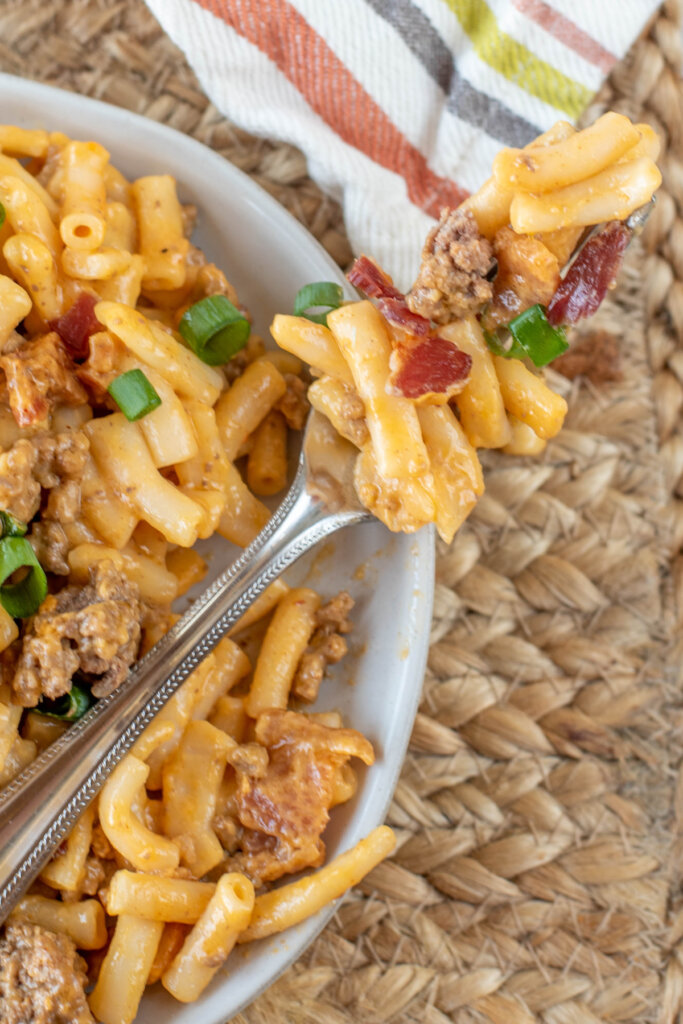 Hamburger Mac and Cheese: FAQs
How many servings does this ground Beef Mac and Cheese make?
About 6-8 servings, depending, of course, on portion size. It's enough for a family at dinner, I think!
How long does it take to make BBQ Mac and Cheese?
You'll want to put aside about 20 minutes. Five of that is for prepping the ingredients, and 10-15 minutes of that is for cooking them!
What other cheeses would go well with my BBQ Mac and Cheese?
Besides cheddar, other cheeses that go great in a mac and cheese are…
– Parmesan: The best and most authentic parmesan is always sold as Parmigiano Reggiano if you want to try that out!! Remember that hand-grated parmesan will always taste best.
– Brie: Brie is an extremely creamy cheese that turns into a wonderfully buttery liquid when it melts. It's a perfect partner to parmesan and bacon.
– Monterey or Pepper Jack: Both are similar to cheddar and great for melting! Pepper Jack is a derivative of Monterey Jack with a kick. It has spicy chill peppers, bell peppers, and various spices for a nice hot zing!
– Gruyere: Gruyere cheese melts perfectly in this dish! It's smooth and velvety with a nutty flavor that comes with hints of sweetness you may not expect! It adds a mature taste to any mac and cheese, but kids love it too.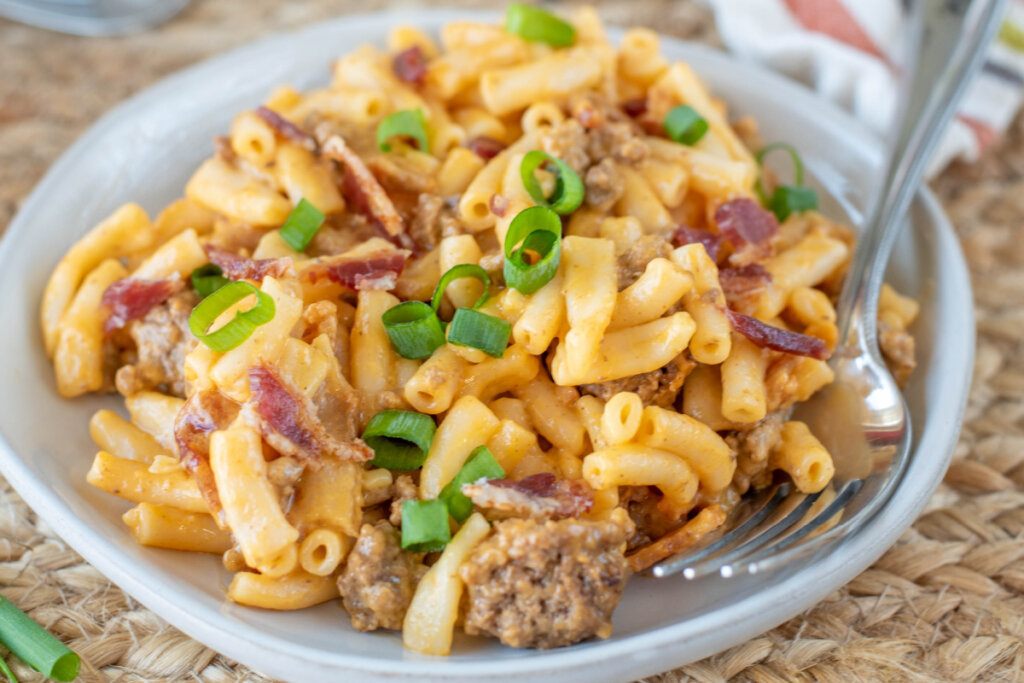 Other recipes you may enjoy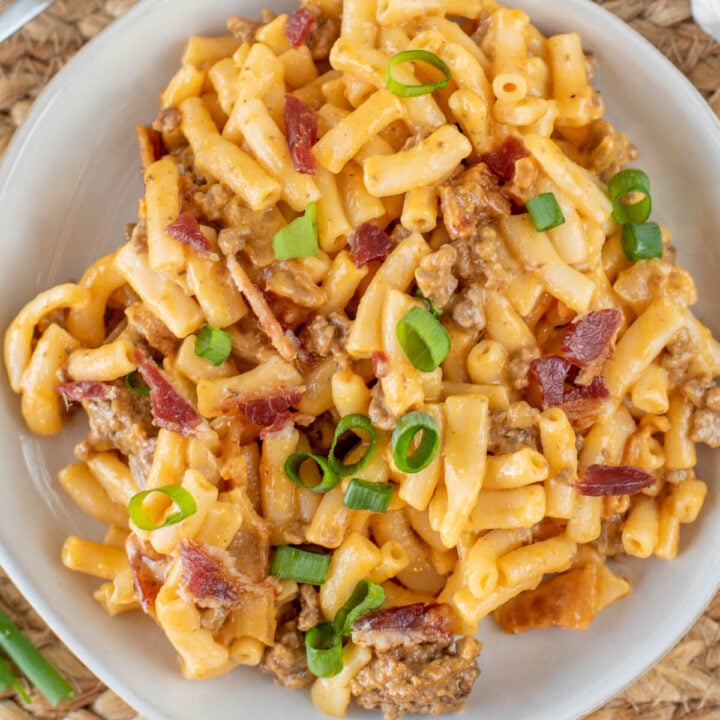 BBQ Beefy Mac and Cheese
This simple and tasty Beefy BBQ Mac and Cheese starts with the blue box stuff and transforms into an easy dinner idea with a delicious twist.
Ingredients
1 pound lean ground beef
1 small onion, chopped
2 boxes (7.25 oz. each) Macaroni and Cheese dinner
1/2 cup (1 stick) butter
1/2 cup milk
1/2 cup BBQ sauce, or more to taste
1/2 cup (2 oz.) Cheddar cheese, shredded
12 ounces bacon, cooked and crumbled
green onions, chopped (optional)
Instructions
In a skillet brown and crumble the ground beef with onion until the meat is no longer pink. Drain if necessary. Set aside.
Meanwhile, cook the pasta according to package directions. Drain. Add the butter, milk, BBQ sauce, cheese and cooked ground beef. Mix well. Add half of the bacon and stir to combine.
To serve, top each portion with remaining bacon and green onions.
Notes
Ground turkey is a great alternative to ground beef!
Use your favorite BBQ sauce for this recipe.
Recommended Products
As an Amazon Associate and member of other affiliate programs, I earn from qualifying purchases.
Nutrition Information:
Yield:

8
Serving Size:

1
Amount Per Serving:
Calories:

407
Total Fat:

25g
Saturated Fat:

10g
Trans Fat:

0g
Unsaturated Fat:

13g
Cholesterol:

102mg
Sodium:

1012mg
Carbohydrates:

10g
Fiber:

0g
Sugar:

7g
Protein:

33g
Please note that the nutritional information listed on this page is an estimation based on the products I used. Ingredients and nutritional information can vary significantly between brands. Always be sure to read labels. Please verify that a recipe fits your needs before using it. Nutrition info may contain errors, so please verify it independently. Likewise, recipes may contain errors, so please use your common sense when following them.
Originally published on June 7, 2013. Updated on August 14, 2022.