Your family is going to LOVE this Mexican Chicken & Corn Chowder! It's full of potatoes, corn, tomatoes, and chicken in a slurp-worthy spicy broth!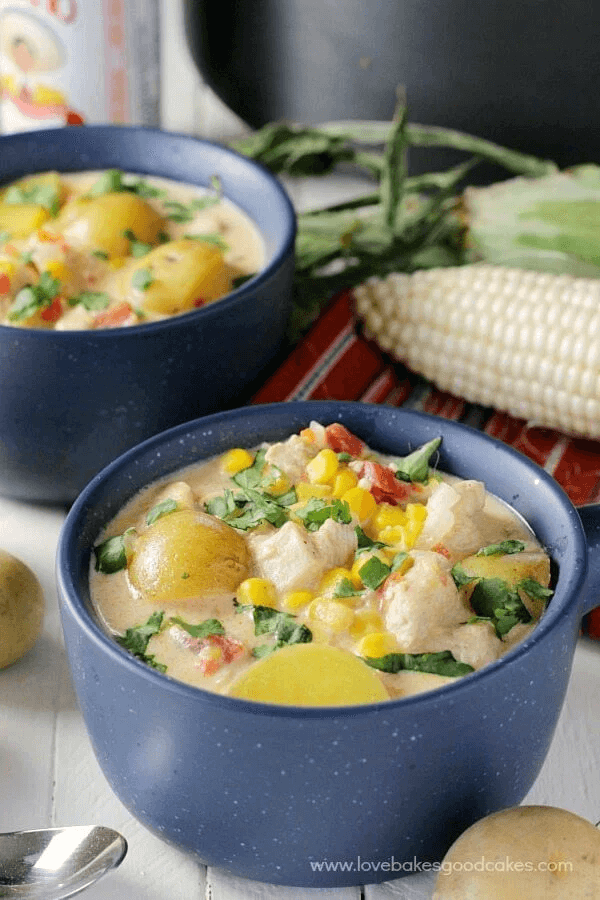 This post may contain affiliate links. As an amazon associate, I earn from qualifying purchases. See my full Disclosure Policy for details.
This post is sponsored by Iowa Corn. I have been compensated for my work, but all opinions are my own. #IACornQuest
Iowa Corn
I may have mentioned a time or two that the past few weeks have been extremely busy for me. And really, "busy" has been a good thing for me because I think it has sparked that desire to get back into the parts of blogging I love – taking pictures, sharing recipes, and hanging out with y'all.
In September, I met up with some of my blogger friends for Iowa Corn Quest in Des Moines. We stayed at the Des Lux Hotel. The staff was awesome with our group, and the accommodations were fabulous – I even had a fireplace in my room!
Iowa Distilling Company
On our first night, we traveled to Cummings, Iowa, and visited the Iowa Distilling Company for a few drinks and dinner. Dinner was delicious, with each course featuring corn in various ways. It was a laid-back atmosphere, and representatives from Iowa Corn were there to greet us and answer any questions throughout our visit regarding the corn industry. It was fun to not only hear about how corn goes through the distilling process to make alcohol – but actually to sample some of the products!
If you're ever in Iowa, you need to look for Prairie Fire from Iowa Distilling Company (I hear it's available at Hy-vee statewide) – it tastes exactly like red hot candy – and it is so good! I may have put a bottle into my luggage to bring back home with me – thanks, Lisa, for hooking me up!! ?
Meredith Corporation
On the second day of our stay, we visited and toured the Meredith Corporation – the people behind some of your favorite magazines like Better Homes & Gardens, Allrecipes, Family Circle, and Eating Well.
I have to admit that I was a little jealous of their backboard and props storage… that space was a blogger's dream come true! I need something like that in my house! ? And this kitchen … I need that, too! It was so fun to get a behind-the-scenes peek at some of the things I do here on the blog – but on a bigger scale.
Blair Farm
From there, we traveled to the Blair farm for lunch and to talk about corn. One of the things that impressed me the most was learning that every part of the corn is used. Plus, we saw how passionate Iowa farmers are about everything from choosing their seeds to making sure they are doing what is best for the soil and environment to how corn is grown and processed for consumption.
I really enjoyed hearing first hand how sustainability and the environment are important to American farmers and how pro-active they are when it comes to doing things smarter and better, not just on their farm, but for everything from planting it in the ground all the way until it hits the market or processing facility.
Most of us are familiar with the corn we eat – but the uses of corn extend so far beyond just eating it. Livestock eats corn; it's in our cars and so many products we use in our homes that aren't food!
Kenney Farm
From the Blair farm, we traveled to Kenney Farm. They were harvesting soybeans out in the field. We could see and hear the passion as he talked about growing up on the farm, covering crops, and how the farm community comes together to help those in need. I was most surprised to hear that today's seeds make it possible for farmers to use fewer pesticides than years gone by.
Iowa Speedway
We returned to the hotel for a small break before heading to Iowa Speedway!! We got to ride around in pace cars (top speeds were 110-120mph) which was really cool. My dad is a HUGE race fan so it was fun to be able to Facebook live the ride and rub it in a little! After our rides around the track, we headed to one of the suites overlooking the speedway for dinner with the American Lung Association and Iowa Corn. We talked about how corn is helping the environment and the benefits of ethanol.
American Lung Association
We also spoke with representatives from the American Lung Association of the Upper Midwest. We took a little quiz to see how much we knew about clean air, and I learned a few things along the way.
Dr. Ruth McDonald
The third day started with breakfast with Dr. Ruth McDonald, a professor at Iowa State University. Our group could have sat and talked with her for hours about nutrition, GMOs, and high fructose corn syrup. You might be surprised to learn that GMOs and high fructose corn syrup often get a bad rap. Many times, those fears and bad reputations are unfounded by science. I realized, as consumers, we really need to research reliable science-based sources for ourselves and be more informed. That's a personal goal I've set for myself.
Des Moines Social Club
Our final destination before departing home was the Des Moines Social Club, where we had a cooking throwdown – Chopped style. All of the teams had the same mystery ingredients – mango, corn on the cob, and chicken livers …. yes, chicken livers!! Sandra came up with the idea to make Mexican-style patties with black beans and chicken livers. Then we topped them with a mango and corn salsa. I can't say that I would ever eat chicken liver again. But it really was good in our little patties …. so good in fact – our team won the competition!!
Mexican Chicken and Corn Chowder
I came home to Arizona from Iowa with a greater appreciation for farmers and their food supply and country. Thank you to the Iowa Corn Board and all of our hosts for the glimpse of American agriculture at work!
After all of the corn exposure, I was inspired to create a dish featuring it! This Mexican Chicken & Corn Chowder is so simple to put together, and it's perfect for these cooler nights.
Other recipes you may enjoy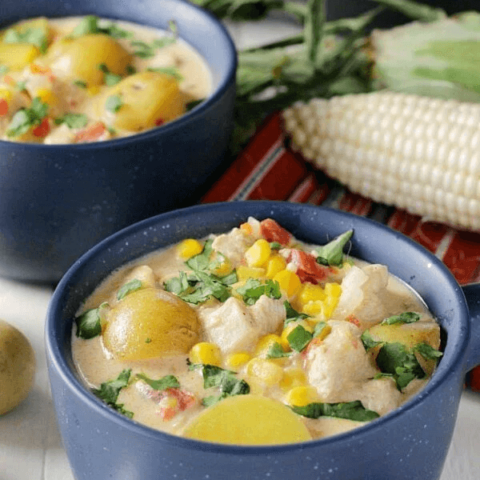 Mexican Chicken & Corn Chowder
Your family is going to LOVE this Mexican Chicken & Corn Chowder! It's full of potatoes, corn, tomatoes, and chicken in a slurp-worthy spicy broth!
Ingredients
3 tablespoons butter or olive oil
1 - 1 1/2 boneless skinless chicken breasts, cut into 1-inch pieces
1 large onion, chopped
1 carrot, chopped
4 cloves garlic, minced
1 teaspoon chili powder
1 teaspoon ground cumin
1 teaspoon salt
1/2 teaspoon paprika
1 pound potatoes, cut into bite-size pieces
1 can (14.75 oz) cream-style corn
1 can (10 oz.) Ro-Tel diced tomatoes and green chilies
1 bag (12 oz) frozen corn
Hot sauce, to taste (optional)
1 carton (32 oz. or 4 cups) chicken broth
2 cups heavy cream
2 cups Monterey Jack cheese
Fresh cilantro, chopped - for garnish, optional
Instructions
In a Dutch oven or soup pot, melt the butter over medium-high heat. Add the chicken, onion, carrot, and garlic. Cook, stirring occasionally until chicken is no longer pink.
Stir in the chili powder, cumin, salt, paprika, potatoes, cream-style corn, tomatoes, frozen corn, hot sauce (if using), and chicken broth. Bring to a boil, then reduce heat to medium-low and cover. Continue to cook for 10 minutes.
Stir in cream and continue to cook over low heat for 7-10 minutes or until the chowder is slightly thickened and the potatoes are fork-tender.
Stir in the cheese, stirring frequently, until the cheese is melted.
To serve, garnish with cilantro.
Nutrition Information:
Amount Per Serving:
Calories:

912
Total Fat:

50g
Saturated Fat:

24g
Cholesterol:

171mg
Sodium:

2169mg
Fiber:

4g
Sugar:

22g
Protein:

47g