This Mexican Pot Roast with Borracho Beans recipe will become a new family favorite! Talk about a flavor explosion in your mouth!
Mexican Pot Roast
I'll be the first to admit that I don't use my slow cooker nearly enough. I keep telling myself that I need to use it more, but that's about as far as it goes! If you're anything like me, I need ideas on what to make with it because I only cook about five things in my slow cooker! That all changes, now!!
My friend, Samantha from Five Heart Home, recently released her first cookbook called Real Food Slow Cooker Suppers. Her book includes 80 slow cooker dinner recipes with recipes that call for all real, fresh, unprocessed ingredients! It has a variety of family-friendly main dish recipes influenced by a variety of cuisines …. some are easy weeknight dinners and some are fancy enough for company! I love that Samantha includes a full page, full-color photo for every recipe and for my friends overseas, metric conversions are included!
Side note: I have to tell y'all that I had the opportunity to meet Samantha a few weeks ago in Austin, Texas at a food blogging conference and let me tell you, she is even more awesome in person – which made me even more excited to get my hands on her cookbook!
I made this recipe 3 times in one week!
Flipping through the cookbook, I've bookmarked a ton of recipes to try – but Samantha's Mexican Pot Roast with Borracho Beans was at the top of my "I have to try it" list!
Lord have mercy, y'all – it is soooooo good!
It's so good that I made it THREE times in ONE WEEK!! True story! Not only that, but I'm already thinking about making it again next week so I can shred the meat for tacos!! I've already told my mom and two friends that they NEED to make this asap!!
I can already tell this is a cookbook I will be turning to again and again! I can't decide which recipe I want to try next …. Indian Butter Chicken, Bacon-Wrapped Peach Jalapeño Pork Loin, Salisbury Steak Meatballs, Chicken Alfredo Tortellini, Mediterranean Stuffed Bell Peppers, Chicken Cordon Bleu Soup, Bacon Cheeseburger Soup, Raspberry-Chipotle Chicken Sliders, or the Cuban Pulled-Pork Paninis?! Gah, they all sound delish, don't they?! Which one would you try first?!
Great gift idea
I got to thinking with the holiday season just around the corner, this would make a great gift idea for the cooks on your shopping list! Take it a step farther and include a new slow cooker for an easy and practical gift idea! Of course, don't forget to get a copy of the cookbook for yourself, too! You can find Samantha's cookbook, Real Food Slow Cooker Suppers, wherever books are sold!
For a complete meal, we served this Mexican Pot Roast with Borracho Beans recipe with a side of Homemade Mexican Rice and Southern Cornbread. I think it would be equally great with Mexican Street Corn Salad or a green side salad! I hope your family enjoys this as much as mine has – and definitely get a copy of Real Food Slow Cooker Suppers for even more dinnertime deliciousness!
Other recipes you may enjoy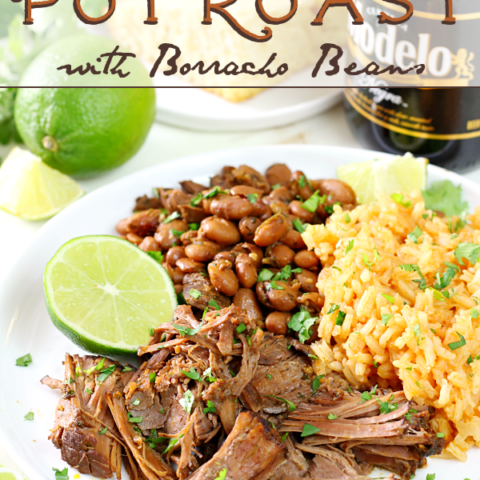 Mexican Pot Roast with Borracho Beans
Total Time:
10 hours
15 minutes
Talk about a flavor explosion in your mouth! This Mexican Pot Roast with Borracho Beans recipe will become a new family favorite!
Ingredients
1 cup dried pinto beans, picked over, rinsed and drained
1 1/2 cups low-sodium beef broth
1 bottle (12 oz.) bottle dark beer (I used Negra Modelo)
2 dried bay leaves
3 1/2 - 4 pound boneless beef chuck roast, trimmed
Salt and freshly ground black pepper, to taste
8 cloves garlic
3/4 cup packed fresh cilantro leaves
1 to 2 chipotle peppers in adobo sauce
1 to 2 tablespoons adobo sauce
3 tablespoons freshly squeezed lime juice
1 1/2 tablespoons tomato paste
1 1/2 teaspoons ground cumin
1 tablespoon House Seasoning (see note below)
1 tablespoon chili powder
2 teaspoons dried Mexican oregano
Cornbread, for serving
Instructions
Place the beans in the bottom of a large slow cooker. Pour in the beef broth and beer. Stir to combine and add the bay leaves.
Generously season both sides of the roast with salt and pepper to taste, and lay the roast on top of the beans. In a blender or food processor, pulse the garlic and cilantro until they are minced. Add the chipotle peppers, adobo sauce, lime juice, tomato paste, cumin, House Seasoning, chili powder, and Mexican oregano and pulse until smooth. Spread half of the garlic-cilantro mixture over the top of the roast. Carefully flip the roast over and spread the remaining garlic-cilantro mixture on the other side. Cover the slow cooker and cook on LOW for 8-10 hours, or on HIGH for 5-6 hours, until the roast and beans are tender.
Transfer the roast to a platter and use a large spoon to skim any excess fat from the surface of the cooking liquids. Discard the bay leaves. Serve the roast with a side of beans and cornbread to soak up the juices from the beans.
Notes
NOTE: To make House Seasoning for this recipe: combine 1 tsp. salt, 1 tsp. garlic powder, ½ tsp. onion powder, and ¼ tsp. black pepper. You will use the whole amount in place of the 1 tbsp. called for in this recipe.
Nutrition Information:
Amount Per Serving:
Calories:

817
Total Fat:

49g
Saturated Fat:

21g
Cholesterol:

193mg
Sodium:

1106mg
Fiber:

7g
Sugar:

2g
Protein:

63g