These Pumpkin Donuts with Nutella Glaze are an easy and delicious way to welcome Fall! Baked, not fried! 🙂 #pumpkin #nutella #donuts
Pumpkin Donuts with Nutella Glaze
I am the point in the year where I am still loving everything Summer, but I am ready for Fall. The fact that it is still over 100°F here in Phoenix might have something to do with my indecisiveness. The weather says Summer, but the calendar says Fall.
While I love the weather during Spring and Summer, my favorite season to eat is Fall! That's when all of the goodies come out! Pumpkin and apple everything … soups with homemade breads … cookies and pies! I mean, what's not to love?!
Although I may not entirely know what season I'm in, I do know that I love me some pumpkin recipes! I'll make any excuse to use it! Since we're officially into September now, I wanted to share these Pumpkin Donuts with Nutella Glaze. My kiddos loved them and I hope you do too! 🙂
Other recipes you may enjoy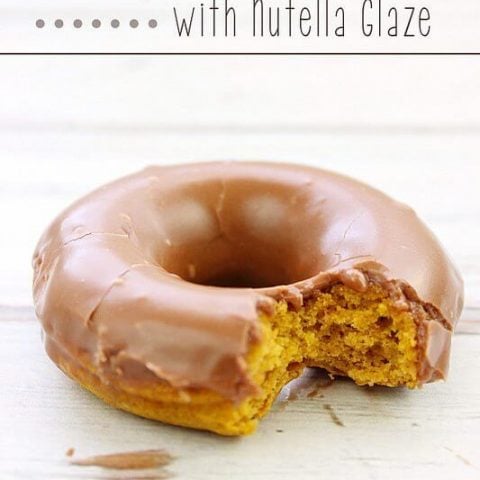 Pumpkin Donuts with Nutella Glaze
These Pumpkin Donuts with Nutella Glaze are an easy and delicious way to welcome Fall! Baked, not fried!
Ingredients
For the donuts
2 cups all-purpose flour
1/2 cup packed brown sugar
1-1/2 teaspoons baking powder
1-1/2 teaspoons pumpkin pie spice
1/2 teaspoon salt
1/4 teaspoon baking soda
1 cup pumpkin puree
2 eggs
1/4 cup milk
1/4 cup butter, softened
For the glaze
1-1/2 cups powdered sugar
1/4 cup Nutella
3-4 tablespoons milk
1/2 teaspoon vanilla extract
Instructions
For the donuts:
1. Preheat oven to 325°F. Lightly spray a donut pan with cooking spray and set aside.
2. In a medium bowl, cream the butter. Add the pumpkin, eggs and milk. Mix well. Add the flour, brown sugar, baking powder, pumpkin pie spice, salt and baking soda; mix well. Divide the batter between the donut wells, filling about two-thirds full.
3. Bake for 8-10 minutes or until the donuts spring back when touched.

For the glaze:
1. Combine all glaze ingredients with a wire whisk until smooth. You may need to add a bit more milk it the glaze is too thick.
2. To finish the donuts, carefully dip the tops of the donuts into the Nutella glaze and place upright on a cooling rack until the glaze is set.
Nutrition Information:
Amount Per Serving:
Calories:

209
Total Fat:

6g
Saturated Fat:

4g
Cholesterol:

30mg
Sodium:

152mg
Fiber:

1g
Sugar:

23g
Protein:

3g
Originally published on September 1, 2014. Updated on May 1, 2021.