This Pumpkin Chai Tea Latte is perfectly spiced and its a delicious way to warm up on these cooler Fall days.
Pumpkin Chai Tea Latte
Today feels like it should be Friday. This week has been that long. Sadly, its only Wednesday … can I get a fast forward, please?!
Here's the thing … this blogging thing started off as a hobby – something for me to do to maybe find a few like-minded people. Never in a million years did I imagine it would become what it has. I seriously love to blog and share recipes, and even like taking pictures and editing them (now that I sorta have a hang of it!). I love conversing with my bloggy friends and my readers, and actually enjoy most of the social media – some more so than others.
Technology
What I don't like is technology when it doesn't want to work. I go nuts and want it fixed immediately. Like, fix it now. My husband is pretty tech savvy – but his job sometimes prevents him from being my fix-it guy when I need immediate help. He can't be right here all of the time. *sigh*
In this blogging thing, I have learned more about computers, html, css, programs, apps, plug-ins, extensions, platforms, cameras, lenses, lighting and photography … than I ever really wanted to know! I'm almost positive there are about another 20 things I can add to that list. Seriously, somewhere over the past 2 years, this has become my job. I am thankful for the opportunities this blog has afforded my family and I am in shock when I think about all of the things I have learned on this journey.
When your "job" is on the computer, you can't afford to have down time. I try to stay very organized so I don't feel like I'm overwhelmed, but thinking I'm organized is just in my head. Ha! Most of the time, I do feel like I have a million and one things to do … and that's ok when technology cooperates!
My computer
Yesterday, my computer started acting whacked. For no reason. It would take 20 minutes for a page to load. 20 minutes, y'all. Who has time for that?! Of course, I tried figuring it out myself for about 2 hours …. and then resorted to calling Brian. I was pretty sure the error was either a Chrome issue or with Adobe. I don't know all of the technical stuff and there's only so much he can do or tell me to do when he can't exactly see the problem. To say I was frustrated is putting it mildly. Just when I thought a hammer would solve the problem, I had this crazy idea to check my shockwave files. Bam … two of them. Fighting with each other. I disabled one and restarted the computer for the 500th time yesterday ….. and waited. My pages loaded like normal. What?! Seriously. It was that easy. Disabling a file. *bangs head on wall*
Needless to say, I needed a drink after my day yesterday. I could have resorted to alcohol, but I didn't. Instead, I whipped up a batch of my Pumpkin Chai Tea Latte and forgot all about my computer problems. Its perfectly spiced, creamy and delicious.
This is the perfect way to relax after a day of shopping or to warm up after playing with the kiddos outside. It tastes like those fancy, expensive drinks you buy at the coffeeshop – but its soooo much cheaper! And its easy!
Other recipes you may enjoy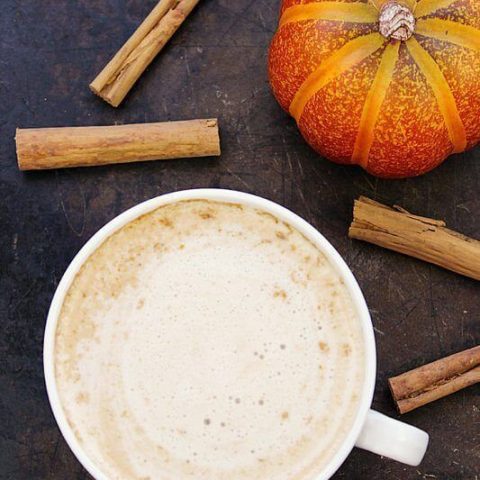 Pumpkin Chai Tea Latte
This Pumpkin Chai Tea Latte is perfectly spiced and its a delicious way to warm up on these cooler Fall days.
Ingredients
1 cup water
2 cups milk
1/4 cup pumpkin puree (not pumpkin pie filling)
2 tablespoons maple syrup
1 teaspoon vanilla extract
3 chai tea bags
Whipped cream, optional
Cinnamon, optional
Instructions
Add the first five ingredients to a medium saucepan. Bring to just a boil over medium heat; stirring occasionally. Remove the mixture from the heat and steep the tea bags for 3-6 minutes (depending on your preferred strength).
Remove tea bags and discard. Divide the mixture between 2 cups.
Top with whipped cream and cinnamon, if desired.
Nutrition Information:
Amount Per Serving:
Calories:

217
Total Fat:

8g
Saturated Fat:

5g
Cholesterol:

24mg
Sodium:

114mg
Fiber:

1g
Sugar:

26g
Protein:

8g